Peaky Blinders picked up two prizes at last night's Bafta Craft Awards, with director Otto Bathurst and director of photography George Steel honoured for their work on the BBC1 drama.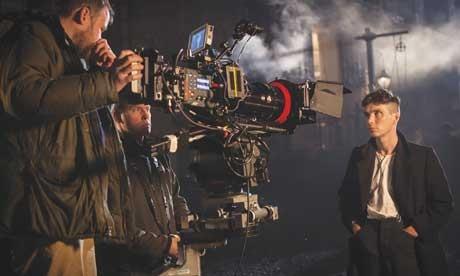 Bathurst picked up the Director Fiction award, while Steel won in the Photography and Lighting Fiction category.
Strictly Come Dancing director Nikki Parsons (pictured) picked up the Bafta Craft Special Award on behalf of the BBC Saturday night entertainment show, which was honoured for its "consistently outstanding creative and technical achievement".
ITV's entertainment stalwarts The X Factor and Ant & Dec's Saturday Night Takeaway were also recognised, with the former's director Phil Heyes winning his second Bafta for Director Multi-camera and the latter scooping the Entertainment Craft gong.
Graham Linehan picked up the Writer Comedy award for The IT Crowd - the fifth Bafta of his career.
Bafta Craft Awards winners
Special Award
Strictly Come Dancing

Breakthrough Talent
Daniel Fajemisin-Duncan, Marlon Smith
Run - Acme Films/Channel 4

Costume Design
Caroline McCall
Downton Abbey - Carnival Film & Television/ITV
Digital Creativity
Production Team
D-Day: As It Happens - Windfall Films, Digit London/Channel 4
Director: Factual
Nick Holt
The Murder Trial - Windfall Films/Channel 4
Director: Fiction
Otto Bathurst
Peaky Blinders - Caryn Mandabach Productions/Tiger Aspect Productions/BBC Two
Director: Multi-camera
Phil Heyes
The X Factor - Thames (part of FremantleMedia UK)/Syco Entertainment/ITV

Editing: Factual
Mark Towns
Educating Yorkshire (Ep 1) - TwoFour/Channel 4

Editing: Fiction
Steve Singleton
The Fall - Artists Studio/Fables Ltd/BBC Two
Entertainment Craft Team
Patrick Doherty, Kevin Duff, Kim Gavin, Andrew Milligan
Ant & Dec's Saturday Night Takeaway - ITV Studios Ltd/Mitre Television Ltd/ITV
Makeup and Hair Design
Vickie Lang
An Adventure in Space and Time - BBC Cymru Wales/BBC America/BBC Two
Original Music
Ólafur Arnalds
Broadchurch - Kudos/ Imaginary Friends/ITV
Photography: Factual
Marcus Robinson
Rebuilding the World Trade Center - Lion Television/Marcus Robinson production/Channel 4
Photography and Lighting: Fiction
George Steel
Peaky Blinders - Caryn Mandabach Productions/Tiger Aspect Productions/BBC Two
Production Design
Mark Geraghty
Ripper Street - Tiger Aspect Productions/Lookout Point Limited/BBC One

Sound: Factual
Rowan Jennings, Karl Mainzer, Adam Scourfield
David Bowie - Five Years - BBC Events Production/BBC Two
Sound: Fiction
Adrian Bell, Lee Crichlow, Robert Farr, Ian Wilkinson
Dancing on the Edge - Ruby Films/BBC Two
Special, Visual and Graphic Effects
Milk VFX, Real SFX, The Model Unit
Doctor Who: The Day of the Doctor - BBC Cymru Wales/BBC One
Writer: Drama
Dominic Mitchell
In The Flesh - BBC Drama Production Salford/BBC America/BBC Three
Writer: Comedy
Graham Linehan
The IT Crowd - Retort (part of FremantleMedia UK)/Channel 4