Awards presented in London on 23 April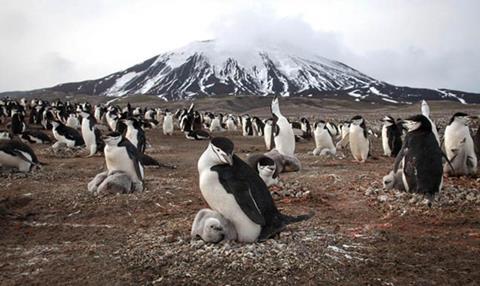 The BBC natural history series received all four nominations in the Photography: Factual category and has also been nominated in the Editing: Factual, Original Music, and Sound: Factual categories.
Netflix's big budget drama The Crown has been nominated in seven categories while BBC John Le Carré adaptation The Night Manager has six nominations.
The Bafta Craft awards will be hosted by Stephen Mangan at The Brewery in London on 23 April.
The 2016 nominations
BREAKTHROUGH TALENT
MAHALIA BELO (Director) Ellen – Touchpaper Television/Channel 4
PHOEBE WALLER-BRIDGE (Writer and Creator) Crashing - Big Talk Productions/Channel 4 and Fleabag – Two Brothers Pictures/BBC Three
SARAH QUINTRELL (Writer) Ellen – Touchpaper Television/Channel 4
VINAY PATEL (Writer) Murdered by My Father – BBC Studios/BBC Three
COSTUME DESIGN
CHARLOTTE HOLDICH The Durrells – Sid Gentle Films Ltd/Masterpiece/ITV
MICHELE CLAPTON The Crown – Left Bank Pictures/Netflix
NIGEL EGERTON The Hollow Crown: The Wars of the Roses – Richard III – Neal Street Productions/Carnival Films/NBC Universal/Thirteen/BBC Two
SUSIE COULTHARD San Junipero (Black Mirror) – House of Tomorrow/Netflix
DIGITAL CREATIVITY
ALCHEMY VR David Attenborough's Great Barrier Reef – Atlantic Productions/BBC One
MATT WALKER, BEN GONSHAW, EWA HEADLEY, TRISTAN LEAVER Attenborough's Story of Life App – BBC Worldwide/AKQA/BBC
PRODUCTION TEAM Humans – Channel 4/4creative/Facebook Creative Shop/PullString/Joi Polloi/Snapchat/Channel 4
SUNSET + VINE, DELTATRE, LIVE WIRE, GOLDEN EGG PRODUCTIONS Paralympics 2016 – Sunset + Vine/DeltaTre/Live Wire/Golden Egg Productions/Channel 4
DIRECTOR: FACTUAL
ANNA HALL Behind Closed Doors – True Vision Aire/BBC One
DANIEL GORDON Hillsborough – Very Much So Productions/BBC Two
JAMES BLUEMEL Exodus: Our Journey to Europe – KEO Films/BBC Two
PETER BEARD Gender Clinic: Kids on the Edge – Century Films/Channel 4
DIRECTOR: FICTION
EUROS LYN Damilola, Our Loved Boy – Minnow Films/BBC One
MARC MUNDEN National Treasure – The Forge/Channel 4
STEPHEN DALDRY The Crown (Episode Two) - Left Bank Pictures/Netflix
SUSANNE BIER The Night Manager – The Ink Factory/Demarest/Character Seven/BBC One
DIRECTOR: MULTI-CAMERA
CHRIS POWER Ant and Dec's Saturday Night Takeaway – ITV Studios/ Mitre Television/ITV
NIKKI PARSONS Strictly Come Dancing – BBC Studios/BBC One
NIKKI PARSONS The Centenary of the Battle of the Somme: Thiepval – BBC Studios/BBC One
PETE ANDREWS Wimbledon 2016 – BBC Sport/NEP Visions Ltd/BBC One
EDITING: FACTUAL
ANDY WORBOYS Hillsborough – Very Much So Productions/BBC Two
DAVE PEARCE Planet Earth II (Deserts) – BBC Natural History Unit/BBC America/ZDF/France Television/BBC One
MATT MEECH Planet Earth II (Islands) – BBC Natural History Unit/BBC America/ZDF/France Television/BBC One
SIMON SYKES, NICK FENTON, SUNSHINE JACKSON Exodus: Our Journey to Europe - KEO Films/BBC Two
EDITING: FICTION
ANDREW MCCLELLAND Sherlock: The Abominable Bride – Hartswood Films/BBC One
BEN LESTER The Night Manager - The Ink Factory/Demarest/Character 7/BBC One
GARY DOLLNER Fleabag – Two Brothers Pictures/BBC Three
LUKE DUNKLEY National Treasure - The Forge/Channel 4
ENTERTAINMENT CRAFT TEAM
BERNIE DAVIS, DAVID COLE, KEVIN DUFF, PATRICK DOHERTY Royal British Legion Festival of Remembrance 2016 – BBC Studios/BBC One
DAVE NEWTON, MARK KENYON, JASON GILKISON, VICKY GILL Strictly Come Dancing – BBC Studios/BBC One
KAREN BRUCE, PATRICK DOHERTY, MARK KENYON, MARK BUSK-COWLEY Ant and Dec's Saturday Night Takeaway – ITV Studios/Mitre Television/ITV
KEVIN DUFF, HOWARD KNOCK, TONY FREEMAN, NICK COLLIER The Queen's 90th Birthday Celebration – ITV Studios/Spun Gold Television/ITV
MAKE UP & HAIR DESIGN
JACQUELINE FOWLER War and Peace – BBC Wales/Lookout Point/TWC/BBC One
NIC COLLINS Victoria – Mammoth Screen/ITV
TANYA LODGE San Junipero (Black Mirror) – House of Tomorrow/Netflix
VANESSA WHITE, FLORIS SCHULLER, NEILL GORTON Tracey Ullman's Show – BBC Studios/Allan McKeown Presents/BBC One
ORIGINAL MUSIC
ANNE DUDLEY Poldark – Mammoth Screen/BBC One
CRISTOBAL TAPIA DE VEER National Treasure – The Forge/Channel 4
HANS ZIMMER, JACOB SHEA, JASHA KLEBE Planet Earth II – BBC Natural History Unit/BBC America/ZDF/France Television/BBC One
MARTIN PHIPPS War and Peace - BBC Wales/Lookout Point/TWC/BBC One
PHOTOGRAPHY: FACTUAL
JOHN AITCHISON, ROB WHITWORTH, MARK MACEWEN Planet Earth II (Cities) - BBC Natural History Unit/BBC America/ZDF/France Television/BBC One
JOHN SHIER, JONATHAN JONES, BARRIE BRITTON Planet Earth II (Deserts) - BBC Natural History Unit/BBC America/ZDF/France Television/BBC One
JOHN SHIER, MATEO WILLIS, BARRIE BRITTON Planet Earth II (Mountains) - BBC Natural History Unit/BBC America/ZDF/France Television/BBC OneTOM CROWLEY, MARK MACEWEN, JOHN BROWN Planet Earth II (Jungles) - BBC Natural History Unit/BBC America/ZDF/France Television/BBC One
PHOTOGRAPHY & LIGHTING: FICTION
ADRIANO GOLDMAN The Crown (Episode Five) - Left Bank Pictures/Netflix
JAMES FRIEND Rillington Place – BBC Studios/Bandit Television/BBC One
OLE BIRKELAND National Treasure - The Forge/Channel 4
SEAMUS MCGARVEY Nosedive (Black Mirror) - House of Tomorrow/Netflix
PRODUCTION DESIGN
CHRIS ROOPE War and Peace - BBC Wales/Lookout Point/TWC/BBC One
MARTIN CHILDS The Crown - Left Bank Pictures/Netflix
PAT CAMPBELL Rillington Place – BBC Studios/Bandit Television/BBC One
TOM BURTON The Night Manager - The Ink Factory/Demarest/Character Seven/BBC One
SOUND: FACTUAL
GRAHAM WILD, KATE HOPKINS, TIM OWENS Planet Earth II (Cities) - BBC Natural History Unit/BBC America/ZDF/France Television/BBC One
JOHN ROGERSON, JAY PRICE, LAURIE GOODE, ANDY PADDON Forces of Nature with Brian Cox – BBC Studios/BBC One
KATE HOPKINS, GRAHAM WILD Planet Earth II (Jungles) - BBC Natural History Unit/BBC America/ZDF/France Television/BBC One
SOUND TEAM Olympic Opening Ceremony 2016 – OBS/BBC One
SOUND: FICTION
AITOR BERENGUER, HOWARD BARGROFF, ALEX SAWYER, ADAM ARMITAGE The Night Manager - The Ink Factory/Demarest/Character Seven/BBC One
CHRIS ASHWORTH, LEE WALPOLE, STUART HILLIKER, JEFF RICHARDSON War and Peace - BBC Wales/Lookout Point/TWC/BBC One
JOHN MOONEY, DOUGLAS SINCLAIR, HOWARD BARGROFF, JON SALMON-JOYCE Sherlock: The Abominable Bride
SOUND TEAM The Missing – New Pictures/Two Brothers Productions/BBC One
SPECIAL, VISUAL & GRAPHIC EFFECTS^
BLUEBOLT, PAU COSTA MUELLER The Night Manager - The Ink Factory/Demarest/Character Seven/BBC One
HENRY BADGETT, JAN GUILFOYLE, JEN DOELDISSON, SIMONE GRATTAROLA War and Peace - BBC Wales/Lookout Point/TWC/BBC One
JUSTIN HUTCHINSON-CHATBURN, FRAMESTORE, GLASSWORKS, BASEBLACK Playtest (Black Mirror) – House of Tomorrow/Netflix
MILK VFX, CHRIS REYNOLDS The Last Dragonslayer – Blueprint Pictures/Sky 1
ONE OF US, MOLINARE The Crown - Left Bank Pictures/Netflix
REAL SFX, MILK VFX, KEVIN HORSEWOOD Sherlock: The Abominable Bride – Hartswood Films/BBC One
TITLES & GRAPHIC IDENTITY
ALEX MACLEAN The Durrells - Sid Gentle Films Ltd/Masterpiece/ITV
PATRICK CLAIR, RAOUL MARKS The Crown - Left Bank Pictures/Netflix
PATRICK CLAIR, RAOUL MARKS, ELASTIC The Night Manager - The Ink Factory/Demarest/Character Seven/BBC One
RICHARD NORLEY, LEE JACOBS, CALLUM O'REILLY Paralympics 2016 – Sunset + Vine/Channel 4
WRITER: COMEDY
JULIA DAVIS Camping – Baby Cow Productions/Sky Atlantic
PHOEBE WALLER-BRIDGE Fleabag - Two Brothers Pictures/BBC Three
STEFAN GOLASZEWSKI Mum – Big Talk Productions/BBC Two
STEVE COOGAN, NEIL GIBBONS, ROB GIBBONS Alan Partridge's Scissored Isle – Baby Cow Productions/Sky Atlantic
WRITER: DRAMA
LEVI DAVID ADDAI Damilola, Our Loved Boy - Minnow Films/BBC One
PETER MORGAN The Crown - Left Bank Pictures/Netflix
SALLY WAINWRIGHT Happy Valley – Red Production Company/BBC One
SIMON NYE The Durrells - Sid Gentle Films Ltd/Masterpiece/ITV
SPECIAL AWARD
TO BE ANNOUNCED