The boom in large-scale, big-budget scripted commissions is giving a boost to UK post houses, with increasing demand for UHD, HDR and VFX work.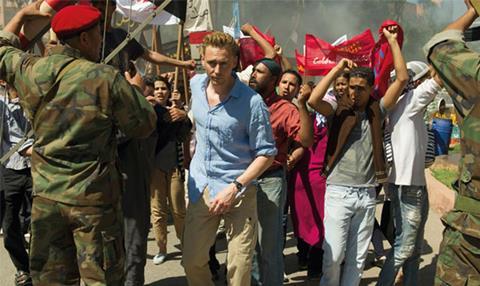 The 'rude health' in which the post sector found itself at the Media Production Show in June has arguably improved even further since then.
In part, this is a result of exchange rate changes since the Brexit vote. Revealing its financial figures for the third quarter, the government said that a 0.1% rise in GDP was "primarily driven by motion picture, video and TV programme production, sound recording and music publishing activities" – which are growing at "a very strong rate of 16.4%".
Brexit has, however, left tax relief and overseas workers' rights up in the air. Trade groups have been given reassurances about the former but continue to lobby government about the importance of free movement, particularly for VFX talent.
"We need to employ the best of the best because we're working on the best of the best," says Screen Alliance chief executive Neil Hatton. "The UK needs to do more to cultivate fresh talent schooled in art and science."
UK Screen joined forces with Animation UK to form the UK Screen Alliance for more forceful representation of sector interests.
"It's a two-speed economy," Hatton adds. "Facilities primarily focused on domestic TV are suffering on rates and margins [Blue 2.0 was 2016's biggest casualty]. That's partly down to ITV throttling back, uncertainty at Channel 4, and the ongoing effect of the pensioners' licence fee settlement at the BBC."
Where there is a boom, it cannot be attributed to Brexit alone. High-end TV tax relief continues to induce multiple US network and streaming platform commissions – like Netflix's lavish 10 x 60-minute royal drama The Crown. The second series is already in production.
Molinare, which handled post for Left Bank's series, says 2016 was a "bumper" year. Envy reports "a very good year with turnover increasing" and Halo, winner of Best Post-Production House at the Broadcast Awards 2016, is "optimistic for another year of growth".
High-impact series
Encore director of operations Johnny Whitehead says 2016 was "the year that cemented the arrival of high-impact series". Citing BBC/AMC coproduction The Night Manager, he adds: "The budget and production values meant the project was groundbreaking in ambition and quality."
With 4K commissions predicted to increase steadily through 2017, High Dynamic Range (HDR) is the technology that has the community most excited. "The benefi ts are amazing and it presents an opportunity to grade and deliver content in an enriched and more realistic fashion," says Whitehead.
Molinare general manager, operations, Rowan Bray adds: "DoPs are excited about its potential and we are already delivering HDR as part of our feature film deliverables."
For Halo business development manager Matt Locke, HDR is "the big leap" in the visual impact of content that consumers are anticipating, while The Farm head of drama Harriet Dale reckons that by the end of 2017, 50% of the facility's dramas will be UHD, with some HDR.
As a result, facilities are having to adjust their workflows, "whether that's adopting [US film association the Academy of Motion Picture Arts and Sciences'] ACES pipelines, performing multiple passes where both SDR and HDR versions are required, or in grade adjustments to correct unwanted highlight detail that may detract from the composition of the image", Dale says.
Game-changing tech
The potential for creative teams to collaborate anywhere, with no hardware and on a 'pay-as-you-go' basis, is a genuine game-changer that is beginning to alter the business and workflow models for post.
"Everybody is making the shift from capex to opex so they can burst up and down as required, but it's still early days," says Hatton.
Phantom Sun Post Production bookended its first trading year offering remote editing services for both series of CITV's Bear Grylls Survival School.
"Instead of running a facility, we set up pop-up suites at production companies or in our office in Manchester, or facilitate craft talent to work from home," explains co-founder Eben
Clancy. "There's far more acceptance of remote working, but connectivity is the real key to unlocking its full benefits."
Base Media Cloud founder and managing director Ben Foakes says: "2016 is the tipping point in terms of people actively investigating cloud."
Partnered with Aspera, the company has provided a range of storage, asset management and file-transfer solutions for Aurora Media's Formula E production since February.
"Companies that have previously invested in lots of on-premises hardware are looking to go fully virtualised," says Foakes.
When The Farm was forced to leave its Soho Square HQ for a new 90-suite, 33,000 sq ft facility on Newman Street in August, it may have hammered another nail into Soho's coffin.
"Rent costs aren't the only cause for companies leaving Soho; London is expensive generally," notes Rushes managing director Joce Capper. "As the industry has evolved, there is less need for us all to be together in Soho. Many of the buildings simply aren't suited to modern facilities, where large, open-plan spaces are required, with the ability to house much larger teams of people and equipment."
Rushes' parent Deluxe will relocate its media services business to Perivale in outer London by next summer. However, the group's creative brands will stay in the centre.
"Increasing rent and rates is a big challenge for all facilities but I don't think there's that much difference in rent between Noho and Soho," says Whitehead. "There's a tremendous talent pool in London and for it to retain its global reputation for excellence, it needs to have an identity. Soho still helps to provide that."
DOCK 10: INVESTING FOR GROWTH
With half an eye on the expiry in 2020 of a 10-year contract with the BBC, Dock 10 consolidated its position as the north's dominant postproduction facility.
"We've reached a plateau in terms of the market for traditional broadcast work, including long-term contracts with indies, so the question for us was whether to open a base outside of MediaCityUK or to acquire instead," explains head of post Paul Austin.
In April, central Manchester commercials VFX boutique Edit 19 relocated to The Quay, a new post-production hub at Dock 10, and promptly won a deal to provide graphics for the opening sequence of the BBC's Euro 2016 coverage.
"We lacked high-end motion graphics and they lacked client exposure," says Austin. "We were able to gel those together. On the back of that successful model, we acquired 422."
THE VOICE VR
The Peel Group-owned business also jumped aboard the VR bandwagon, completing immersive shorts for the BBC's final run of The Voice UK.
"VR is a market that we think will emerge over two to five years and the idea is to try to get a grip on the technology before we miss the boat," says Richard Wormwell, head of 360 production. "The addition of Edit 19 means we can incorporate a lot of VFX tools and workflows into 360 projects."
It is currently working on a Sesame Street VR with the BBC.
Envy was one of the first facilities to make the move to Fitzrovia more than a decade ago. "We were told we were brave being on the 'wrong side' of Oxford Street," says managing director Dave Cadle. "Currently, I think a central location is important for clients and staff alike."
Molinare established a site in Shoreditch at the end of last year, but rent was not the deciding factor. "This expansion was to build on our client base in that area and we've doubled the suites at that site this year," says Bray. "Post-production is a client services-led industry, and currently the majority of clients want to be in Soho."
VFX for TV is providing both a steady income and a creative challenge far removed from a decade ago – hence the return of Framestore to the fray. The 1,000 shots it delivered for National Geographic's six-part docudrama Mars marked its first foray into episodic TV since 2009.
A move back into TV was among the factors that influenced Framestore's decision to put itself up for sale in February. Another was planned expansion into the fast-growing Chinese and Indian film markets.
In a year when Double Negative and Milk's work on Ex Machina beat Star Wars: The Force Awakens to the Best Visual Effects Academy Award, investors flocked to acquire the double Oscar-winning Framestore (The Golden Compass; Gravity).
In November, Shanghai-listed Cultural Investment Holdings took a 75% stake, valuing the facilities group (which has overseas sites in LA, New York and Montreal) at £150m.
Further consolidation in the post sector came when VFX artist Gary Brown and members of his team at boutique Munkey became part of Technicolor, the French owner of MPC and The Mill.
UK facilities are likely to rejoin the battle in the forthcoming awards season. Framestore, Cinesite, MPC, D-Neg and Milk shared shots on Fantastic Beasts And Where To Find Them. Framestore was also involved in Doctor Strange, while MPC created the bulk of creature and landscape effects for Disney's The Jungle Book.