With big plans but a lack of local expertise, the Middle East is seeking Western broadcasting experience, which adds up to opportunities for UK companies. Adrian Pennington reports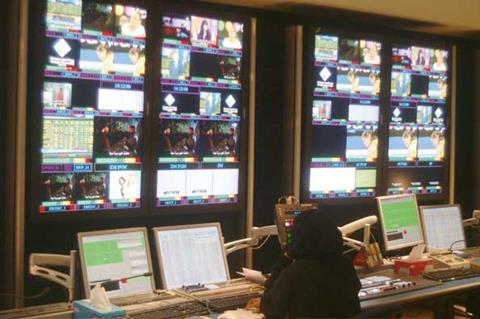 Despite its rich and ancient culture, the Middle East does not have a significant history in broadcasting. But like so much in the region, this is changing fast. Massive investments are being made in ambitious plans to cultivate an indigenous media industry, and UK production expertise is very much demand.
"Media in the Middle East has grown exponentially in the past few years," explains Danny Meaney, founder of consultancy New Media Partners (NMP). "The population is young and there's a desire to have their voices heard in the media."
Up to 60% of the region's 300 million people are under 25, and there's a hunger for news, technology and entertainment. Moreover, it's forecast that by 2020, 22% of the world's population will be Muslim. "That's a massive market that Western media doesn't serve," says Meaney.

A decade ago, state-owned stations dominated but they've since been swamped by privately run satellite channels. In 2002, there were 70 channels. Today there are 450 - many run as loss-making vanity projects cluttered with stodgy programming.
But a handful are well-oiled networks that match anything on the international stage. Examples include pay-TV broadcasters Showtime and Orbit, music TV specialist Rotana, Arab Radio & TV Network and the news channels of Qatar-based Al Jazeera and its rival Al Arabiya (owned by broadcaster MBC).
"The number of thematic channels is increasing and production and post is booming," says Said Bacho, regional director of Harris Broadcast, whose customers include Abu Dhabi TV. "The region is moving from analogue to digital HD in one bound. There is massive growth potential."
Globecast account manager Giorgio Giacomini adds: "With more than 200 Arabic satellite channels broadcast throughout the world, it's clear this market is quickly catching up with its English-speaking counterparts."
Globecast boasts extensive connectivity in the Middle East including offices in Beirut, fibre points of presence in Tel Aviv and Jordan, as well as satellite platforms over the region.
"Much of this boom is due to the deregulation of the industry, which continues to open up opportunities in the region, allowing a greater volume of local content to be produced and distributed," says Giacomini.
Rich in diversity
Of course, the region is not homogenous; media that emanates from the Gulf states reflects a different culture to Syria or Morocco. Egypt had a considerable TV and low-budget film community even before Cairo's 3.2 million m2 Media Production City opened in 1996. Lebanon, with its European outlook, also has a sturdy broadcast legacy. But recently the UAE has created the biggest waves. Dubai Media City, completed in 2000, paved the way for similar zones in Amman (Jordan Media City), Abu Dhabi (Twofour 54) and Saudi Arabia (King Abdulla Economic City).
"They effectively operate as walled gardens that permit different tax incentives from the rest of the country: foreign ownership can be 100% and the regulatory framework is more relaxed," says Meaney.
According to Giacomini: "Jordan is one to watch because Jordan Media City has fibre connectivity to Europe. It's a much less costly city than other places in the region and makes it easier for broadcasters to set up production centres or TV stations there."
Dubai Experience Bird Studios
London animators Bird Studios has created a series of audiovisual projects for Limitless, a Dubai-based city developer. These include a series of animations depicting Dubai port Jebel Ali played across four 40-metre outdoor screens, a holographic demonstration and an interactive 3D stereoscopic display designed to attract investors to the region.
"There's a lot of opportunity outside the EU but you have to be brave enough to deal with other cultures, languages and ways of working," says creative director Ian Bird, who is also juggling projects in Brazil and Africa. "In times of recession, the only purse strings that are open are those of governments so we've aligned ourselves with government-backed projects around the world."
Abu Dhabi in focus
Dubai may get the most attention, but Abu Dhabi is arguably set to outstrip it with the infrastructure Sony's Broadcast business is building at Twofour 54 (the name relates to its geographical coordinates).
Part of Abu Dhabi's vision to position itself as major world city by 2030, 'media content creation zone' Twofour 54 goes far beyond simply offering studios, office space and the latest post facilities.
"We are not here to cluster real estate but to give people across the entire region the means to create content in all forms of media," says Twofour 54 chief executive Tony Orsten, a former head of international at Paramount Pictures. "Although Arabic speakers have a fantastic storytelling history, their production and craft skills in professional media are low, so it was essential to establish training academy Twofour 54 Tadreeb and bring them up to international standard."
This fits within state ruler Sheikh Mohammed's plan to position Abu Dhabi as the region's cultural hub. "The trouble is there are no media jobs, so we have to stimulate an entire media ecosystem," says Orsten. "The quickest way to achieve that is to bring in partners. English is the main second language and the UK is the nearest talent pool."
The BBC and Thomson Reuters have provided staff and expertise to the academy. Middle Eastern production powerhouse Rotana Studios is committed to opening a base at Twofour 54 while CNN International will open its fourth global new casting hub there in September.
According to Tony Maddox, CNN's international managing director and executive vice-president: "We have a number of bureaux in the region but it made sense to create a hub at Twofour 54, partly to better service the local market with a new daily news programme and partly to enhance our overall newsgathering from the region."
Indies in demand
Indies including All3Media, RDF and Talkback Thames have been approached to take part in Twofour 54, for example, by basing productions there staffed by UK and local talent.
Bristol indie 3 Line Media is one of the first to take up the offer, coproducing animation and live-action series Driver Dan's Story Train with Twofour 54. The series is set for broadcast on CBeebies in 2010 while Twofour 54 will be responsible for developing the property for the Arabic speaking market. "There's a marked lack of quality pre-school programming," says Orsten.
NMP's Meaney says: "There's no question of the desire in the Middle East to base UK production, creative and technical talent there. The authorities will ensure there are business opportunities but their agenda is to learn from best of breed in the UK rather than have money drawn out of the region. UK producers are not expected to understand Arabic content but their knowledge of formats and entertainment is invaluable."
The time scales are huge. After speaking with Broadcast, Osten was going into a meeting to discuss a 21-year business plan. "In 15 years, we hope to create a production base of Arab content that competes with the rest of the world," he says.
Plans in action
Even Abu Dhabi's plans are dwarfed by the 50-year time frame of a $40bn (£24.6bn) project that has barely got off the drawing board in Saudi Arabia. NMP has been commissioned to consult on a proposed media city within King Abdulla Economic City, an entire new city intended to be one of the primary drivers of the emirate's future economy.
"With GDP predicated to run at 9% per year, Saudi is one of the few places in the world that has the resources to make this work," says Meaney. "Saudi is the region's largest advertising market but its focus is producing and marketing content for the Muslim world globally."
Fuelled by oil wealth, the Gulf states are investing in infrastructure that will sustain their economies long after the wells have dried up. The UAE already has the highest penetration of mobile phones in the world. However, anyone who thinks there is quick and easy money to be made on the back of such apparent largesse might need to think again.
"The authorities are businessmen and you won't pull the wool over their eyes," warns Twofour 54's Orsten. "They've been canny enough to employ Westerners from Europe or the US to take their projects to the next level. You will see increasing opportunities for UK producers, post producers and manufacturers but the authorities are not ploughing money back to see no reward."