The project ran during the Paris Masters tennis tournament and was designed to test the capabilities of different products in virtualised live production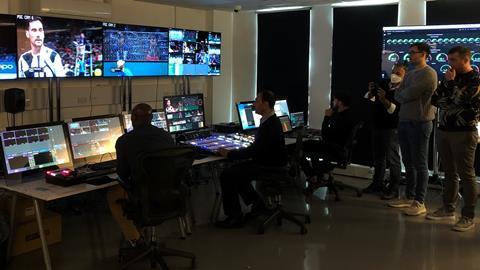 The Rolex Paris Masters tennis tournament was used as a testbed by ATP Media, Amazon Web Services (AWS) and Gravity Media to investigate the capabilities of different products in enabling a large-scale virtualised live broadcast production environment.
The proof-of-concept project was aimed at evaluating live video mixing; ingest and recording; slow motion replay; data-driven graphics; audio mixing; fast-turnaround editing; and content archiving.
Vendors were invited to demonstrate the capabilities of their products and services across numerous tennis matches, while being operated by impartial freelance talent in a live broadcast environment.
As well as working in a stand-alone configuration, the testing included various combinations of different vendors products, to test interoperability.
The manufacturers involved were Grass Valley, Vizrt, Simplylive, Sienna ND, Deltatre, Grabyo and MAVIS.
The proof-of-concept setup involved 12 live camera feeds with audio, and two Hawk-Eye ball-tracking feeds being sent from the main court in Paris over fibre, via AWS Elemental Media Connect, into a dedicated virtual private cloud (VPC). Deltatre provided live match graphics via a Vizrt instance, also running in the VPC, powered by live data feeds delivered from site.
An instance of Adobe Premiere Pro also ran in the VPC. Editors were able to access content and edit in real-time and share content back to the live production.
Production facilities at Gravity Media's offices in Farnborough were created as a 'shadow' of the main ATP Media production facilities on-site in Paris. From here, a fully produced live main court feed was created, using an experienced freelance director, replay and graphics operators.
ATP Media CTO, Shane Warden, said: "This was a unique opportunity for us to discover the reality of using AWS cloud services in an end-to- end live sports production across a number of days driven by expert freelance operators.
"To have the time to be able to experiment with combinations of vendors interoperating with each other and to understand the benefits and limitations of the single vendor solutions is so invaluable as we look to create our roadmap to this exciting future and all the benefits it can bring."
Ed Tischler, Gravity Media MD, EMEA, added: "This proof-of-concept marks a significant moment in Gravity Media's commitment to virtualisation and demonstrates how far this technology has progressed and the advantages it can bring. We're working closely with AWS and manufacturers to continue to diversify our offering to incorporate more off-prem solutions and ultimately to realise the fully managed end-to-end virtualised solution our sports clients want us to deliver."