The companies have signed a long-term partnership to deliver the global coverage of over 60 of the ATP Tour's tennis tournaments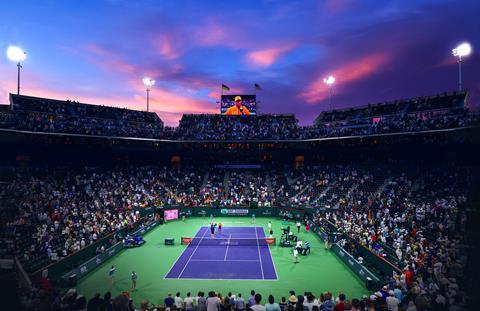 ATP Media (the media arm of the ATP Tour) and Gravity Media have signed a long-term partnership to deliver the global coverage of over 60 of the ATP Tour's tennis tournaments, including the ATP Masters 1000s, ATP 500s, ATP 250s and the season-ending Nitto ATP Finals.
This deal marks the beginning of ATP Media and Gravity Media working together to deliver a new approach to the production of tennis across the world, says Gravity Media.
As part of this new approach, ATP Media has worked closely with Gravity Media on the specification of the galleries and working areas for ATP Media Studios, which will be based at Gravity Media's new production centre in London, White City, which opened earlier this year.
ATP Media Studios is a 50,000-square-foot facility featuring production, post-production and live studio capabilities, to support both on-premise and distributed remote production workflows.
The facility has two large production and sound control rooms for the ATP Masters 1000 tournaments, two medium production and sound control rooms for the ATP 500s and a dedicated area to produce the 38 ATP 250 events.
It also has seven flexible control rooms, six craft edit suites, six voiceover booths, a vision control room, EVS room as well as a dedicated office space, broadcast operations centre and media management facilities.
A bespoke outside broadcast truck has been created to take care of the migration of broadcast feeds from onsite to ATP Media Studios at Gravity Media's production centre in London. This will initially begin with remote world feed management through to remoting replay operators, vision control and media management, and then scaling to fully remote court production.
At each ATP Masters 1000 tournament, ATP Media is also introducing new camera positions and increasing the number of both on-court and off-court cameras, and will access specialist, robotic and on-court camera technologies designed and developed by Gravity Media's specialist camera team to enhance the overall viewer experience.
The partnership of ATP Media and Gravity Media is designed to ensure a greener and environmentally sustainable approach to coverage of the ATP Tour.
The first tournament under the new agreement goes live from ATP Media Studios at the Gravity Media Production Centre in London in June.
John Newton, Gravity Media CEO and founder, says: "It is an extremely proud moment for me and the wider team, as we announce our long term production partnership, delivering ATP Media's global broadcast and creative technology innovation solutions – building on an already long-standing relationship.
"Ensuring we will deliver the most advanced remote broadcast solutions across the ATP Media assets as well as from our brand-new media hub, Production Centre London means we are poised to lead the way in the future of tennis broadcasts.
"This contract will ensure the most environmentally sustainable approaches are embraced, whilst ensuring we can provide more roles to the broadcast industry welcoming and encouraging a new generation of talent to come on board with both Gravity Media and ATP Media."
Mark Webster, ATP Media CEO, added: "Gravity Media has been an important strategic partner for ATP Media over an extended period of time and so when Gravity Media stepped up to the plate with its bid under our very detailed and transparent tender process, we were naturally delighted.
"ATP Media has been acutely aware that, to ensure it continues to be at the forefront of live and non-live sports content production, it needs to continually re-invest in its production capabilities. With the unfortunate Covid-19 pandemnic, such re-investment naturally had to be put on hold, but the tender process addressed that and this innovative and wide ranging deal with Gravity Media, an organisation ATP Media has implicity trusted for many years, will now turbo-charge our production and take ATP Tour tennis to the next level for its fans."