It aims to cut the broadcaster's carbon footprint and improve its work environment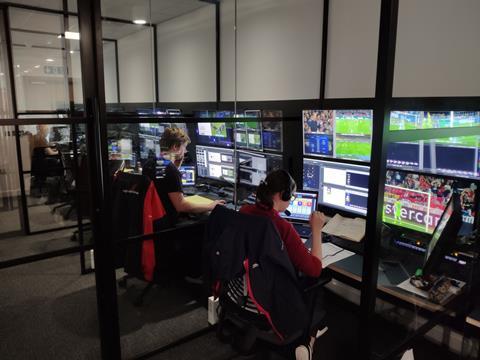 BT Sport has unveiled a centralised graphics hub based in Stratford, London, built with assistance from MOOV and Oktra.
In addition to the working hubs, eight IP-based Chyron Prime engines were installed into central apparatus area two, bringing the total to 20 - meaning that all BT Sport productions can be resourced, in either HD-SDR or UHD-HDR. This adds to the 12 SDI Chyron Prime engines and operating positions in the nine PCRs that were already available, allowing the teams to work on VMix or remote productions in addition to the PCR productions.
The pods are already in use, with all 13 involved with first the match day of the Champions League earlier this month. It is also the first time anywhere that Chyron Prime has been used in 4K over IP.
Plans first began for the centralised graphics hub in November 2019, and were formalised and conveyed to all the Stakeholders at BT Sport, including internal and external productions teams in March 2020.
The main aims of the hub are to reduce carbon footprint by using equipment centrally in Stratford and removing the need to move equipment, as well as staff, onsite. It also means the same equipment can be used on consecutive productions, instead of sending separate systems to each production.
In addition, it aims to improve the working environment for operators, who are now able to work at the hub or from home - instead of having to regularly travel around the UK.
Originally planned to take 6-18 months, the development was still completed inside that timescale after the pandemic hit. This saw the glass screens involved made larger to ensure each person had separation from their colleague while still being able to collaborate, and additional connectivity added so that the graphics system could be operated from anywhere.
Chris Lewinton, Tony Boorman, and John Brick managed the project, with creative influence from BT Sport head of design Mark Hyde. MOOV and Timeline Television provided the technical insight and helped establish the pod layouts, and Oktra designed the physical space and pod structure.