Mo-cap was used to enable eye-catching moves for these table tennis titles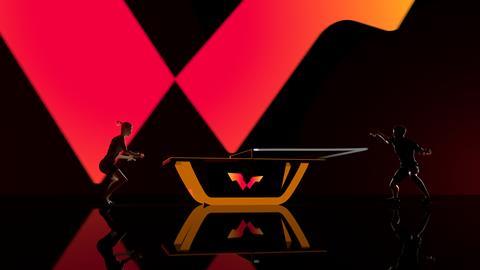 IMG has unveiled a new title sequence for the broadcast coverage of World Table Tennis (WTT) events.
IMG Production Singapore were briefed by WTT creative director, Joachim Davy, to conceive an "innovative and surprising" sequence. Authentic action and male and female equality in the sport were required to feature at the core of the concept.
Director Daryl Goodrich and IMG's post-production arm Camouflage conceived a male versus female rally battle concept, which gave the freedom to feature 'never before seen' camera angles of the sport.
With such extreme angles proposed, live action was not the filming solution. Also, it was decided 100% computer-generated players would dilute the credibility of the action, so motion capture was used instead.
Filmed at a specialised motion capture studio, Rebellion in Oxford, two elite players were dressed in full body mo-cap tracking suits. Capturing the movement data on more than 160 Vicon cameras, a wide and diverse selection of authentic rally action scenes were captured.
Once the data was processed, Goodrich and the team at Camouflage began the process of shot selections. The sequence was fine-tuned and approved by WTT's Davy, whose "knowledge of table tennis was critical in building the most credible action sequence," says IMG.
Camouflage then had complete control and could direct the camera moves in any direction, at any speed desired. The shot selections were seamlessly combined to create the visual illusion of one continual rally following the full trajectory of the ball in flight.
Credits:
Production Company: IMG
VP Production: Rob Peile
Director: Daryl Goodrich
VFX Supervisor: Andrew Gould
Animation & Compositing: CamouflageVFX
Designer: Andy Olley
Music: John Sands, IMG Music
Motion Capture Studio: Rebellion Film Studios