Ruehl talks about gender and diversity, as well as the challenges of producing sports content during lockdown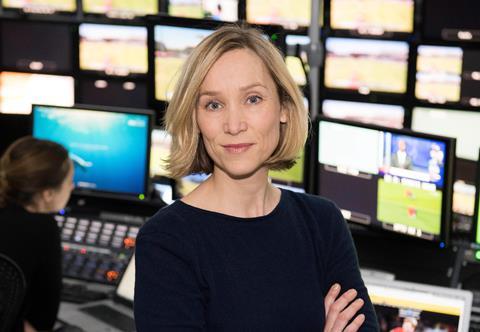 Inga Ruehl is something of an unsung hero. She keeps a relatively low profile outside of Sky Sports yet she's at the helm of all production activities at the broadcaster, which is a colossal task given that Sky handles most of its sports production operations and associated facilities in-house.
Her teams look after the planning and delivery of all Sky Sports' home-produced content across 11 live sports channels, with responsibility for studios, post-production staff and facilities, as well as outside broadcast and crewing.
All Sky Sports' production editorial content teams – including producers and APs – are in-house, as are all operations staff. In total, Sky Sports' production operations, including Sky Production Services (which produces sport and entertainment content for Sky and is also looked after by Ruehl), employ around 500 people, directly contract 700 freelancers and hire another 1,000 through outside broadcast providers.
On top of this, Ruehl manages 15 studios, 10 galleries, more than 70 edit suites, two grading suites and nine audio suites.
Ruehl moved to the UK from Germany about 17 years ago, initially to work at ESPN as a production manager. She stayed at ESPN for almost a decade, leaving as director of production services and operations, to join Sky. She worked her way up in Sky through various roles (initially as account director for sports and news, before running the studios operations, then all of production services.
She tells Broadcast Sport: "At ESPN, we outsourced a lot of our work, so my job was very much about vendor, supplier management and so on. At Sky, most of the work is in-house and we have a minimum of 800 host OBs a year. So the volume of travel and organisation and contracts, as well as dealing with our external suppliers on OBs, is quite a challenge."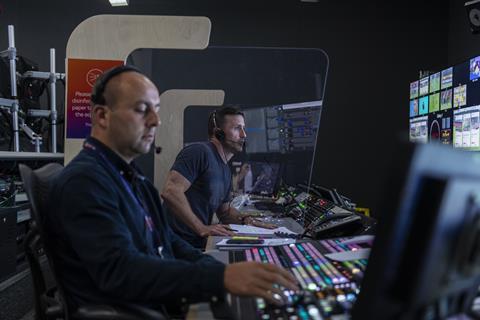 INNOVATIVE WORKING
The past year has, naturally, been very different to what had been planned, with remote production and 'off-screen innovation' becoming a key focus.
Ruehl says: "The first sport where we went big on remote production was F1, which was back in 2018. We don't produce the race feed, we just do the presentation around it, but we sorted out a lot of the remote production niggles there.
"This got us wanting to do a full remote production, not just presentation. So next we did all our EFL matches remotely, beginning at the start of the 2019/20 season. That was massive for us because it's such a prime property. To not have the main gallery with a big truck on site was a really big move."
Having made remote production successful with the EFL, the temptation might have been to attempt to roll out remote workflows to the top tier of sport. However, prior to the pandemic, it would have taken a brave broadcaster to take a punt on instigating such a sweeping change on crown-jewel assets such as Premier League football. That, of course, all changed when live sport started to come back again following the first of the pandemic lockdowns.
When live sport came back, Sky opted to move the EFL out of its purpose-built gallery into a temporary one and moved the Premier League in.
It has since built permanent facilities for remote production of the Premier League.
Ruehl explains: "We still send all the camera people [to the stadium], and we try to have commentators and presentation on site, so they have access to the players and whoever they want to talk to. We also have at least one sound person on site.
In the past, we would either send two trucks – one for the match and one for presentation – or one of the really big trucks that have both. Now we just send one much smaller truck.
"Everything from graphics to the main sound, the vision mixer, director, producer and AP are all back at Osterley. We bring back all the camera feeds and create the live output here."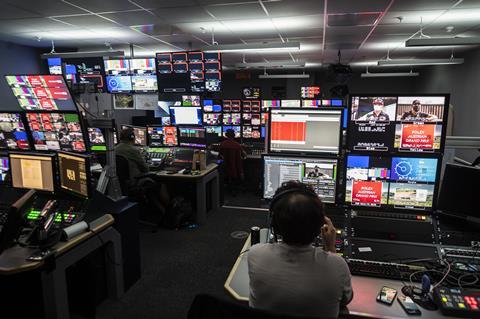 AUTOMATION QUESTION
AI and automation offer further opportunities to drive down costs and increase efficiencies. However, Ruehl isn't currently keen on going down this route for Sky Sports.
She says: "We've looked at what we could automate, but when it comes to live sports – because of the need for replays and so on – there isn't much that's worth automating. What we have done instead, for some of our sports, is move them into much smaller galleries, where you can have one person operating rather than two. For example, we've merged graphics and replay for certain sports. We've played around with quite a lot of other things like that as well, just not automation. We keep coming back to it from a live sports perspective and ask, 'Is it really worth it?'."
The studio spaces used by Sky Sports at the weekend and for Monday Night Football are, unsurprisingly, less busy during the week. Ruehl is therefore keen to bring in revenue through offering external, non-Sky-owned production companies the opportunity to use these spaces during downtimes.
"These really nice studio facilities are usually available midweek, so we thought it seemed crazy, because [by renting them out] you can make a bit of money and you also open yourself up much more to the industry," she says.
"It's better for your talent development, too. We started doing more of that a few years ago, but the past year has been really challenging [to rent out the studios] because a lot of productions just didn't happen.
Also, from a safety perspective, we had to keep people on site to an absolute minimum."
Ruehl is a rare example of a female leader in a very male-dominated environment. However, she believes this hasn't hindered her in any significant way. "Overall, I don't feel like it's been harder for me," she says. "One of the things I find makes a massive difference is having at least one or two other females in the team. I really love working with women, but I found, in the production world, a lot of the women I was working with were more on the creative or entertainment side.
"A lot of my colleagues throughout my career have been male, and I've never felt like they've treated me any different to anyone else. But the more different voices you have in the team, the better it is."
More broadly, with the Black Lives Matter campaign bringing attention to the lack of diversity in many parts of society, Ruehl says she's passionate about creating a more diverse workforce within Sky Sports' production operations.
"It's really hard work and there are no quick fixes," she adds. "We need to acknowledge where we're starting from and our starting point is predominantly male and white, right? That's our pipeline – when you look at Sky Sports, most of the people in senior positions have worked their way up from an AP, runner or junior position to the top. And it's taken them a long time; the movement isn't quick. So then you think, 'How do you sustainably make a change to that?'"
Ruehl continues: "You look at the wider sports broadcasting industry and it's not very diverse. Everything has to change – the culture, the pipeline – but you also need to have role models at more senior levels. So we've got a massive action plan to go through recruitment in detail from beginning to end. We're looking at whether our job descriptions are inclusive, where we're advertising these jobs, what our interview panels look like, and whether our managers have had proper training and are aware of unconscious bias.
"Then you need to make sure that your internal pipeline, not just at junior level but all the way up, is really good and solid. We've been on the gender journey for quite a while and we've really been looking at ethnicity in the past few years, with a massive focus in the past year."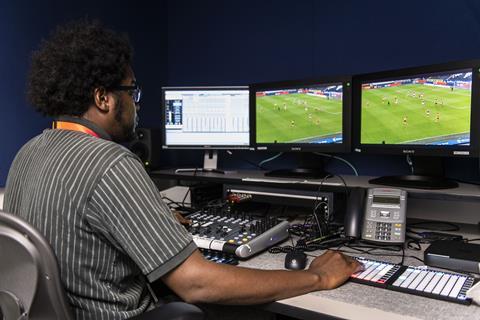 OPEN CULTURE
Ruehl is aware the impression people may have of Sky is of an organisation and place to work that differs significantly from what she's experienced. As part of the opening up of Sky, with the focus on gender balance and increasing diversity, Ruehl wants to get across the message that Sky is a lot less corporate than people might imagine.
"One of the things I am quite passionate about is for Sky to feel more open to the industry. I remember looking from the outside and thinking it seemed really closed. Which to some degree it is, because there's so much going on and we're busy in our own little world. But I love working at Sky. I think it's a great company and the people here are fantastic. I just want to increase that awareness in the industry and say, 'I know Sky can appear a bit closed and corporate, but that's not the reality'."