The companies picked up the production and distribution contracts following a competitive tender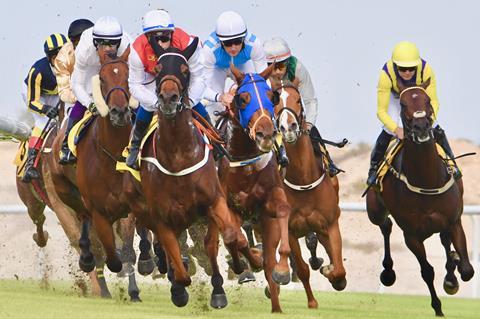 Timeline TV and Racecourse Media Group (RMG) have won the international production and distribution contracts for the Bahrain horseracing 2021-22 season at Sakhir Racecourse, following a competitive tender process.
Timeline will provide broadcast facilities and crew, and RMG will produce a one-hour world feed programme for international broadcasters for the three feature races, the Bahrain International Trophy today (19 November) and the first and final races of the Bahrain Turf Club series on 10 December and 18 February.
RMG – which is owned by 34 racecourse shareholders and responsible for a range of horseracing media rights businesses – has secured widespread global coverage of the Bahrain International Trophy in 130 countries via broadcasters such as Fox Sports in the US, ESPN in Latin America and Caribbean, and SuperSport in Africa.
Timeline is providing a bespoke OB facility to create an on-site broadcast operation centre, and Timeline and RMG will also be tapping into the local production expertise of Bahrain TV. On-screen graphics will be provided by MOOV.
Racecourse Media Group and Timeline have a long-established relationship. Both companies are now in their seventh season of producing and distributing the horseracing for the Dubai Racing Club, which stages the most valuable festival in the world, the $40m Dubai World Cup Carnival, and will apply similar world-class treatment to the horseracing output in Bahrain. Timeline Television has also built and run the playout facilities for Racecourse Media Group's TV channel, Racing TV, in Ealing Studios, West London since 2012.
Executive director at the Rashid Equestrian & Horseracing Club, Sheikh Salman bin Rashid Al Khalifa, said: "We are delighted to have secured the services of two world-class media companies in Timeline TV and Racecourse Media Group, who will greatly assist in taking the television production and delivery of Bahrain horseracing to the next level."
Dan Storr, senior broadcast engineer of Timeline, added: "Timeline is looking forward to bringing an exciting new look to racing in Bahrain and working closely with our long-term partners Racecourse Media Group."
Seb Vance, director of communications and international TV distribution for Racecourse Media Group, said: "Bahrain is fast becoming one of the real superpowers in horseracing and we're honoured that Rashid Equestrian & Horseracing Club have appointed RMG and our partners Timeline TV to provide a world-class broadcast solution, as befits the quality of racing on the track."