The federation has teamed up with FilmNova and Moov to improve the broadcast content around its events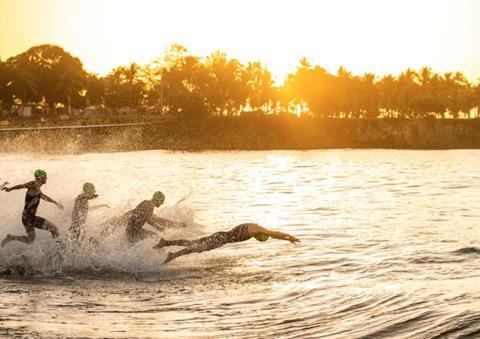 Triathlon's international governing body World Triathlon has brought in broadcast partner FilmNova and graphics provider Moov in a bid to enhance live coverage of its events.
FilmNova's remit is to put in place "bold, exciting and achievable solutions" for both the linear and digital broadcasting of all the World Triathlon Championship Series events.
Moov has been FilmNova's graphics partner of choice for 10+ years, and the companies will work together to enrich the coverage of World Triathlon events.
The season gets underway in Yokohama on 15 May, with coverage streamed on TriathlonLIVE.tv as well as major networks around the world.
World Triathlon president and IOC member Marisol Casado said: "The broadcast, digital and graphics landscape is constantly evolving, and we are delighted to be working with two companies consistently at the front of that evolution. We are always looking for new ways to bring the excitement of live racing to those watching at home and on smartphones and tablets, and these two companies will be able to add new layers to the live broadcasts that will entertain and inform both our current audiences and those coming to triathlon for the first time."
Phil Sibson, managing director of FillmNova, added: "We are delighted to be provided the opportunity to help World Triathlon develop coverage of the World Triathlon Championship Series. We believe there has never been a better time to grab hold of a broader, growing and more engaged audience and we are relishing working with World Triathlon to enhance the coverage and bring innovation and consistency."
Duncan Foot, CEO of Moov, said: "We are really excited to be joining this project, particularly in an Olympic Year, starting with the first event in Japan. Triathlon is the ultimate test of athletic ability and endurance and the World Triathlon Championship Series is the pinnacle of the sport, and we look forward to being there every step (cycle and swim) of the way."