Question Time pushed usage of BBC catch-up service iPlayer to a new high in October after nearly a million users requested the episode featuring BNP leader Nick Griffin, newly released figures reveal.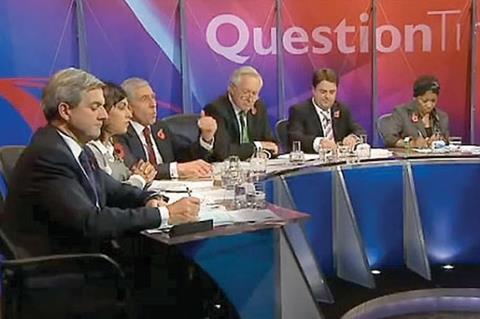 Until now, the corporation has refused to release detailed iPlayer usage figures to the press, but it has now published detailed information about the most requested programmes and viewing trends.
In October, there were around 928,000 requests for the controversial episode – nearly 50% more than its nearest rival, the first instalment of Life, which drew 664,000 requests. The boost helped the iPlayer to its best ever monthly performance, with 79.3m requests, and helped pull in 5.8m users in a week – the highest for any week since the catch up service launched. It also brings the total number of views for the Nick Griffin episode of Question Time to 9.4m.
Fast figures
BBC iPlayer usage, Oct 09
53.2m TV programme requests
26.1m radio programme requests
TOTAL: 79.3m
AVERAGE DAILY REQUESTS
1.7m (TV)
0.8m (Radio)
AVERAGE DAILY USERS
0.7m (TV only)
0.3m (radio only)
40,000 (both)
Panel and comedy shows like also performed well. Three different episodes of Never Mind the Buzzcocks made it into the top 20 most requested programmes (see below) alongside the first episode of Russell Howard's Good News, Michael McIntyre's Comedy Roadshow and Mock the Week.
The bottom of the top 20 list was dominated by EastEnders and Strictly Come Dancing, although one episode of EastEnders ranked seventh. Merlin also made two appearances in the list for its third and fourth episodes.
Figures for radio requests on iPlayer were much lower, dominated by BBC Radio 4's The News Quiz and Radio 1's The Chris Moyles Show. Just one programme made it into six figures: 5 Live's coverage of the Ukraine v England World Cup qualifier on 10 October, which was not shown live on terrestrial television.
Usage patterns were also very different for television and radio, according to the BBC research. iPlayer viewing followed roughly the same sort of curve as television viewing in October, peaking at just after 9pm with 155,000 users. Radio requests fluctuated throughout the day until around 8pm when they started to trail off. The peak was around 11am with 35,000 requests – three hours after the 8am peak for radio listening.
Other key findings
Men account for 58% of iPlayer requests on a PC, compared to just 48% of TV viewing and 49% of radio listening – flipping the traditional bias towards women on its head.


iPlayer usages skews younger than traditional television and radio usage - and is getting younger by the month. In the first quarter of 2008, 21% of iPlayer users were 55 or over, compared to 17% in the same period this year and 15% in the third quarter. 36% of all TV viewers and 24% of radio listeners fall in the same age bracket. Meanwhile the amount of iPlayer users aged 15-34 has risen from 38% in the first quarter of 2008 to 43% in the third quarter this year.


The amount of iPlayer requests through a PS3 has ballooned in the last few months, from 1% of all requests in July and August 2009 to 9% in September and 6% in October. Usage on other devices has held more or less steady, with Macs accounting for 9% of all requests, and iPhones accounting for either seven or eight percent despite the fact there is still no iPlayer app. Only requests through PCs fell – from 80% in July to 76% in October.


There is no day by day usage pattern available but the BBC notes that "a strong Saturday line-up in particular (Strictly, Merlin) increased requests on Sundays and resulted in the week commencing 26 October being the strongest week ever."
BBC iPlayer Top 20 TV episodes
| Title | Total requests |
| --- | --- |
| 1. Question Time 22/10/09 | 928,000 |
| 2. Life ep1 | 664,000 |
| 3. Life ep2 | 474,000 |
| 4. Russell Howard's Good News ep1 | 410,000 |
| 5. Mock the Week s6 ep1 | 371,000 |
| 6. Never Mind the Buzzcocks s23 ep2 | 362,000 |
| 7. EastEnders 23/10/09 | 353,000 |
| 8. Never Mind the Buzzcocks s23 ep1 | 353,000 |
| 9. Merlin s2 ep3 | 334,000 |
| 10. Merlin s2 ep4 | 323,000 |
| 11. Michael McIntyre's Comedy Roadshow ep1 | 321,000 |
| 12. Strictly Come Dancing s7 ep5 | 317,000 |
| 13 .EastEnders 09/10/09 | 302,000 |
| 14. Strictly Come Dancing s7 ep6 | 290,000 |
| 15. Never Mind the Buzzcocks s23 ep3 | 288,000 |
| 16. Strictly Come Dancing s7 ep8 | 281,000 |
| 17. EastEnders 20/10/09 | 271,000 |
| 18. EastEnders 02/10/09 | 271,000 |
| 19. EastEnders 22/10/09 | 264,000 |
| 20. EastEnders 01/10/09 | 245,000 |