Data reveals viewers are increasingly watching shows on-demand before they air
The scale of pre-TX viewing, the popularity of BBC3 content on iPlayer and the subscription growth of Amazon Prime have been highlighted by Barb as part of its annual Viewing Report.
The measurement body has released a host of data for the first time as it bids to keep pace with rapidly evolving viewer behaviour. These are the key themes to emerge.
The level of binge-watching is increasingly evident – for example, almost two-thirds of the audience for Sky Atlantic's The Tunnel: Vengeance watched the final episode before it aired.
An audience of 500,000 watched the sixth episode of Kudos' thriller ahead of that episode's linear TX, representing the bulk of its total audience of 800,000.
Some 200,000 recorded the show, while almost 100,000 watched on-demand post-broadcast. Only a fraction watched the final episode live in January.
The proportion of pre-TX viewing grew steadily as the six-parter progressed, with a jump of 200,000 between the third and fourth episodes over the Christmas period.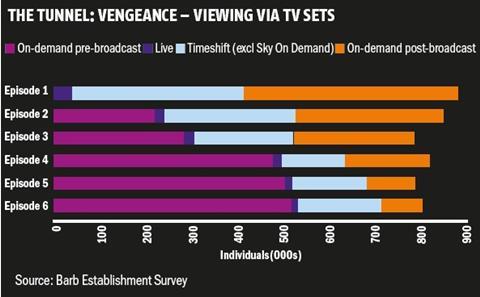 Viewers appear to have taken advantage of the holiday to binge on the show before its final three episodes aired in early January.
Over the course of the series, an average audience of just 3% tuned in live, while 70% watched on-demand either pre- or post-broadcast. Almost one-third (27%) recorded and watched.
The BBC has also been experimenting with making entire series available on-demand ahead of their linear TX. Top Of The Lake: China Girl and Requiem are among the shows to have been made available on this basis.
The report said: "The later episodes of Top Of The Lake accrue the bigger numbers.
"[This is] a consequence of viewers having more time to see the programme on-demand pre-broadcast and less patience to wait for the linear broadcast to find out how it ends."
Analysis: box sets, BBC3 and rise of Amazon
1

Currently reading

Rating analysis: Rise of pre-TX viewing

2

3