MONDAY: Margolyes' mission to discover why the UK is so overweight opens above slot average while ITV's Liar gains 500,000
Miriam's Big Fat Adventure (BBC2) 9pm-10pm
1.6m (8.4%)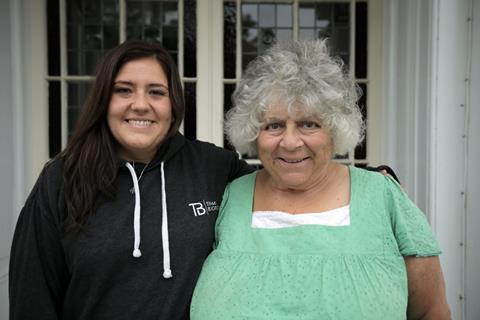 Wild Pictures' two-parter was helped along by a doubling of 45-54 year old share to 9.5% (310,000) and an upsurge in women viewers.
The 60-minute ep, in which the presenter and Harry Potter star visited a military-style weight loss bootcamp, experienced a one-third female share increase to 9.7% (960,000) – as women accounted for almost two-thirds (62%) of its audience.
It was well up on Margolyes' previous BBC2 effort – her Dead Good Adventure – which managed 850,000 (4.5%) in the same slot in April, and was also ahead of Love Productions' Who Are You Calling Fat? (1.4m / 8.1%) from the same slot in October.
Across the 9pm hour, ITV thriller Liar surged by 500,000 from last week's opener to grip 3.8m (20.5%) and secure the 9pm slot.
Two Brothers' drama comfortably saw off the challenge from BBC1's Masterchef (3m / 16.5%), according to Barb data from overnights.tv
Meanwhile, Channel 4's 24 Hours in A&E continued with 1.4m (7.8%) and Channel 5's Warship: Life at Sea concluded its second run in line with series average with 1.1m (5.9%).
The first series of Artlab Films' doc series managed an improved 1.4m (7.1%) across its five-part run.
10pm
BBC2 comedy anthology Inside No 9, which has been renewed for two more series, closed with a series low of 540,000 (4%) – ending with an overall average of 650,000 (4.8%), although this is doubling when consolidated seven-day figures are taken into account.
The fourth run drew an an overnight average of 970,000 (6.1%) in the same slot in early 2018.
BBC Studios' offering came up against the closer of Channel 4's Baghdad Central (200,000 / 1.7%) during its first 30 minutes.
The drama, which was made available as a boxset following the launch of its opening ep, ended with a series average of 240,000 (2.1%). It was far short of the 570,000 (4.5%) 10pm-11pm slot benchmark.