WEEKEND: Poldark's return was narrowly outscored by ITV's pro-celebrity Soccer Aid football match
Sunday
Poldark (BBC1) 9pm-10pm
4.7m (22.6%)
The fourth series opener of the period drama struggled to match the 5.5m (24.2%) who tuned in to the previous opener in the same slot in June last year.
It was, however, narrowly ahead of the 4.5m (21.9%) slot average and reeled in an older audience.
Some 55% of over-55s watching TV at the time tuned in, according to Barb data from overnights.tv
Mammoth Screen's drama was just beaten by ITV's Soccer Aid as the two clashed over the 9pm hour.
The England XI vs the Rest Of The World XI match, which featured the likes of Eric Cantona, Blake Harrison, Ben Shephard, Mo Farah and Usain Bolt, notched up 4.77m (23%) as the programmes went head-to-head.
Across three-and-a-half hours from 6.30pm, the charity event, produced by Endemol Shine indie Initial, generated 3.9m (21.7%).
Last year's game, which aired in the same slot, reeled in 4m (23.2%).
ITV2 was next in line as Love Island continued with a healthy 2.5m (11.9%), according to Barb data provide by overnights.tv.
On BBC2, Frankie Goes to Russia slipped to 773,000 (3.7%) to bow out with 884,000 (4.1%) across its two parts, while The Handmaid's Tale reached its fourth outing on Channel 4 with a steady 940,000 (4.6%).
Channel 5's The Yorkshire Steam Railway could not compete, mustering 500,000 (2.4%).
ITV cleared the decks ahead of the World Cup. Ninja Warrier recovered from last week's low to hit 2.5m (20.6%) over the hour from 6.30pm. Across eight weeks, it reeled in an average of 2.7m (19.2%), down on the 3.5m (18%) who tuned in last year.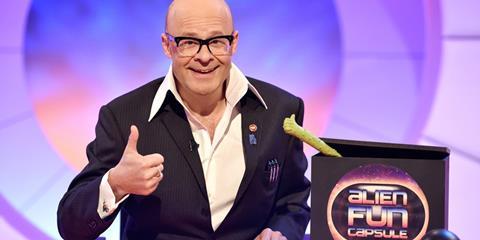 It was followed by the final recap episode of Harry Hill's Alien Fun Capsule, which fell to a low of 1.5m (11.5%).
Across its run, the eight-parter entertained 2.4m (15.8%), ahead of the 2m (9.8%) who watched the debut series in a Thursday 8.30pm slot from March 2017.