Superheroes and supernatural sleuths continue to be popular subjects for US network dramas acquired by British broadcasters.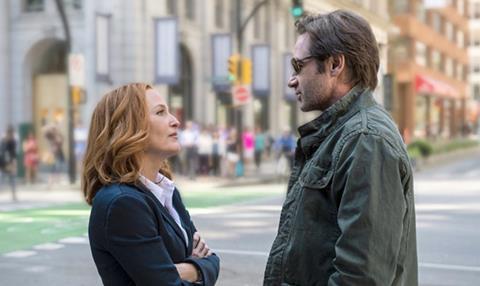 Ahead of the LA Screenings next month, where UK broadcasters start their annual acquisition sprees, Broadcast has crunched ratings data to highlight which of last year's high-profile US network shows have performed best in the UK.
After Gotham in 2015, Channel 5 once again tops the table – this year with The X-Files. The launch episode of the David Duchovny and Gillian Anderson reboot consolidated to 5.1 million (18.6%), making it the Viacom-owned broadcaster's second highest-rated show in 10 years, narrowly behind the launch of Celebrity Big Brother in 2011.
The six-part, 20th Century Fox-distributed series rated higher than Channel 4's Marvel's Agents of S.H.I.E.L.D, which launched with 4.5 million (18%) in 2013 and has been one of its most successful acquisitions in years.
C5 will also be quietly pleased with the performance of its other reboot, Heroes Reborn. The NBC series has been front and centre of 5 Star's recent rebrand and is averaging a consolidated audience of 619,000 (2.3%) after eight episodes, well above the digital channel's 167,000 (0.7%) slot average.
Sky 1 continues to build up a successful superhero slate, with Supergirl and Legends Of Tomorrow joining 2014 acquisition The Flash. Both shows opened roughly in line with The Flash, although with slightly lower series averages.
Sky Living's Memento-style crime drama Blindspot has also performed consistently and completely demolished the channel's 109,000 (0.6%) slot average.
E4 has struggled over the past couple of years to match recent purchases, including 2014's post-apocalyptic drama The 100, which debuted with 1.8 million (8.3%) – the channel's best-rated launch on record. It has also struggled to identify a long-term replacement for sitcom The Big Bang Theory.
Horror thriller Scream Queens launched well with 639,000 (3.8%), while Rush Hour, the reboot of the Chris Tucker and Jackie Chan film, scored a below-par overnight audience of 320,000 (1.6%) on its debut this week.
The youth-skewing channel will be hoping that Containment, the US remake of Belgian plague thriller Cordon, can do better when it launches this summer.
UKTV will be pleased with the business it has done since returning from California last year. Both Alibi's FBI drama Quantico and W's medical thriller Code Black outperformed slot average, and the multichannel broadcaster will be hoping for similar results for Criminal Minds: Beyond Borders.
Last year's Screenings was low on globally friendly comedy, with only two notable acquisitions in the UK. Sky 1 snatched the hotly contested rights to The Muppets reboot, but could be disappointed by its dwindling performance and failure to match the channel's 335,000 (1.4%) slot average. ITV2's Bordertown also failed to hit the channel's 404,000 (1.6%) slot average.
Scripted network series are subject to increased competition from edgy cable dramas on British television and online. FX's American Crime Story: The People Vs OJ Simpson was acquired by BBC2, while USA Network's Mr Robot was picked up by Amazon.
Attention will now turn to this year's slate, which includes ABC's Kiefer Sutherland-fronted Designated Survivor and CBS's Matt LeBlanc sitcom I'm Not Your Friend (w/t).