Classic entertainment format Robot Wars is to be rebooted in a "bullet-proof arena" by Mentorn Scotland for BBC2.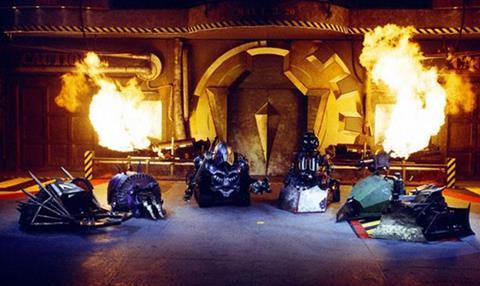 The gameshow, in which amateur-built robotic fighting machines battle for supremacy in a knock-out competition in front of a live audience, will return for a 6 x 60-minute run later this year.
Originally presented by Craig Charles, Mentorn's show aired on BBC2 from 1998 until 2001, when it briefly moved to BBC Choice, before Channel 5 picked it up for a final series in 2003.
The reboot was ordered from the Tinopolis-owned indie after the BBC entered discussions with Mentorn Scotland about bringing the format back while in production with BBC3 series Hotel of Mum and Dad.
It was commissioned by BBC2 and BBC4 controller Kim Shillinglaw, acting controller of entertainment Alan Tyler and BBC daytime and nations commissioning editor Jo Street and is slated to feature more robots, battles and science.
"The redeveloped Robot Wars proved compelling - offering a mix of real people, real passion and raw power," said Tyler. He added that it was to be filmed in a "literally bullet-proof" purpose-built arena in Glasgow, with the audience brought closer to the destructive machines using state-of-the-art cameras.
"It is fundamentally driven by the eccentricity of the brilliant brains behind the machines," said Tyler. He added he had received numerous pitches with robots at their core but the redevelopment of Robot Wars had proved to be the best.
The show, which is produced in association with SJP Media, will be executive produced by Tinopolis creative director of entertainment Chris Brogden, Mentorn Scotland's Andrew Robertson and the BBC's Street.
Brogden said Robot Wars "promises to be quite the competition, [featuring] new and improved robots, with extraordinary innovation and power in these updated machines."
Describing it as "an absolute TV classic", Shillinglaw said it was a "fantastic example of the kind of content-rich factual entertainment that BBC2 excels at."
Passion Distribution has series and format rights for Robot Wars.