Sky Sports and the BBC have conducted virtual reality trials on Premier League football and Welsh drama Hinterland, as the broadcasters attempt to reach younger audiences.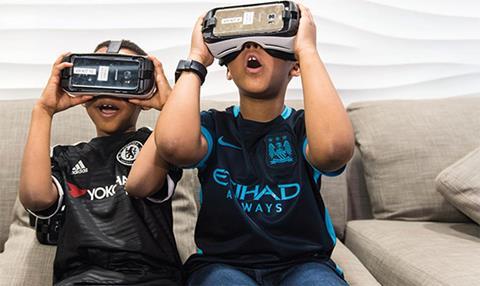 Pay-TV giant Sky used Sunday's clash between Manchester City and Arsenal at the Etihad Stadium to trial immersive footage captured by VR specialist LiveLike VR.
The test, conducted with a young family in Sky's Osterley headquarters, allowed the users to watch live coverage of the game via a Samsung smartphone from three cameras positioned around the ground.
The service offered a 180-degree view of the pitch from a camera located on the halfway line, while the viewers could switch to the other two cameras behind each goal using eye-tracking software.
The trial, delivered via a dedicated app, also allowed users to access an array of stats from the match by looking down, while the four goals scored during the game were made available to view on-demand from around 10 different angles.
Director of Sky Sports production Steve Smith said the trial complemented previous 360-degree VR tests conducted with heavyweight boxer Anthony Joshua and cycling squad Team Sky.
It was designed to help Sky gauge what is necessary to deliver a robust VR experience into homes and whether consumers are interested in the format.
"We are exploring what content works best, how to make the experience as simple as possible and testing the technical capabilities," said Smith.
He added that while some sports may lend themselves to a "ringside" 360-degree experience, others may be best experienced in 180 degrees.
Further trials are expected to take place with Joshua, while preliminary plans are also being drawn up around The Open golf championship after Sky Sports picked up the rights from the BBC.
Smith said Sky was not merely future-gazing and predicted that VR services could become mainstream early next year.
"Adoption of VR will come down to penetration of headsets, which is gathering pace," he said. "We are making sure we can guarantee a good experience."
Separately, the BBC launched Hinterland 360: Catch A Killer this week, an immersive experience in which users take on the role of DCI Tom Mathias as he investigates crimes committed by a serial killer.
The Connected Studio pilot, launched as part of trial service BBC Taster, gives users 360 seconds in which the clues they uncover and the choices they make determine their personal experience and the way in which the story is resolved.
It is built using a combination of 360-degree stills and special scenes shot with Richard Harrington (DCI Mathias).
BBC head of innovation and Connected Studio Robin Moore worked on the project with S4C, Hinterland producer Fiction Factory and creative agency London Djinn.
"We were interested in how we could make short-form drama more immersive and ideally help us to reach younger audiences," said Moore. "We wanted to up the levels of interaction, but not distract people from the story."