Sunset + Vine has secured a deal to manage Lord's YouTube channel, which has involved stunts including attaching a GoPro camera to the helmet of West Indian batsman Brian Lara as he faced Sri Lankan bowler Muttiah Muralitharan.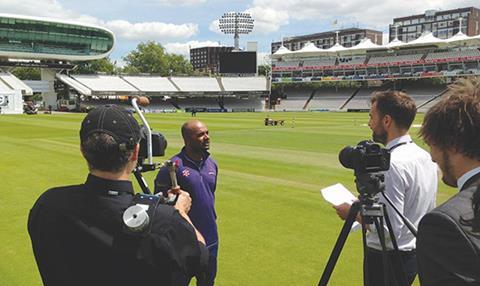 The sport production company soft-launched the revamped YouTube channel in June to give visitors access to major cricket stars visiting the Marylebone Cricket Club (MCC).
Along with the head-to-head battle between Muralitharan and Lara from the practice nets, the channel features similar GoPro footage from the pitch.
In one video, Australian batting legend Adam Gilchrist hits former teammate Shaun Tait for two boundaries at a recent MCC vs Rest of the World match.
The most popular clip, which has amassed more than 750,000 views in three weeks, follows Indian batsman Sachin Tendulkar as he walks through Lord's Long Room to bat.
Lord's Cricket Ground Channel Since June 2014
1.2m views
3,500 New YouTube subscribers
13,000 New Twitter followers
Source: Sunset + Vine
Sunset + Vine, which is the primary production partner for BT Sport, plans to update the channel several times each week with a range of original content, including interviews with players, match previews and a series of The Laws of Cricket animations voiced by Stephen Fry.
It will also repurpose footage from the MCC archive featuring classic innings and matches.
YouTube specialist digital agency Diagonal View has been brought in by Sunset + Vine to handle channel management and optimisation requirements.
Sunset + Vine commercial director Andrew Piller said the aim was to bring enthusiasts closer to the stars of the game.
"Fans will be able to unearth a treasure chest of archive footage but they will also have unprecedented access and insight from the stars of the game, both past and present," he said. "The new approach has been very well received in the soft-launch period."
Sunset + Vine has also been tasked with boosting Lord's profile on Facebook and Twitter.