From gameshows to survival series, formats are ramping up the element of danger.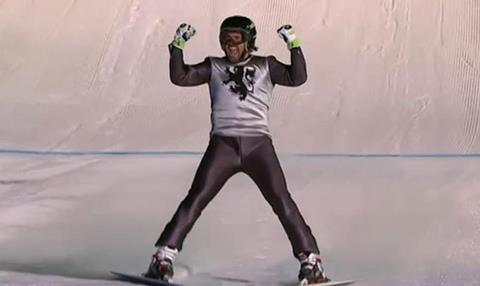 The biggest risk on a gameshow used to be what might come out of a contestant's mouth. These days, you can expect to see people throwing themselves out of helicopters, down mountains or in front of a pack of hounds – all in the name of entertainment.
With more danger comes more responsibility on the part of the producers to ensure that participants are safe – even when, as sometimes happens, the participants themselves appear hell bent on taking as many risks as possible.
This is a particular issue when fame or money is at stake, as it so often is in gameshows and competitive formats, says Alex Bohanna, owner of risk-management specialist Remote Trauma.
"The motivational factor of money features quite highly in our assessments, and sometimes we might have to intervene if the risk becomes too high," he explains.
On his team's advice, participants in BBC1 series Prized Apart were told that the opening sequence, in which they jumped from a moving helicopter into a lake, would have no bearing on whether they won any money.
"The sequence was critical and had to remain, but the motivation was too high," he says. "Once we told them they wouldn't be penalised, that removed a big element of risk."
Matthew Worthy, joint managing director of Stellify, producer of Channel 5's new social experiment In Solitary, agrees. "To offer a cash prize would have meant adding a financial incentive to the assessment of risk – and that can push people to go to places they are not comfortable going."
Not that the process for this series was any easier. "The biggest risk was that this was uncharted territory," says Worthy.
"No one could really tell us what effect isolation would have on our volunteers – because individuals react quite differently. Therefore, we had to make sure that warning signs could be identified early and acted upon immediately – under the appropriate medical supervision."
CASE STUDY
The Island With Bear Grylls
Channel 4, Shine TV
Risk assessment began at the very early stages of production on The Island. The Remote Trauma team was brought in during editorial meetings to lay out their initial planning. A technical recce then established what would be required, before a full risk assessment was written up.
Three weeks before filming, the safety team headed out to the island to run a familiarisation exercise, an exhaustive process in which an injury is simulated and reactions assessed.
"We trial all of it," says Remote Trauma owner Alex Bohanna. "Every last bit."
Once the participants were brought on location, the work stepped up a notch. Everyone attended a safety meeting where all the rules and acceptable parameters were set out, and then took part in a swim test, where simulations were carried out so that participants didn't over estimate their strength.
IDENTIFYING RISKS

They were also given survival training, and anything potentially poisonous or likely to sting or bite them was identified. A laminated sheet was left in a drop box for them to refer back to.
After that, the risk team was on standby 24/7. A safety adviser, paramedics and a survivalist lived on a nearby island so they were just 10-15 minutes away by speedboat.
There were also two safety calls each day to check water and food levels, so that Remote Trauma could intervene if necessary.
This gets to the crux of the challenge with risk: people react to different stimuli in very different ways. And that's what can also make a 'risky' show expensive to manage.
In some cases, such as on Channel 4's Hunted, producers and risk teams must try to prepare for all eventualities, because they can't pre-empt what a participant might do.
"It's incredibly important not only to ensure that the correct protocols are in place in the first place, but also that the individual teams, on location over a prolonged period, have had the training necessary to make the right decisions," says Tanya Shaw, managing director of producer Shine TV.
"We try to give ourselves time to think through all the scenarios that might potentially cause us issues."
That includes bespoke training, pre-location briefings and constant communication with risk specialist 1stOption.
"There is a constant flow of live comms and, as a back-up, we have a dedicated production emergency phone, plus spot trackers, which enable our health and safety team to monitor the fugitives' movements."
But even with the best planning, sometimes participants just ignore the advice they've been given. "We had an accident on The Island once, but there was nothing we could have done," Remote Trauma's Bohanna admits.
"The contributors had broken the rules, plain and simple. We had spoken to them 40 minutes before and told them not to go where they went, but they did – and they fell. What more can you do?"
And then, of course, there are the shows where, despite all the planning, something just goes wrong. C4's The Jump made the headlines in 2016 for a spike in the number of injuries, with some dubbing it the most dangerous show on TV. And yet nothing was done differently between series – it was simply a case of bad luck.
Twofour chief creative officer and executive producer of The Jump Andrew Mackenzie says the experts consulted when planning the show included instructors and course designers, medics, health and safety personnel and experienced sports producers – and "very stringent standards and protocols" were in place.
Case Study
Release the Hounds
ITV2, Primal Media
During pre-production, the producers of ITV2's 'horror entertainment' concept brought in risk-assessment
company A to Z Animals to train a pack of dogs and put them through practice runs in which they chased
members of the team.
"We needed to know that it was fine from a health and safety perspective, and then there was animal welfare," says Primal Media managing director Mat Steiner. "We also needed to know it was something we could do
again and again."
DROPPING IDEAS

Some ideas - like running through a forest - were quickly abandoned on the advice of the experts.
"They said it had to be a straight line of sight," Steiner explains. "As with all programmes where you use animals, you set out what you want to achieve and you're told where you have to make changes."
Steiner won't reveal how it's done - that's a trade secret. "Suffice to say, it's real people running and they are real dogs." But he confirms that the contestants do wear protective clothing "which appears to be nice and casual".
Aside from the hounds, there were other safety risks that had to be navigated. In one example, the team had to come up with five different protocols in case a contestant didn't get off a conveyor belt heading towards a crushing machine in time.
Steiner says. "We had to come up with creative health and safety solutions in an environment where you can't break the illusion of what's happening."
Contributors on every series go through rigorous assessments and training, the courses are designed, tested and approved by professionals, and everything is signed off by health and safety experts.
"Winter sports carry an element of risk and we do all we can to mitigate that risk – and have done so for every series," Mackenzie says.
"We can never be too cautious and we work with these experts to review all risk assessments and protocols regularly to ensure they meet best practice. Safety is always of paramount importance."
Thankfully, injuries are relatively rare – testament to the amount of planning that goes into entertainment shows that wear the "risk" badge on their sleeve.
No matter the type of show, producers and risk specialists agree that the best way to avoid danger is to have those conversations at an early stage.
"There is a misconception that if a producer brings a risk-management company in, it will take the element of jeopardy or challenge out of it," Bohanna says. "In fact, they will probably get better content out of it."