Platform will include live meet and greets with riders immediately after races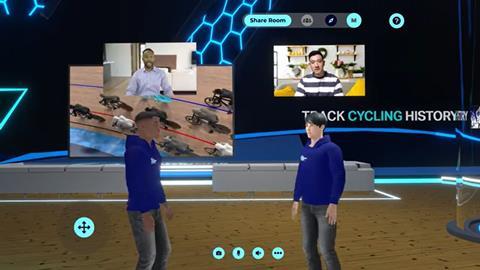 The UCI Track Champions League and Infinite Reality have launced a metaverse platform for the Track Champions League.
First revealed at a trial for the London event last year, which Broadcast Sport wrote about here, the platform includes public and private lounges for viewers to meet each other in, biometric rider race data to see during races, on-demand highlights and exclusive content such as behind-the-scenes docuseries Back On Track, and a customisable stream that lets viewers decide which of eight live cameras they want to watch the action through. There is also a feed with an exclusive metaverse reporter that will present a behind-the-scenes program with exclusive interviews for the metaverse viewers.
The metaverse will be available on the App Store from 10 November, leading into the two London rounds taking place this weekend. It will only be available on iOS at first, with Android and desktop versions to come "soon". You can see the metaverse in use in the video below.
Following the races, former UCI World Champion Matthew Richardson and reigning Olympic Champion Kelsey Mitchell will take part in the first live meet and greets on the platform, where fans will have the opportunity to discuss their recent performances face-to-face, in real-time. These will take place at 18:30 and 19:30 GMT on Friday 10 November, and 17:00 and 18:00 GMT on Saturday 11 November
Chris Ball, vice president of cycling events at Warner Bros. Discovery Sports Europe, said: "The 2023 UCI Track Champions League has been incredible and fans around the world have already been enjoying the live action from packed velodromes and via our far-reaching broadcast coverage. It is the perfect time to launch this unique new metaverse experience to capitalise on the heightened awareness and participation in the series to engage fans on an even deeper level. We're particularly excited to allow fans the opportunity to meet Matthew Richardson and Kelsey Mitchell face to face as well as unveiling a range of new innovative virtual features. This is just the start and we're confident this new experience will take the sport even further into the future to support the continued growth of track cycling."
Francois Ribeiro, CEO of Europe for Infinite Reality and formerly Discovery Sports Events chief, said: "We are proud to play a pivotal role in delivering a new, interactive, and deeply immersive environment, unlike any other metaverse experience, to the UCI Track Champions League. This milestone solidifies Infinite Reality as pioneers in the sports industry and paves the way for an unparalleled experience that fans can access anywhere from their mobile devices to attend, watch, interact, socialize, learn, or shop remotely."