THURSDAY: The return of The Fall dented the audience for ITV's crime drama Paranoid by over 1m.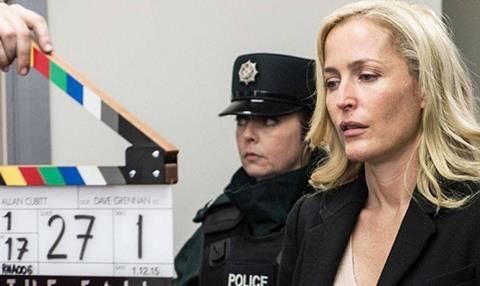 The Fall (BBC2) 9pm-10pm
2.5m (12.5%)
The third series of Artists Studio's six-parter launched on par with the second series opener in November 2014. However it was unable to match the 3.5m (15.4%) who tuned in to the debut in May 2013.
The episode remained a million ahead of the channel's slot average of 1.5m (7.5%) for the past 12 months.
The Fall impacted on the second episode of ITV's Paranoid. Red Production Company's crime drama slipped from 4.1m (21.5%) to 2.7m (13.6%).
The performance pushed it below the channel's 3.3m (16.5%) slot average.
On Channel 4, the second part of Shine TV's castaway reality series Hunted stayed steady with 1.6m (8%), according to Barb data supplied by overnights.tv.
BBC1's The Truth About Meat won the 9pm slot with 3m (15.2%) but remained below the channel's 3.9m (19.1%) slot average while Channel 5 rounded off the slot with The Nightmare Neighbour Next Door which picked up 1.4m (6.9%), above the channel's 1.3m (6.3%) slot average.
John Bishop: In Conversation With (W) 9pm-10pm
63,000 (0.3%)
The chat show slipped to a series low, below the slot average of 71,000 (0.4%), for its fifth episode which featured Kirsty Young.
The ten-parter opened early in September with 319,000 (1.7%).