While 4K is widely touted as the next big thing there is still a long way to go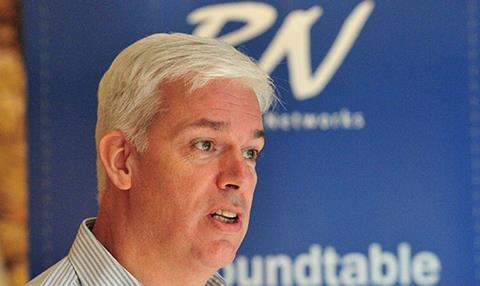 Roundtable: The Panel
Chair George Bevir Broadcast facilities and technology editor
Jon Try Vice-president, technology, Chello DMC
Malcolm Robinson Director, media & broadcast solutions, Broadcast Networks
Richard Mills Chief technical officer, Onsight
Tom Haye Managing director, Broadcast Networks
Keith Lane Director of operations, Sky Sports
Andrew Horne Solutions architect, EMEA, Elemental Technologies
Peter Bates Managing director, Telegenic
From manufacturers adding to their ranges of 4K-capable cameras on an almost monthly basis, to OTT providers like Netflix touting their 4K streaming credentials, it appears as though the path from HD to higher-resolution content has already been decided upon.
Although the industry has gathered under the banner of Ultra High Definition (UHD), which sets out some of the parameters, some fundamental issues still need to be addressed before wide-scale rollout can take place.
Broadcast gathered senior figures from the worlds of systems integration, outside broadcast, production, post and playout in London last month to examine the lessons so far and discuss the challenges faced by those tasked with creating and delivering high-resolution content.
Is the shift from HD to Ultra HD inevitable, and which genres stand to gain most?
Keith Lane Our customer surveys make for interesting reading; there is still a massive base that has yet to go to HD. It makes you wonder: if the HD walnut has not been cracked, what will happen with Ultra HD? My feeling is that the appetite will be there, but it will take a long time to grow.
Tom Haye It has to become financially interesting to gain traction and we're seeing increased demand for UHDcapable infrastructure. It's a transitional period, so we're working closely with manufacturers and clients to understand the impact on business strategy as well as operations. Live production presents challenges now, but UHD playout and OTT rollout are straightforward and will attract cord-cutters.
Jon TryI'm not sure it is inevitable. Everybody would have said that about 3D a few years ago. With UHD, it will depend on the 'wow' factor: it has to be different enough from HD to encourage consumers to make the investment.
Richard Mills I think drama, because of its repeat value, along with one-off events and live music, will gain most. Sport has picked up the baton for UHD. What has this meant for filming techniques?
Peter Bates There are coverage techniques that need to be fine-tuned in terms of camera operation and workflow within the live arena. As with 3D, there is a steep learning curve.
One of the major realisations with acquiring 4K has been that you need to let the shot linger and allow people to absorb what they have seen. The 'wow' factor comes from those wide establishing shots.
KL When we went down the road of planning 3D – and 4K will be similar if we fully commit to it in the future – we had to think about the editorial content within what we are producing. As Peter [Bates] says, you need to let it breathe with 4K, so crew have to be aware of the pitfalls.
Do you think there will be a specific sporting event that is the tipping point for UHD?
KL There is a sense that the 2016 Olympics in Rio will be a milestone. Bearing in mind the natural cycle of a year at least for product development, it will probably be 2015 before the market has more choice and solidity around it.
Andrew Horne There is a lot of talk about Rio. People are coming to us asking 'are you ready to do this?' The big challenge is being able to ensure that we are part of an ecosystem that is ready, end to end.
Has the cost of shooting higher resolution content come down significantly in recent times?
RM Hardware costs have come down, as have storage prices, whether it is discreet hard drive or cloud. Also, the hardware available for near-set or on-set processing has improved.
Are the EBU, the ITU and other organisations doing enough work around standardising exactly what viewers can expect to see?
RM My perception is that more work took place last year than in previous years, both in terms of compression – because obviously the better the codec, the better the delivery – and domestic screen technology.
PB As with HD, a lot of it is trial and error, and from a live perspective we have to reach the right compromise between what is achievable and what gives a beneficial output. Plenty of committees are looking at the figures and it will be great if everyone can agree on a standard format – but I think it's highly unlikely.
KL There is a lot of conversation around standards and what to call things, and clarification will undoubtedly be a good thing. However, standardisation will require some difficult choices to be made. For example, we all know a higher frame rate for sport is desirable, but is it really achievable with the set-top boxes we have currently? Probably not.
AH 4K at 50p is what people are telling us they can do. The chipsets are being delivered. It's tangible.
What about the challenges to infrastructure and cost implications of moving towards UHD?
Malcolm Robinson The first 4K-capable truck we worked on was relatively straightforward and perhaps technically easier than the initial 3D projects we were involved in. In the long run, as more people talk about OTT rather than just UHD, the interesting part will be how much is pushed aside for different types of workflow, publishing techniques and delivery methods. That will lead back to content creation: what's the highest rate you want to capture, how do you deliver it and how do you archive it?
PB There will be an uplift in capital expenditure on equipment; it's difficult to say exactly how much, but it could be 30-40%. Regarding the infrastructure in the truck, it's very easy to accommodate 4K because it's more HD. Depending on the techniques used and how those alter, there may not be a major change to production costs.
What hurdles still need to be overcome before we are likely to see widescale adoption?
PB One major barrier will be the general education of consumers and what people are buying into. From a live production perspective, the challenge will be to educate the production teams as to how they maximise the editing.
JT Premium content – film and sport – went HD first, followed by some factual channels. I think we will probably see that replicated with UHD, but timescales are diffi cult to predict.
AH I think we will see some massive changes this year. The large sporting events should drive the whole proposition upwards, making it a big enough prize for everyone to take a shot at.
TH It's a transitional period. Apart from the traditional integration activities, we are working closely with clients and manufacturers to act as an integration partner that understands the effects of multiple manufacturers bringing out new technology and gluing it all together.
KL More products will come out and we will see what opportunities they give us to deliver more rounded productions on the events side. The encoding issue will be an ongoing journey too.
RM Acquisition of premium content of every type will increase. In terms of delivery to viewers, the initial ramp-up will be to early adopters, who will be prepared to pay for premium content.
MR There is a question about quite how much of a lifespan 4K has, in light of the reluctance of some bigger manufacturers to commit. I am also wondering whether we might see a move to 8K content capture or beyond at NAB next year. From a business point of view, it's important to demystify how you acquire and deliver UHD and advise customers about when and where they should invest.
I think we are going to see new players coming into the market so it will be interesting to see how the established ones change. All in all, the industry is in a really fascinating place right now.