Tony Hall has described Jimmy Savile's BBC tenure as a "a dark chapter" in the corporation's history after a draft copy of the Dame Janet Smith Review was leaked to investigative journalism website Exaro.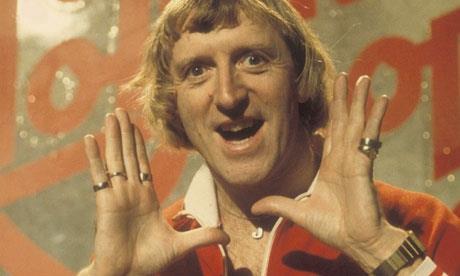 The director general was forced to issue a statement after the leak revealed the extent of Savile's predatory behaviour at the BBC, and the broadcaster's failure to act.
Exaro's leak says the report points to a "deferential culture", "untouchable stars" and "above the law" managers at the corporation. It reveals that Savile preyed on children as young as nine years old on the sets of Top Of The Pops and Jim'll Fix It.
Hall said his thoughts were with the victims of the Jim'll Fix It presenter, who died in 2011. He added: "Dame Janet Smith's report will be invaluable in helping us understand what happened and to help ensure that we do everything possible to avoid it happening again.
"The review has said that the copy leaked to the media is an early draft which has changed considerably, so while I am impatient to learn those lessons the responsible thing must be to act on the final report which we have not received."
A separate statement from Smith's team, issued at 4am after Exaro had published more than 37,500 words from a draft report, said its full and final findings will be released as "soon as possible to ensure that accurate and responsible reporting can take place".
The statement added: "That document is out of date and significant changes have been made to its contents and conclusions. The document should not have been made public and cannot be relied upon in any circumstances."
Smith's team had said on Wednesday that the review would be published within six weeks after the Metropolitan Police said "it is no longer concerned that publication of the report could prejudice its ongoing investigations".
Exaro's leak confirmed many of the worst fears about Smith's findings. Her report is set to reveal the full extent of Savile's reign of abuse on BBC premises and the failure of management to recognise and put an end to his behaviour.
"[Savile] would indulge in sexual touching while working on the set and on at least one occasion, he was actually on camera. Savile would seize the opportunity for sexual contact even in public places such as corridors, staircases and canteens," according to an extract on Exaro.
Leaked report: Smith's take on today's BBC
Alarmingly for the BBC, which is said to have had a draft copy of the report for a year, Smith also said it was possible that a "predatory child abuser could be lurking undiscovered in the BBC" even today.
Her report also casts doubt on the BBC's existing whistleblowing procedures, with evidence suggesting that staff are more concerned about reporting management abuse than they were during Savile's tenure because of fears they will lose their job.
The review is thought to point to the insecurity staff feel because of the widespread use of freelance or short-term contracts at the BBC. "It is clear from the evidence that there is still a widespread reluctance to complain about anything or even for it to be known that one has complained to a third party," Smith wrote in the draft report.
She added: "It was explained to me that, in one respect, the position is even worse today than it was years ago in that so many people are now employed on short-term contracts or on a freelance basis, with little or no job security. Positions at the BBC are very sought after. The feeling that many workers have is that if they make any kind of complaint, they will not be used again."
Investigative journalist David Hencke, who worked on the story for Exaro, said: "The report is a devastating critique of the BBC's culture in the 1970s and 1980s where "talent" was " untouchable", managers were "above the law" and there was a heavy drinking culture among top executives."
Smith's review was commissioned by former BBC director general George Entwistle in October 2012. Its publication has been delayed many times as criminal proceedings have been taken against the likes of former BBC presenter Stuart Hall.