David Hare drama starts engine with 5.1m
Strictly Come Dancing and The Million Pound Cube returned this week as Taskmaster opened its account on Channel 4, with BBC1 drama Roadkill providing a welcome dose of originality.
The week began on a sombre note as viewers flocked to BBC1's News coronavirus bulletin at 7pm to hear the latest guidelines from prime minister Boris Johnson.
The 7.5m (37%) who tuned in was some way short of the last time an announcement was made at that time – when Johnson addressed 14m (51%) in the midst of lockdown on Sunday 10 May. Opposite, Channel 4 News managed its typical 560,000 (3%).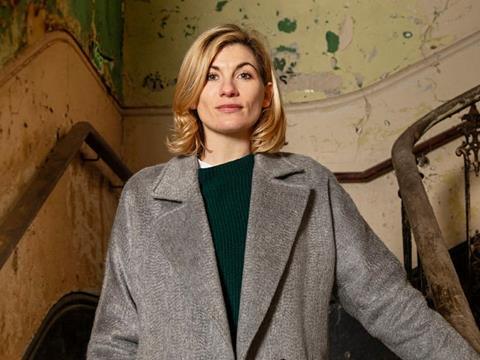 Slightly more Monday cheer was on offer at 9pm as Jodie Whittaker tracked her ancestors for the latest opener of Who Do You Think You Are?, which reached its 17th run with a predictably steady 3.8m (22%). Opposite on ITV, John Bishop set sail on his stripped Great Whale Adventure. The two-parter averaged 2.5m (14%).
Tuesday is The Great British Bake Off night and the C4 juggernaut remained reassuringly steady with 6.8m (34%), but was knocked off its pedestal as the week's most-watched show by the BBC1 bulletin and Strictly Come Dancing.
The BBC Studios show returned on Saturday with 8.6m (42%) – the best performance by volume since the show opened with 8.8m in 2017. However last year's curtain raiser kicked off with a 45% share, almost 3% ahead of 2020's debut.
Elsewhere on Saturday, ITV revived The Million Pound Cube, which was unable to overcome Strictly as the two overlapped across the 15-minutes from 9pm.
However, its 3.4m (19%) average meant it fared better against the third ep of The Wall, despite Dany Dyer's gameshow tapping into its Strictly inheritance to grow by more than 1m week-on-week to reach 3.2m (19%).
The ball-dropping format remains some way shy of the 4m (23%) average secured by its debut run.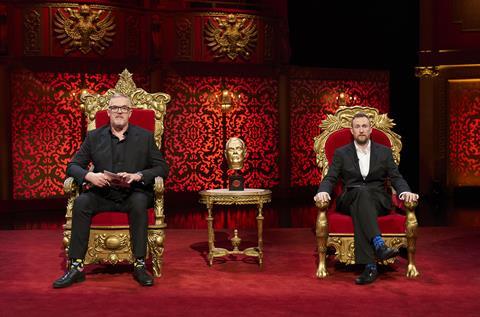 Other gameshows also enjoyed a good week. On Thursday, Taskmaster made the jump to C4 after nine series on Dave. Its audience of 1.7m (10%) was significantly up on anything that Avalon's format achieved on the free-to-air channel further down the EPG.
Its ninth run opened with 630,000 (3.5%), while the previous record was 730,000 (4.2%) for an outing in May 2019.
The show hoovered up more than one-third (36%) of 25-34s watching TV at the time - and almost one-quarter (22%) of 16-24s. It also skewed equally female/male, evening out the slot's usual 59/41 demographic split.
BBC1's week ended smoothly – with good performances from Roadkill and Top Gear.
David Hare's drama opened with 5.1m (28.5%), to become its third-best scripted launch of the year, behind June's Salisbury Poisonings (7.2m / 38.8%) and July's The Luminaries (5.3m / 28.2%).
It also made short work of ITV's ailing Singapore Grip, which bowed out with 1.9m (10.3%), in line with the average across its six-part run, having never bettered the opener's 2.4m (14.5%).
Roadkill benefited from a resurgent Top Gear which jumped to 4.3m (20.8%) for its thirds run, having previously hovered around the 3m mark.
Top 100 Network Programmes - 12 -18 October

| | Title | Day | Start | Viewers (m) (all homes) | Share (%) | Broadcaster/producer |
| --- | --- | --- | --- | --- | --- | --- |
| 1 | STRICTLY COME DANCING | Sat | 19.50 | 8.55 | 42.24 | BBC1 |
| 2 | CORONAVIRUS UPDATE | Mon | 19.00 | 7.45 | 37.18 | BBC1 |
| 3 | THE GREAT BRITISH BAKE OFF | Tue | 20.00 | 6.78 | 34.30 | C4/Love Productions |
| 4 | BBC NEWS AT SIX | Mon | 18.00 | 6.24 | 36.61 | BBC1 |
| 5 | CORONATION STREET | Mon | 19.30 | 5.54 | 28.99 | ITV |
| 6 | CORONATION STREET | Wed | 19.30 | 5.30 | 29.11 | ITV |
| 7 | ROADKILL | Sun | 21.00 | 5.18 | 28.71 | BBC1/The Forge |
| 8 | CORONATION STREET | Fri | 19.30 | 5.16 | 28.63 | ITV |
| 9 | BBC NEWS AT SIX | Tue | 18.00 | 5.12 | 31.78 | BBC1 |
| 10 | ANTIQUES ROADSHOW: BEST OF THE SUMMER | Sun | 19.00 | 5.09 | 27.39 | BBC1 |
| 11 | EMMERDALE | Wed | 19.00 | 5.07 | 29.38 | ITV |
| 12 | BBC NEWS AT SIX | Thu | 18.00 | 5.01 | 32.67 | BBC1 |
| 13 | BBC NEWS AT SIX | Wed | 18.00 | 4.98 | 32.36 | BBC1 |
| 14 | EMMERDALE | Tue | 19.00 | 4.95 | 28.46 | ITV |
| 15 | CORONATION STREET | Mon | 20.30 | 4.94 | 25.67 | ITV |
| 16 | BBC NEWS | Sun | 22.00 | 4.75 | 32.43 | BBC1 |
| 16 | EMMERDALE | Thu | 19.00 | 4.75 | 28.82 | ITV |
| 18 | EMMERDALE | Fri | 19.00 | 4.72 | 28.69 | ITV |
| 19 | COUNTRYFILE | Sun | 18.00 | 4.62 | 28.23 | BBC1 |
| 20 | EMMERDALE | Mon | 19.00 | 4.59 | 22.87 | ITV |
| 21 | BBC NEWS AT SIX | Fri | 18.00 | 4.57 | 29.96 | BBC1 |
| 22 | GOGGLEBOX | Fri | 21.00 | 4.42 | 24.16 | C4/Studio Lambert |
| 23 | THE REPAIR SHOP | Wed | 20.00 | 4.33 | 22.80 | BBC1/Ricochet |
| 24 | EASTENDERS | Tue | 19.35 | 4.29 | 24.81 | BBC1 |
| 25 | TOP GEAR | Sun | 20.00 | 4.25 | 20.79 | BBC1 |
| 26 | POINTLESS CELEBRITIES | Sat | 19.00 | 4.17 | 23.29 | BBC1/Remarkable Television |
| 27 | EASTENDERS | Thu | 19.35 | 4.14 | 24.44 | BBC1 |
| 28 | BBC NEWS | Sat | 18.15 | 4.11 | 25.02 | BBC1 |
| 29 | BBC NEWS | Sat | 22.05 | 4.08 | 25.84 | BBC1 |
| 30 | THE ONE SHOW | Tue | 19.00 | 4.02 | 23.32 | BBC1 |
| 31 | CORONATION STREET | Wed | 20.30 | 4.01 | 20.57 | ITV |
| 32 | CATCHPHRASE CELEBRITY SPECIAL | Sat | 19.00 | 3.99 | 21.83 | ITV/STV Studios |
| 33 | THE CHASE | Mon | 17.00 | 3.98 | 29.77 | ITV/Potato |
| 34 | THE CHASE | Fri | 17.00 | 3.94 | 31.40 | ITV/Potato |
| 34 | THE CHASE | Wed | 17.00 | 3.94 | 32.44 | ITV/Potato |
| 36 | EMMERDALE | Thu | 20.00 | 3.91 | 23.27 | ITV |
| 36 | THE CHASE | Tue | 17.00 | 3.91 | 31.97 | ITV/Potato |
| 38 | ITV EVENING NEWS | Fri | 18.30 | 3.82 | 24.31 | ITV/ITN |
| 39 | ITV EVENING NEWS | Wed | 18.30 | 3.81 | 23.43 | ITV/ITN |
| 40 | BBC NEWS AT TEN | Wed | 22.00 | 3.80 | 26.92 | BBC1 |
| 41 | BBC NEWS AT TEN | Mon | 22.00 | 3.78 | 28.26 | BBC1 |
| 42 | THE CHASE | Thu | 17.00 | 3.77 | 31.72 | ITV/Potato |
| 43 | WHO DO YOU THINK YOU ARE? | Mon | 21.00 | 3.75 | 21.69 | BBC1/Wall to Wall |
| 44 | ITV EVENING NEWS | Thu | 18.30 | 3.71 | 23.42 | ITV/ITN |
| 45 | THE ONE SHOW | Thu | 19.00 | 3.70 | 22.57 | BBC1 |
| 46 | ITV EVENING NEWS | Tue | 18.30 | 3.59 | 21.80 | ITV/ITN |
| 47 | BBC NEWS AT TEN | Thu | 22.00 | 3.58 | 25.90 | BBC1 |
| 47 | BBC NEWS AT TEN | Fri | 22.00 | 3.58 | 24.51 | BBC1 |
| 49 | THE ONE SHOW | Wed | 19.00 | 3.55 | 20.58 | BBC1 |
| 50 | BBC NEWS AT ONE | Mon | 13.00 | 3.54 | 46.35 | BBC1 |
| 51 | ITV EVENING NEWS | Mon | 18.30 | 3.53 | 20.28 | ITV/ITN |
| 52 | BBC NEWS AT TEN | Tue | 22.00 | 3.46 | 25.70 | BBC1 |
| 53 | MATCH OF THE DAY | Sat | 22.25 | 3.45 | 27.71 | BBC1 |
| 54 | EASTENDERS | Mon | 20.05 | 3.44 | 18.75 | BBC1 |
| 55 | AMBULANCE | Wed | 21.00 | 3.43 | 19.23 | BBC1 |
| 56 | BBC NEWS | Sun | 17.35 | 3.41 | 22.50 | BBC1 |
| 57 | THE CHASE CELEBRITY SPECIAL | Sat | 20.00 | 3.40 | 16.67 | ITV/Potato |
| 58 | FAMILY FORTUNES | Sun | 20.00 | 3.39 | 16.59 | ITV |
| 59 | BBC NEWS AT ONE | Tue | 13.00 | 3.37 | 45.34 | BBC1 |
| 60 | THE MILLION POUND CUBE | Sat | 21.00 | 3.35 | 19.01 | ITV |
| 60 | CELEBRITY MASTERMIND | Sat | 18.30 | 3.35 | 19.73 | BBC1 |
| 62 | THE WALL | Sat | 21.20 | 3.27 | 19.30 | BBC1 |
| 63 | THE ONE SHOW | Fri | 19.00 | 3.25 | 19.67 | BBC1 |
| 64 | A QUESTION OF SPORT | Fri | 19.35 | 3.23 | 18.04 | BBC1 |
| 65 | ITV EVENING NEWS | Sat | 18.30 | 3.21 | 19.10 | ITV/ITN |
| 66 | BBC NEWS AT ONE | Thu | 13.00 | 3.16 | 45.66 | BBC1 |
| 67 | HAVE I GOT NEWS FOR YOU | Fri | 21.00 | 3.15 | 16.71 | BBC1/Hat Trick Productions |
| 68 | ITV EVENING NEWS | Sun | 18.30 | 3.13 | 18.96 | ITV/ITN |
| 69 | BBC NEWS AT ONE | Fri | 13.00 | 3.12 | 43.53 | BBC1 |
| 70 | EASTENDERS | Fri | 20.35 | 3.11 | 17.38 | BBC1 |
| 71 | HEATHROW: BRITAIN'S BUSIEST AIRPORT | Wed | 20.00 | 3.08 | 16.65 | ITV/Raw TV |
| 72 | TIPPING POINT: LUCKY STARS | Sun | 19.00 | 2.95 | 15.86 | ITV/Fizz |
| 73 | BBC NEWS AT ONE | Wed | 13.00 | 2.94 | 40.68 | BBC1 |
| 74 | THE GREATEST SHOWMAN | Sun | 19.00 | 2.93 | 15.03 | C4 |
| 75 | VERA | Fri | 20.30 | 2.90 | 16.60 | ITV |
| 76 | Panorama: BELLY MUJINGA: SEARCHING FOR THE TRUTH | Mon | 19.35 | 2.79 | 14.83 | BBC1 |
| 77 | WOULD I LIE TO YOU? | Fri | 20.05 | 2.77 | 15.12 | BBC1/Zeppotron |
| 78 | POINTLESS | Fri | 17.15 | 2.74 | 21.18 | BBC1/Remarkable Television |
| 79 | THE SAVOY | Thu | 21.00 | 2.70 | 16.18 | ITV |
| 80 | POINTLESS | Mon | 17.15 | 2.63 | 19.10 | BBC1/Remarkable Television |
| 80 | UNIVERSITY CHALLENGE | Mon | 20.30 | 2.63 | 13.66 | BBC2 |
| 82 | ONLY CONNECT | Mon | 20.00 | 2.55 | 13.94 | BBC2 |
| 82 | JOHN BISHOP'S GREAT WHALE RESCUE | Mon | 21.00 | 2.55 | 14.76 | ITV |
| 84 | TIPPING POINT | Mon | 16.00 | 2.53 | 23.75 | ITV/Fizz |
| 84 | MICHAEL PALIN: TRAVELS OF A LIFETIME | Sun | 20.00 | 2.53 | 12.38 | BBC2 |
| 86 | INSIDE ANIMAL A&E | Mon | 20.00 | 2.52 | 13.78 | ITV |
| 87 | TIPPING POINT | Fri | 16.00 | 2.51 | 25.57 | ITV/Fizz |
| 88 | GARDEN RESCUE | Wed | 19.30 | 2.50 | 13.76 | BBC1/Spun Gold |
| 88 | TONIGHT | Thu | 19.30 | 2.50 | 14.93 | ITV |
| 90 | THE SAVOY | Wed | 21.00 | 2.43 | 13.64 | ITV |
| 91 | TIPPING POINT | Tue | 16.00 | 2.42 | 27.81 | ITV/Fizz |
| 92 | BBC NEWS SPECIAL: CORONAVIRUS UPDATE | Mon | 15.00 | 2.38 | 25.90 | BBC1 |
| 92 | BBC NEWS | Sun | 13.00 | 2.38 | 27.28 | BBC1 |
| 92 | TIPPING POINT | Wed | 16.00 | 2.38 | 28.20 | ITV/Fizz |
| 95 | POINTLESS | Wed | 17.15 | 2.35 | 18.59 | BBC1 |
| 95 | BARGAIN HUNT | Mon | 12.15 | 2.35 | 34.86 | BBC1 |
| 95 | THE MARTIN LEWIS MONEY SHOW LIVE | Thu | 20.30 | 2.35 | 14.17 | ITV |
| 98 | TIPPING POINT | Thu | 16.00 | 2.30 | 26.99 | ITV/Fizz |
| 99 | JOHN BISHOP'S GREAT WHALE RESCUE | Tue | 21.00 | 2.28 | 12.69 | ITV |
| 100 | BBC NEWS SPECIAL: CORONAVIRUS UPDATE | Fri | 15.45 | 2.27 | 23.24 | BBC1 |