Dead walk off with top spot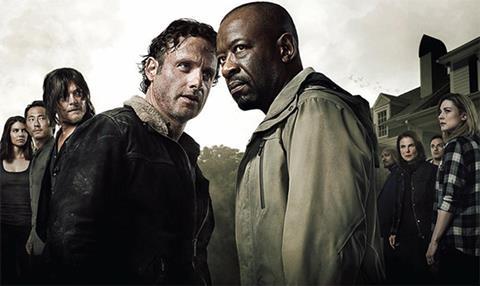 Sky 1's professional travel-hating traveller returned this week to combine his lack of interest in abroad with a bewilderment at the point of art by parading about Times Square like a scared zombie. Meanwhile, Fox's own apparently dead refused the offer of a good, long rest and returned for a sixth series of ghoulish perambulating.
AMC drama The Walking Dead returned to Fox on Monday at 10pm with a table-topping 880,000/5%, far more than the fifth series opener on 13 October last year, which mustered 700,000/3%.
The sixth episode of the third series of Dave Gorman's Modern Life Is Goodish brought 480,000/ 3% to Dave at 10pm on Tuesday, the best of this run in live ratings.
Sky 1's Karl Pilkington: The Moaning Of Life returned at 9pm on Tuesday with 670,000/3%. Series one on Sunday 20 October 2013 began with 830,000/3%.
The third episode of Sky 1's You, Me and The Apocalypse achieved 270,000/1% on Wednesday at 8pm, slightly more than last week's episode two (240,000/1%) but still behind 30 September's opener (474,000/2%).
The best sport performance was Newcastle v Norwich on Sky Sports 1 with 750,000/5% from 3.30pm on Sunday. Tottenham v Liverpool averaged 660,000/8% for BT Sport from midday on Saturday.