Bring to life a Tyrannosaurus rex in a six-week timeframe to illustrate how the creature looked and behaved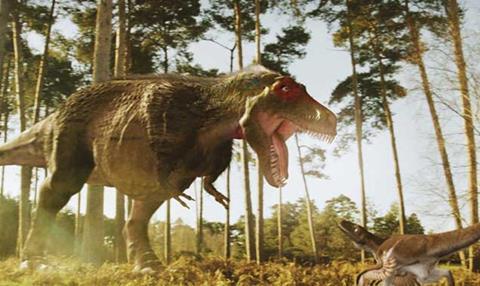 VFX Liquid TV
Client Impossible Factual/Nat Geo
Brief Bring to life a Tyrannosaurus rex in a six-week timeframe to illustrate how the creature looked and behaved, creating a believable dinosaur that was also different to its public perception.
How it was done Liquid directed the live-action back-plate shoot using a handheld Arri Alexa, and added dust and breath effects to build a convincing composite. Artists worked on skin textures, fake X-rays and egg development.
Animators completed walking, running and fighting scenes and Nuke compositors combined the various elements. Maya was used for the CGI, including more than 30 shots of muscles moving the T. rex's skin. Asra Alikhan was creative director, Gabriel Edwards head of animation and Jess Clark was producer.
Watch it Sunday, 8pm, National Geographic