"This vehicle was towing a trailer." Read on for the verdict on last night's TV.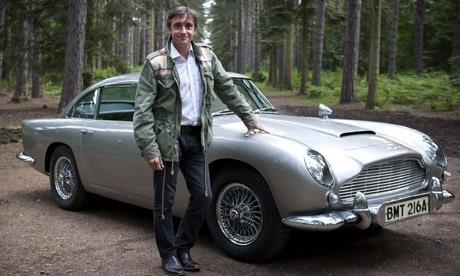 50 Years of Bond Cars: a Top Gear special, BBC2
What the remaining musketeer Richard Hammond presented was less a car show and more a hagiography to 50 years of 007. It was worth watching just as a recap of how bonkers the whole franchise is.
Alex Hardy, The Times
Richard Hammond has – not for first time – spun off. This is Top Gear (BBC2) but it's a special one, 50 Years of Bond Cars, because 007 is all anyone cares about right now, you may have noticed. So Richard gets to drive some lovely cars. Plus some other cars that are less iconic, which will appeal more to Richard's normal TG audience. But there's also plenty for the non-petrolhead as well, things about people as well as cars. So Hammond talks to old directors, less old directors, stuntmen.
Sam Wollaston, The Guardian
When the programme got to the set visit for Skyfall, you suddenly understood how they'd got clearance on all the James Bond clips. This vehicle was towing a trailer.
Tom Suttcliffe, The Independent
Gay to Straight: Stacey Dooley in the USA, BBC3
[Stacey's] subject here was conversion therapy, a conservative Christian approach to homosexuality that argues that it's a psychological problem that can be "cured".
But, sadness easily trumped comedy, with fathers weeping as they declared their love and support for sons whose only true disability was parental ignorance. You might have hankered for a more fiercely contemptuous interrogation of Joseph Nicolosi – the intellectual figurehead for this movement – but otherwise Stacey did pretty well.
Tom Sutcliffe, The Independent
How The Devil Got His Horns: A Diabolical Tale BBC4
This was intriguing stuff, slickly presented, but it was somewhat daft to stop when the religious paintings ran out. Widespread belief in God might have started dying out in the Renaissance but if you look at the propaganda of the Thirties or horror movies of the Seventies you'll see a healthy fear of the devil carrying on long into modern times.
Matt Bayliss, Daily Express