"A mélange of highly watchable gobbledegook." Read on for the verdict on last night's TV.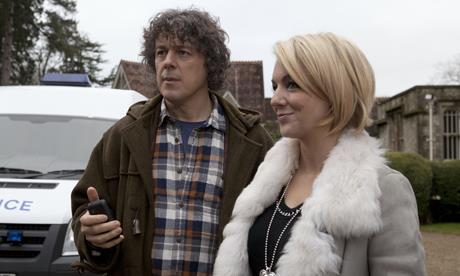 "A madcap plot that combined the supernatural, horror and detective genres to make a mélange of highly watchable gobbledegook. Who cares about making sense of the plot anyway when you have a wondrously tongue-in-cheek script by David Renwick, and such glittering comedy stars as Nigel Planer and Rik Mayall alongside Joanna Lumley, all playing it straight, bar the odd, camp smirk… The freshness of this comeback was surprising, given that the show first aired 16 years ago and should surely be as old and tired as Jonathan Creek's duffle coat by now."
Arifa Akbar, The Independent
"How nice it must be to be Alan Davies. Whichever set he wanders onto he seems to make himself at home. On QI he plays the fool, here the amateurish genius, but it's all one part: affable, intelligent, low-intensity. Sheridan Smith, as knockabout crime-solving buddy Joey, was well cast too… The plot unravelled at the end, where a pointless layer of conspiracy was added to a well-worked mystery. Other than that, though, it was part Midsomer, part Sherlock, totally unthreatening."
Ed Cumming, The Telegraph
"All those household names, all David Renwick's writing talent. For what? The disinterring of a three-years-cold corpse of a TV series whose historic function is to incite couples wending their way up the little hill to Bedfordshire to have exchanges such as the following. 'Was it the crazed nun who reached through the portrait of Saint Barnabas to strangle Sheridan Smith?' 'You idiot, it wasn't the nun. That was half a century earlier.' Renwick had a lot of fun with his script, though."
Stuart Jeffries, The Guardian
Game of Thrones, Sky Atlantic
"Game of Thrones invents a strange continent and populates it with the kind of grim brutality familiar to anyone who has studied real history. There is sex, violence or intrigue in every scene, shown in gruesome detail… Harry Potter it is not, but this brutality is precisely what makes Game of Thrones, including last night's episode, gripping."
Ed Cumming, The Telegraph
"My colleague Hugo Rifkind said last week that 'GoT is a grown-up version of the stuff you loved as a kid': castles, quests, vengeance. I'd add it's impossible to talk about the show without getting the tripping-over-your-words breathlessness you get as a child."
Alex Hardy, The Times
"For all the pleasures – storylines so satisfyingly complicated you need spreadsheets to make sense of them, CGI dragons that dive into the sea and then toast the caught fish with their fiery breath – Game of Thrones asks bracing questions of its audience. How would lentil-weaving Guardian readers have fared in a land without dishwashers populated by toughs with beard lice?"
Stuart Jeffries, The Guardian
The Men Who Built America, History
"The signature marks of far wider purse strings than a bog-standard BBC documentary were all over this high-octane hour, with its filmic reconstructions, its rousing soundtrack and its access to high-ranking talking heads… While this documentary was frank about the cut-throat instincts that men like Vanderbilt personified, its statesmen-like positioning of them and their legacy seemed at odds with our current economic crisis, which might expose the end-point for this brand of American capitalism to be a force for bad, not good."
Arifa Akbar, The Independent
"Plebs isn't in any sense a comedy about the past. It is a comedy in which a trio of entirely modern young men are dressed up in historical costumes and inhabit a historical backdrop, while acting out the sort of 21st century dating-drinking-male-rivalry scenarios we've seen in a host of other equally uninspiring sitcoms."
Matt Baylis, Daily Express
Do you agree with the TV critics? Have your say.