"An extraordinarily bold project, about an extraordinary institution." Read on for the verdict on last night's TV.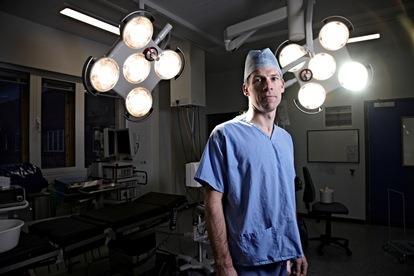 "It's an amazing operation, with major challenges – like how to stitch so many stories together into something cohesive, with characters, a narrative of sorts, and using footage from only one day when medical stories don't always parcel themselves up in neat 24-hour packages… It's impossible to really complete a portrait of today's NHS, but this will probably get closer than anything before. An extraordinarily bold project, about an extraordinary institution."
Sam Wollaston, The Guardian
"This was a celebration of healthcare heroics, without Danny Boyle's dancing nurses – or a visit to Mid Staffs. Hospital staff talked pragmatically to camera about budgets, but faced with patients, their compassion won every time… If as viewers we have seen it all a hundred times before, it pays to remind oneself of those holding the big care blanket from time to time. Nye Bevan would be proud of them all."
Alice Jones, The Independent
"Every last doctor and nurse was ostentatiously thoughtful and suspiciously on-message, surgeons in particular apt to launch homilies to their employer… The nearest we got to the admission that the NHS was less than perfect were a couple of teenagers, both of whose cancers had been misdiagnosed. That said, it was a breathtakingly well shot and edited hour's television that made fixed-rigged documentaries, such as One Born Every Minute, look as appetising as CCTV."
Andrew Billen, The Times
How to Be a Lady: An Elegant History, BBC4
"This was not the first time I have seen etiquette classes on TV but it was fun seeing Rachel Johnson make a mess of them, managing to pull off a door handle when rehearsing how decorously to leave a room. It was alarming too to find out how much needs to be taught even to privileged young women."
Andrew Billen, The Times
"To find out where the notion of a lady comes from and where it might end, Ms Johnson went on a Home Counties safari, taking in handshaking lessons, the archives of Cheltenham Ladies College and a side-saddle riding club… During an interesting inquiry, we discovered there wasn't going to be an answer. Try too hard to arrive at one, single definition and, you might say, The Lady Vanishes."
Matt Baylis, Daily Express
Great British Bake Off Easter Masterclass, BBC2
"Take away the candidates, the competition, Mel'n'Sue's jokes and innuendo, and these one-off GBBO demonstration shows are a bit bland, aren't they? I'm not even very excited about what they're making: it's all quite samey, and cakey, and dried-fruity, with a big bowl, and so much self-raising flour, sugar, butter, a handful of sultanas, a light sprinkling of gentle teasing from Paul Hollywood."
Sam Wollaston, The Guardian
The Mindy Project, E4
"The Mindy Project is, like its leading lady, rather cleverer than it looks. At first glance, Mindy is another BMI-obsessed, frappé-slurping, rom-com-quoting ditz, but there's bite beneath the helium voice. The creation of American Office alumna Mindy Kaling, she drinks too much, talks too much, and is stridently a 'woman of colour' only when it suits her. Up-to-the-minute barbs at Downton, Judd Apatow and health insurance zing through a script that is not afraid to be awkward… I watched the second straight away. The prognosis looks good."
Alice Jones, The Independent
Do you agree with the TV critics? Have your say.