"Super Cars vs Used Cars: The Trade-Off was striving to be the dullest, most grindingly boring documentary ever made"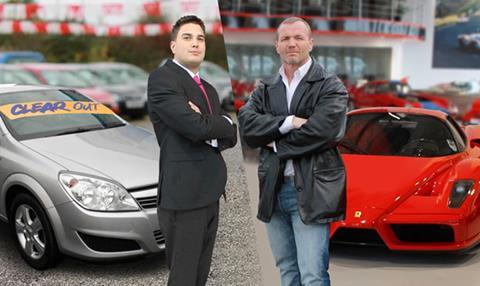 SUPER CARS V USED CARS: THE TRADE OFF
BBC2
"A classic of the job swap TV genre, this show switched a smartly suited vendor of million pound status machines with a bloke who flogged bangers in Bridgend. In less imaginative hands, this could just have been an hour long voice box for all the standard clichés and prejudices around money and class. The fact that, by the end, one had flogged five cars and the other none is of no consequence. As the car ads tell us, the journey is more important than the destination"
Matt Bayliss, The Daily Express
"The idea was a cross between Wife Swap and The Apprentice. In Supercars vs Used Cars, a London car salesman, accustomed to very rich people spending half a mill on a piece of flaming red metal, exchanged lives for a week with a bloke in Bridgend who sold everyday cars every day to folk obliged to motor up and down the valleys where no buses ply. Thank heaven it wasn't a six-week series. I've never much liked cars: smelly, queasy boredom-machines. The journey to and from Bridgend did nothing to convert me."
Christopher Howse, The Telegraph
"Super Cars vs Used Cars: The Trade-Off was striving to be the dullest, most grindingly boring documentary ever made. Most of the footage was dross, the kind of visual drivel that should have been dumped on the cutting room floor during the first edit. Louis and Darren swapped lives at an M4 service station, exchanging chit-chat like, 'Do you live far from work?' You'd stick your fingers in your ears rather than eavesdrop on conversation like that. This was TV to send you to sleep, and pray you didn't dream about it."
Christopher Stevens, The Daily Mail
RESTORATION MAN
CHANNEL 4
"TV is designed to sell our dreams to us. If you fantasise about snorkelling over the Great Barrier Reef, or tracking jaguars in the Amazon, television can help bring your imagination to life.
The trouble is that other people's dreams aren't half as interesting as our own. It's dull fare when a well-balanced, competent couple are putting an ordinary farmhouse to rights. The only faintly quirky moment came when George drank out of a paint can — and that wasn't the presenter, but a shaggy Alsatian pup the couple had named after him."
Christopher Stevens, The Daily Mail
"The Restoration Man was back for a new series of watching people turn follies into cosy family homes. Or just expensive follies. Last night it was Russell and Nadia in Shropshire. They were living outside a wrecked Grade II-listed cottage in a static caravan – the full Partridge – while trying to bring it to life. Of course, they managed it. And of course they went over budget. That's the usual deal"
Will Dean, The Independent
WEEKEND WARRIORS,
YESTERDAY
"The weekend warriors in question aren't in the Territorial Army. Nor are they underground MMA fighters or part-time Jihadis. They are, in fact, battle re-enactors. Each to their own.
This was the first of six shows documenting the build-up to a different battle. And, God, it wasn't half dull. It's a shame because the characters here have the potential to shine. Albeit in a That Peter Kay Thing way."
Will Dean, The Independent