Latin American broadcasters have become increasingly Anglophile in their outlook in recent years, with growing demand for UK formats in weekday slots.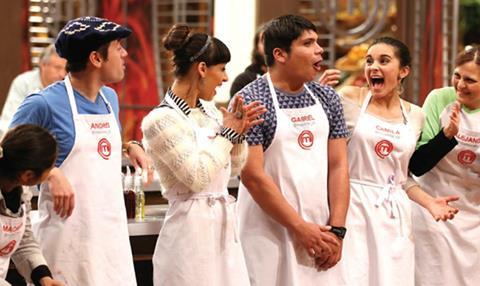 The market is now worth around £35m a year to British firms for both finished programmes and formats. It is the latter that has attracted the most interest, with broadcasters lining up to adapt high-profile UK entertainment formats including Strictly Come Dancing, Got Talent and The X Factor.
Most of the major UK distributors will be hoping to strike further deals with the region's terrestrial and pan-regional networks at next week's Miami market Natpe. But the way these broadcasters develop, commission and schedule shows depends on local factors.
Local adaptations
Colombian broadcaster RCN this week ordered a daily, primetime version of BBC1 hit Strictly Come Dancing. The 55 x 60-minute series of the BBC Worldwidedistributed title will be produced by Fox Telecolombia.
Renamed Bailando Con Las Estrellas, it will air live on weeknights at 8pm and feature 15 celebrities and their dance partners.
Celebs lined up to appear include model Natalia Paris, Daniela Ospina, the wife of Real Madrid footballer James Rodriguez, and left-wing rebel Ana Pacheco.
BBC Worldwide Latin America managing director Anna Gordon said she was confi - dent the show would gain new fans in "this rapidly growing market".
Strictly currently airs in Brazil, Costa Rica and Panama, but RCN's is the fi rst stripped version.
Daily versions of traditional Saturday night shows are a feature of the region, often fi lling the gaps between long-running telenovelas.
Adrian Santucho, who runs Fremantle Media's Latin American production business, which has found recent success with Got Talent in Mexico (Mexico Tiene Talento), said: "You can't approach networks if you don't have the format presentation done without a daily version of the show.
"Sometimes people in the UK freak out when we say we have to adapt their formats as a daily version. It sounds weird, but that's how it works."
Conversely, many of the shows that traditionally air in the UK during the week are broadcast in key weekend slots in Latin America.
BBC Worldwide's What Not To Wear, for instance, has been adapted by Brazilian network SBT, with Arlindo Grund and Isabella Fiorentino replacing Trinny and Susannah.
The fashion format has run for 10 series and currently airs in a Saturday night slot, after starting life as a segment on a magazine show.
Similarly, All3Media International's Undercover Boss airs as part of Sunday variety format Fantastico in Brazil. The Studio Lambert- produced series has subsequently been sold to Chilevision, which is expected to air a local version later this year.
Broadcasters are now snapping up other UK food formats, with The Great British Bake Off, MasterChef and Hell's Kitchen all travelling well.
Brazil's SBT launched a local version of Bake Off ( Maos Na Massa) in the summer and its version of Gordon Ramsay's Hell's Kitchen is in its third series.
Meanwhile, Endemol Shine Group's MasterChef has been produced in seven markets across Latin America and is going into its second series in Brazil, Colombia and Mexico this year.
"The main broadcasters in Latin America are always looking for big formats and are always open to replicate big brands. Shows from the UK are travelling well and are very healthy and distinguished," said Fremantle Media's Santucho.