Having scored Dave's highest ever ratings for its 2009 three-part special, cult comedy Red Dwarf is back for a full series. Michael Rosser meets writer Doug Naylor and the cast on set.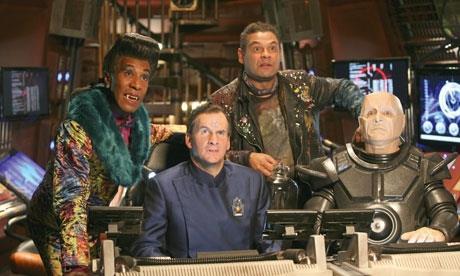 Credits
RED DWARF X
Broadcaster Dave
Producer Grant Naylor Production
TX Starts 4 October 2012
Length 6 x 30 minutes
Principal cast Craig Charles, Chris Barrie, Danny John-Jules, Robert Llewellyn
Commissioning editors Jane Rogerson, Steve North
Writer/director Doug Naylor
Producer Charles Armitage
Co-producer Richard Naylor
Production Executive Roopesh Parekh
Line producer David Mason
Executive producers Doug Naylor, Charles Armitage
Director of photography Andy Martin
Production designer Michael Ralph
Make-up designer Magi Vaughan
Costume designer Howard Burden
Post-production supervisor Jackie Vance
Miniature DoPs Peter Talbot, Deane Thrussell
January 2012. I am escorted onto a closed set at Shepperton Studios. As the door to the stage is opened, four men – one with a long set of dreadlocks – quickly slip out of view. A black curtain divides the area. Pulling it back reveals a large spaceship. Stencilled on the hull is its name: Red Dwarf.
Six months later, production of Red Dwarf X is complete. Writer and director Doug Naylor, who first co-created the sci-fi comedy with Rob Grant in the mid-1980s, says with some relief: "It's been quite an adventure."
'Adventure' is a word Naylor returns to throughout our conversation to sum up the struggle of bringing the show back after an absence of 13 years.
Having begun life as a recurring sketch on Radio 4, the cult comedy ran for eight series on BBC2, from 1988 to 1999, making stars of Craig Charles, Chris Barrie, Danny John-Jules and Robert Llewellyn.
Charles plays Dave Lister, a lowly technician on a spaceship woken from suspended animation after 3 million years to find the crew long dead.
Lister's bunkmate Rimmer (Barrie) is revived as a hologram by the ship's computer and this 'odd couple' are soon joined by a creature that evolved from Lister's cat (John-Jules) and a robot named Kryten (Llewellyn).
But despite its sci-fi backdrop, the comedy was always more interested in character than space adventures, exploring the consequences of caging a slob, a narcissist, a servant and a git. And by the end of its eighth run in 1999, it was more popular than ever.
"The last series drew our biggest ever audiences – more than 8 million," says Naylor. "Then we had the adventure of trying to get the film made."
The plan was to continue the story on the big screen and they "came so close on so many different occasions", says Naylor. It went into pre-production at least once, with Naylor dispatched to Australia to begin work, but the finance fell through.
Elaborate hoax
Then there was the producer who had recently pulled out of a Tom Cruise film and wanted to invest £65m to take the boys from the Dwarf into cinemas. Excitement grew until the benefactor claimed to be the Duke of Manchester. It was an elaborate hoax.
It wasn't until 2009 that new life was finally breathed into Lister, coincidentally by a channel called Dave.
The UKTV-owned station, which had been repeating old episodes of the show, wanted to get the cast and crew back together for a documentary to mark the 21st anniversary.
"It evolved during pre-production from a one-hour special to a scripted three-parter," recalls Naylor. "But we didn't have any sets, which is why it was set on Earth."
Titled Back To Earth, the post-modern episodes parodied Blade Runner and saw Lister meet the actor Craig Charles on the set of Coronation Street. They remain Dave's highest-rating shows, with more than 2.74 million viewers (including Dave Ja Vu).
Unsurprisingly, UKTV wanted more, and after piecing together finance with BBC Worldwide, Naylor retreated for six months to write six new scripts.
For full production credits visit
Classic Dwarf
"We're going back to classic Red Dwarf," says Naylor of what to expect of the new series, while keeping the details a closely guarded secret.
"It's the boys back on the ship, having adventures like in series three, four and five. Most of the ideas are fresh but for the last episode I borrow things from the very early drafts of the film and explain what happened after the conclusion of series eight.
"That final episode also features a spectacular dogfight. Well, spectacular for Red Dwarf."
However, it wouldn't be an adventure if it all ran smoothly. A tightening of the budget during pre-production meant that two weeks of OB shooting had to be dropped, leading to an extensive reworking of scripts. Naylor says it was a happy accident.
"There was some 'excitement' after we realised we had to lose the OB filming as there were scripts littered with situations that we had to abandon," he recalls.
"Bizarrely, the result is an early type of Red Dwarf series where we are based on just a few sets. We didn't plan it but restrictions can make you more creative.
"We also discovered that filming in the freezing winter caused a drop-frame problem so we were glad to get back indoors. It's just a shame the shooting was over in what seemed like a nanosecond. For me, that's the most fun part."
January 2012. Shepperton is freezing. Inside the large K Stage – recently used to film superhero blockbuster Captain America – Red Dwarf X is close to completing pick-ups.
A quick tour of the set reveals that production designer Michael Ralph (Primeval, Death In Paradise) has perfectly recreated the claustrophobic corridors and key sections of the ship.
The bunk area is easily recognisable, with photos pinned to the walls that hark back to the very first episodes.
Breaking for lunch, Charles, Barrie, Llewellyn and John-Jules take time to chat to me. It takes a moment to adjust when greeted by such iconic comedy characters in full costume, with personalities to match.
"This is Robert, he plays Kryten," says Charles, gesturing to the man in full robot make-up.
Barrie walks in with a recognisable H (for hologram) on his forehead.
"You should never have left Brittas," quips Charles, referring to Barrie's popular 1990s series The Brittas Empire, in which he played the manager of a leisure centre.
"I've tried to do my bit for the leisure industry on a wide scale," Barrie responds dryly.
"Brittas did for leisure centres what Hi-Di-Hi did for holiday camps," says John-Jules in a glittering waistcoat.
"To be compared to Hi-Di-Hi is a career peak," says Barrie.
After nearly 25 years, their banter is like that of brothers – even if they don't see it themselves.
"Other actors tell us how amazing it is to watch us work together," says Llewellyn. "They say we click, but we're not aware of it. What I do find is that we return to the same in-jokes, things I hadn't thought about for 15 years."
Of the new series, Charles says: "We've stopped being an action adventure series and gone back to being more of a sitcom. Back To Earth looked fantastic and was very clever but it wasn't as funny as it could have been, choosing to be more of an emotional journey. We're now back to being four clowns in a room, each trying to be funnier than the next man.
"We're still 3 million years into deep space, looking for a way home and really hot curry. But now it's a bit more like Grumpy Old Men."
"We're still action heroes and stunningly brave," adds Llewellyn, with as much of a smile as his mask will allow.
Back to the present and judging by fan anticipation, Red Dwarf X will break records for Dave again when it debuts in October.
Naylor says: "UKTV is very pleased with this series and I'm keen to get writing again."
It has been a long time coming but Red Dwarf appears to be setting a course for a wave of new adventures.
Live audience
"The studio audience is the fifth character in Red Dwarf," says Doug Naylor, who demanded, as director, to bring this element back to filming.
"Getting the audience back has made a massive difference and brings the best out of the four boys. They give more energised performances and love to hear that laughter. It gives a new dimension to their performances and the audience feedback has been hugely positive and helpful."
According to Naylor, the four cast members found it "wearing" performing in front of a green screen for UKTV's Back To Earth specials in 2009 and yearned to get back before a live audience.
"The audience makes everything more immediate and provides comedy timing," says Craig Charles.
Performing in a sitcom with an audience has long been important for Danny John-Jules. "The joy of getting the job was to be in a comedy that had a live audience, like Rising Damp or Porridge.
"Although the industry has veered away from the traditional sitcom, it is now realising it is time to bring it back."
According to producer Charles Armitage, all 1,800 tickets for the recordings went within a couple of minutes, causing the online agent's website to crash. Its Facebook page now has nearly 570,000 fans.
A forthcoming behind-the-scenes documentary, overseen by production executive Roopesh Parekh, shows the cast pacing nervously before the first shoot in front of an audience.
Charles adds: "The last series we filmed in front of a live audience was in 1998 but within three minutes it doesn't feel like you've been away – and judging by their reaction, this new series is fantastic."