The 7.2 million registered users of the BBC's online services consume up to 40% more content than those who are not logged in, according to myBBC boss Phil Fearnley.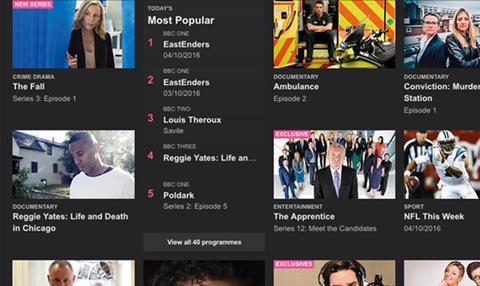 Last week, the BBC revealed that it would require users to sign in to access iPlayer, as well as associated apps such as BBC+ and BBC Music, from early next year, as part of its drive towards personalisation.
Fearnley, who is overseeing this digital move, expects consumption to grow even further next year as discoverability is markedly improved on logged-in accounts.
"Content on parts of our online estate that people don't normally go to is being found more easily and we see anywhere between a 20% and 40% uplift in content consumed by people who have signed in," he said.
Fearnley accepted that many of these 7.2 million people are early adopters, but clarified: "When you've got to 7 million users in the UK, you're beyond people who are just early adopters. Whether it's 20% or 10% or 15%, I think we will continue to see an increase in consumption from those people who are signed in relative to those who are not."
BBC iPlayer is the last of the PSB VoD services to demand registration, with All 4, ITV Hub and My5 already functioning on a subscriber basis.
The move is part of director general Tony Hall's vision to enable audiences to become their own 'schedulers'. The BBC's digital platforms now have around 60 different personalisation features.
Fearnley said that of the 22 million targeted email alerts sent out last month, the click-through rate was far higher than it would be for generic mailings. He said some emails registered more than 60% of the content being clicked, opened and consumed.
In May, the National Audit Office criticised the BBC for having been unclear on the benefits of myBBC when it launched in 2013.
However, this week, Fearnley said the clear uptick in consumption among signed-in users was the project's "highest order of key performance indicator".
Last month, a more secure log-in system was launched, prompting users to re-input their details with the addition of their postcode. The
BBC said the postcode was to assist with location-specific recommendations and had nothing to do with the closure of the iPlayer loophole.