The future of online video and its impact on broadcasters and audiences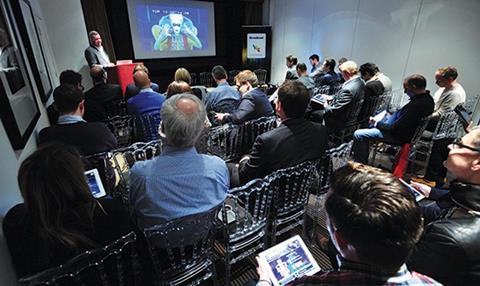 Digital panel debate
Alex Farber (chair) Online editor, Broadcast
Alex Green Director of TV, BT
Luke Gaydon Vice-president of media, EMEA, online video platform Brightcove
Dan Fahy Head of commercial development, UKTV
Tom Williams Co-founder, digital design agency, Ostmodern
Gulliver Smithers Vice-president of product, BBC Worldwide
In partnership with
Why is it important for broadcasters and production companies to offer cross-platform services?
Alex Green Linear TV is still huge, forming around 90% of general viewing, but BT also provides the linear service on multiple platforms, and that's really important as part of the whole BT Sport proposition. We get hundreds of thousands of people watching the big Premier League games digitally, so it clearly meets a significant demand.
Luke Gaydon The only content I watch that is truly live these days is sport; otherwise, everything is some form of catch-up, whether on the big screen or VoD services.
How do you decide where to focus resource and investment?
Dan Fahy UKTV works hard with our pay platform partners to try to get our content on the platforms where they need to be. For our free brands, we have about eight distinct VoD verticals on the big platforms and across multiple devices. We are constantly looking at going to the big pockets of audience and then work backwards.
Gulliver Smithers At BBC Worldwide, the strategy is to pursue a video-rich, brand-led approach around the few verticals that we excel in: natural history and slightly more male-oriented things like Top Gear. Our VoD approach is to get the content out in front of the consumer in as many ways as we can and then try to draw them into a richer, deeper environment.
How can broadcasters stand out from other entertainment services?
AG It's a combination of content and marketing. You can't market a product that fundamentally is not engaging people, but if you've got the right product, whether it's House Of Cards or Breaking Bad, it's phenomenal what that can do for a platform.
DF Broadcasters have a natural advantage because they can use their channels for promotion. Suits is a big show for Dave and we premiered season three online. We discovered most people came into that preview from the on-air promotion and most hadn't used the Dave VoD service before.
Tom Williams The focus has previously been on providing people with the ability to watch content they've missed.
Now there's a much larger proportion of people who visit VoD services without knowing what they want to watch. As people start bypassing linear completely and go straight to digital products, they are going to have to work a lot harder. The concept of 'live' and 'linear' is stretching. A lot of consumers think of watching a show on its day of broadcast as linear viewing. Beyond that, they start thinking it's catch-up.
Will we see more online premieres and exclusives?
DF There are trade-offs around whether we are taking audiences away from the linear viewing, which is industry measured, and shooting them off into a platform that's good for engagement but not industry measured. For some titles, it makes a lot of sense, but not across the board. It's suitable for an established franchise with an established fan base where you want to get a conversation going.
GS But you have to place your bets very carefully. The BBC's recent Sherlock mini episode had 1 million views on iPlayer, but I don't think it's a standalone proposition. It very much sits around, or on, the shoulders of the main show.
TW A commercial broadcaster's best programming has to go on their channels. You might look at a bespoke online show if you want to experiment with a new format or try to break a new channel and test it out. It's probably a useful programme supply mechanism, identifying shows to buy. But at this stage, it's probably not a commercial mechanism.
GS In the US, we are starting to see people paying extra to get early online access to entire series.
How are VoD services becoming richer?
TW I think we need to see more atomisation of content. For example, on ITV Player, once a Champions League game goes on-demand, it is two-and-a half hours long with absolutely no information about where things happen within it. But people only want to watch the bits that are important, and the same is true of certain other formats like daytime and magazine shows. It's about being able to identify what's happening.
LG Rather than going to a service and watching an episode of a programme in a very much in-and-out experience, a lot more is being done now with recommendations and content discovery.
AG But the new generation of smart TVs deluged you with a plethora of recommended content. It's as if they've totally flipped from an EPGdriven mode of behaviour into a complete YouTube-type mode. We need to be careful we don't forget about the viewer in this transition.
TW Ostmodern was creating a recommendation engine for ITV Player devices and the conclusion we came to was: just watch it! For someone like ITV, which doesn't have a massive catalogue of content but has big shows that are really important to it, that's what the customer experience should be.
Are these advances affordable?
DF UKTV always takes great care to make sure our money is spent on screen. If you're developing VoD services, investment is required. So we're quite careful about what we do. We're not yet at the stage where we're chasing some of the technology innovations.
AG It's still hard to make money out of it, from a platform and advertising perspective. In the US, a lot of the cable companies that provide TVanywhere services are aiming to generate all-round engagement and stickiness, preventing churn, giving people more convenience and easier ways to watch rather than lots more monthly revenue.
LG There are an awful lot of platforms and not all of them deliver an ROI that makes that initial investment worthwhile. But you have to ensure you are neither disappointing nor neglecting an audience. A group of broadcasters in Poland have banded together and created one player as a defensive move against Netflix launching in that country.
What about generating revenue from these services?
GS The model is to assign the appropriate business model to the territory or the audience you're going after. We believe we can add value through curation, personal recommendations and putting the right content in front of the right viewers. Only about 6% of the BBC's archive is available via services like iTunes. Exposing that depth of content and heritage through BBC Store is a really important part of what BBC Worldwide is trying to do.
LG It all depends which business model you're looking at and what you're trying to defend. There is currently a very healthy DVD business, so there's an element of wanting to offer people high-quality things that they can keep, which gives them a sense of ownership.
AG The sheer convenience of being able to download something to watch and get access across other devices is phenomenal. The pay-per-download model is so much more open than the subscription world, where LoveFilm and Netflix are slugging it out.
TW We've been working with a client in Russia that had a Netflix-style service but nobody used it because nobody wanted to pay for content.
Even when we went for meetings about the project to try to stop illegal downloads, the execs would be torrenting Game Of Thrones. But then they got a promoted spot on LG and Samsung-connected TVs and had a spike in usage. They realised people would pay for convenience and quality.
GS There is definitely an increased propensity to pay for content on a larger screen and we see this coming out in the research that Netflix and others have done in this space.
LG The larger the screen, the better the viewing experience. I use Netflix via Chromecast to watch House Of Cards. I just naturally wouldn't watch it on the iPad because the experience isn't as good.
GS You also get better sound, which is something people underplay a lot. We talk a lot about video but when you look at all the research, consumers value sound above video, in terms of quality, following the narrative and being able to enjoy that richer experience.
How do you steer people to services?
DF It is complicated, given we have eight different VoD services across a mix of pay and free channels, offering both catch-up and library content. We work closely with the big platforms to manage that messaging and we've just started to put an on-demand point on our promos to let people know where they can watch our shows. We find a lot of people still aren't aware, and are coming to us for the first time from the channels.
TW For most of our clients, the tablet is the main screen. They talk about it as the second screen but it's not. If you have a tablet in your hand, even if you're sitting in the living room, then you're looking at the tablet more than you're looking at the TV. Tablet usage has just gone through the roof but it isn't cannibalising traditional viewing – it's just creating a new type of viewing.
Is targeted advertising taking off?
DF The spectrum is so varied, from Sky AdSmart at one end to whole platforms with large volumes of VoD that don't serve ads. If you're a sales house, it's really difficult. There are whole pockets of the industry that still have a lot of ground to make up just in terms of the basic rolling out.
LG There is also a discrepancy between the quality of the ad versus the quality of the content. So services will have some very sophisticated technology that adjusts the show to your connection, size of window and so on, but which is preceded by a horribly grainy ad. Whether it's relevant or not, that's a terrible experience and completely at odds with the broadcast experience.
AG I think we can learn quite a lot from the YouTube model where if the ad is not relevant, just skip it. That's seen as sacrilegious, but advertising should work for both the consumer and the brand. If it's not working, let the consumer move on and then you will definitely pay for those consumers who really are willing to watch the ad.
The panel was conducted in partnership with Brightcove