For Broadcast's week in Salford, we gathered together the leading players who are looking to MediaCityUK's future beyond the BBC, with digital high on the agenda.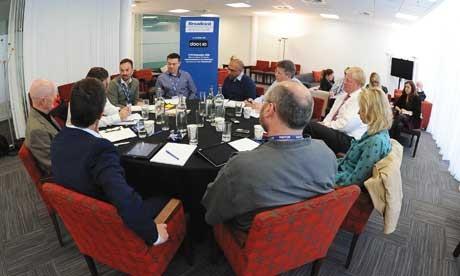 How successful has MediaCityUK been since it opened 15 months ago?
Danny Meaney Peel deserves a medal, having got it off the ground in this economic climate. These are 15-20-year projects so at this stage of the game, it's working – and it's working for the north-west.
Mark Harrison The BBC has lots of objectives in being here. Some, like the contribution to the north-west economy, will play out over time. But we managed, after only finishing moving in the spring, to put out the BBC's biggest summer of broadcasting ever. It's easy to forget, because the focus for the Olympics was in London, that this site in Salford put out a vast amount of what the British public consumed this summer.
Ian Munford In the first year, we did just shy of 700 productions across a range of genres, including shows for Channel 4 and Sky. Media-CityUK isn't just about the organisation that got the ball rolling – and ITV will be here soon. We've started to think about other areas like second screen, games, digital workflow and testing around concepts of the future. That attracts a different sort of organisation.
What is its biggest challenge right now?
Mike Ryan It's going to take 25 years for this place to rock. Look at all the great buildings: Canary Wharf took 25 years, the Empire State Building took nearly 30. The biggest thing we've got to look at is where the long tail is coming from.
Asif Husan Nine Lives has had significant expansion through its output deal with Channel 4. But it chose not to come to MediaCityUK due to cost.
Steve Wild The Greenhouse offers hot-desking from £200 a month. The hub will continue to evolve.
DM Nothing attracts people like a chequebook and right now the biggest chequebook here is the BBC. That's a fundamental thing that has to be addressed. There have to be more people here with the money to buy.
Lisa Campbell That's been an issue from day one; is there enough commissioning power here? BBC3 will have some impact, but that's not until 2016 and ITV's move here excludes commissioning. C4 could have a presence here – 4Learning or 4Online would be a good fit.
How attractive is MediaCityUK to purely digital players?
DM This is not called 'Television City'. This place will not work if it just continues to be that narrow definition of media. The big opportunity for this place is to take those skills in creative content development and technology and deploy them in other industries.
We talk about the media industry like we used to talk about the software industry 15-20 years ago. Software was a separate sector but it no longer is; you can't do anything without software playing its part. It's going to become like that soon with media being in every-thing you do; therefore you need the right technologies to deliver that media whether you're in retail, or health, or whatever it might be.
MR Mad Lab is an interesting system allowing people to mess around with disruptive technology. That's what companies here should look at but this is a very nice, corporate environment for a young person to walk into. You do not see your archetypal techies coming down here to see what's going on; they're going to other places or playing with disruptive technologies in their bedrooms.
How prepared are we for those challenges in digital?
MR It's difficult for local digital to be world leaders when there are other places in the world doing very interesting work where they've got academic research spinning out into the work that's emerging and they've also got 
five or six equivalents of the BBC in the city that they're selling to across different sectors. That's 
the struggle, even though we've got one of the strongest national digital sectors: here, London and Brighton.
What progress is being made in tapeless workflow?
IM We're moving to a different era of creation and distribution and we're learning now the difficult, but achievable, steps that we as an industry need to take in the next two to three years as we move from a hybrid tape-digital environment to a tapeless environment. That's not easy. One of the propositions we have here is 'technology for all'. Some people don't understand the implications of moving to this environment and the Digital Production Partnership is working to help us all move to this.
MH It's the move to end-to-end continuous – that's the big challenge. What we're about to look 
at for DPP are the creative and financial benefits, which are not yet proven.
AH If I want a camera person, they've got to have certain digital standards but it doesn't matter to me if it's tapeless. I'm not against it, but it's the talent that we go for; we can shoot on tape and hand 
it over to someone to make a digital copy.
So what do we need to get MediaCityUK to the next stage?
MR Money. Having the right buyer that will invest in the right ideas and attracting exciting people to come here. The offering here at the moment is very good if you're interested in traditional broadcasting; it's not as strong if you're a pure digital company. You've got to change the offering slightly to say 'actually, we are a broad church' and we give opportunities to try out new technologies and showcase the really cool stuff. That's part of giving this place a buzz. When we worked with Peel on the business case, one of the things we came up with was: how do you create the buzz of Covent Garden here?
Steve Sharman It shouldn't be an issue of how you get people to come here, but how do you push yourselves out?
How well set up is the industry hub for delivering the skills we need?
MR The government has finally realised that digital training in schools is not fit for purpose any more; just teaching how to create an Excel spreadsheet is not going to create the world of tomorrow. The problem is, no one's offering a solution beyond that.
TF There is a serious crisis at the moment. The industry is looking for experienced specialists. The university system is not scaled up for it. In this local area alone, some of the investment finished about a year ago with the change of government. Manchester has one of the biggest student populations in Europe, but there's an enormous skills shortage.
LC The problem isn't just about new talent, it's about bridging the gap between technologists and creatives.
MH Increasingly, the producer needs to interact with the means of production, which they were spared from for a long time. However, editorial storytelling skills often come from a very different sort of person. I don't think supplier environments have re-engineered themselves yet to create people who are brilliant storytellers while doing interesting things with the means of telling stories.
AH We recently had one guy shooting on a DSLR who also did the graphics and cut the clips together. There's not enough people who do that. Colleges should be leading us with the kind of people we need, being ahead of the game, not just focusing students on one thing.
SS Academia is really great at telling people how to make telly in the 70s.
AH They're not always good at that.
MR The university system is very willing but it was built in a 19th century world.
SW We should not exclude anybody. MediaCityUK needs to create an environment that's appropriate for these people. The industry needs to push back onto colleges and universities and say 'this is what we want'. There's a critical mass of client here that has the firepower to do this. If the industry skills are different in five years' time, we need to tell the institutions what they are.
How can we bridge this gap between education, creativity and technology?
MH It's hard to overstate the distorting influence in the consumer market, in the bespoke broadcast technology market, and certainly in content creation, of the public centrality of high-quality broadcast output. Because it's in everybody's living room and gets talked about and costs quite a lot of money to make, we all focus on it. And it's important. But it's not the only thing that drives digital.
DM Most businesses have become successful by doing something they hadn't planned for. MediaCityUK needs to create enough activity and something spectacular will follow. It won't be led by broadcasters because the broadcast industry by and large hasn't changed its business model in the past 50 years.
Are we better connected as a communications/content stream now?
MR MediaCityUK in its next phase needs to think about how you create the unusual suspects. We've got busy lives and we're very centred on the people we need to talk to immediately. That's stopping innovation. We should be having conversations with people who aren't like us – you need a richer tapestry of skillsets that you engage in. That's how you're going to get new ideas coming through.
DM It's got to be built on the characteristics of this place. There is a 
distinctiveness about the people of Manchester and that often gets overlooked. Manchester became famous on the back of mutualism, openness, innovation, providing infrastructure that lets people loose and lets them use their imagination in business.
IM We're doing things here that are changing the way we use and access production-based technology. We've adopted a shared-use model that we're able to plumb into any part of Media-CityUK. If you're a producer or editor, you can set up in the Greenhouse and we can pipe to you every bit of technology you need to run your business.
What's the biggest change that will impact your business over the next few years based on what the consumer wants?
MH It feels like we're arriving at that multiplatform moment that we had five to six years ago, when everybody said we'd have new kinds of creativity. Investment came in but it rose and fell very quickly. Similar questions are being asked about second-screen devices. It could be that it happens around specific kinds of content – the obvious candidates are news, sport and entertainment, rather than drama and factual.
How much focus is there on the second-screen experience? Will the BBC become an expert in that?
MH As we've seen from the Olympics, the move onto multiple devices is strong. One way you sidestep the horrors of digital content production is to do live output. It's end-to-end digital and it works, because it has to, and straight away. The BBC will do it, as it always does, through a mixture of its own expertise and buying in the production skills of others.
AH Second screen is driven by the broadcasters. There's no major commercial imperative. We make and sell our programmes – but how much benefit do you get as an indie from producing second-screen content? To get our Dispatches output deal, we brought people in. It was part of the pitch; 
C4 wanted to know that we could deliver second screen. It's very early days; you wonder whether traditional broadcasters have really clocked on to the fact that the TV screen is going to be a group interactive experience and what that's going to mean, beyond showing clips.
DM The traditional model – get a commission, make some content, receive a fee – is going to change hugely. Broadcasters will continue to dominate but all sorts of people will start to make content. There will be particular skills required to make those other screens work as a commercial proposition.
MH Storytelling will remain at a premium. However, there are other kinds of consumption that are attractive, whether informational, sensational or silly. I support Man United and if I miss a goal, I want to see that goal. If the only YouTube clip available is one someone recorded off the telly on their phone, I'll watch it. It's content-specific.
What's the next step for hubs like MediaCityUK?
SW Against the commitment we made in 2007, we're probably 35-40% of the way through the journey. We've had a fantastic start. The key now is to flex it. It's about getting the technologies and experience applicable to the content and knowing how you apply that technology and moving other industries in. We're at this tipping point.
MR We have a real opportunity to lower the barriers. MediaCityUK's a good place to become almost a marketplace where the talent can be a level playing field. We can hopefully throw away the rulebook and the hierarchy of the past.
SW We need to avoid obsolescence and stagnation. The business needs to put its head up a little bit and let people know what it's doing.
DM There's got to be a culture that encourages more risks. We need more confidence; we need more shouting about our wins. Stop being so shy.
Roundtable
The panel
Conor Dignam: Managing director, Broadcast
Lisa Campbell: Editor, Broadcast
Tony Foggett: Chief executive, Code Computerlove
Mark Harrison: Controller of production, BBC North
Asif Hasan: Head of development, Nine Lives Media
Danny Meaney: Managing director, New Media Partners
Ian Munford: Commercial director, Dock10
Mike Rya:n Futurologist, Fusion Futures/Salford University
Steve Sharman: Chief technology officer, Media 
Smiths
Steve Wild: Director, MediaCityUK