Argentina's geographic diversity and its easy substitution as settings from Paris to New York make it a magnet for international television crews, commercials and feature film productions.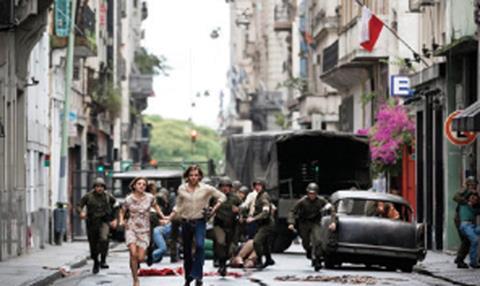 Recent shoots include Warner Bros' Will Smith caper Focus and Florian Gallenberger's English-language Colonia, starring Emma Watson and Daniel Brühl, in which Argentina doubles for 1970s Chile. It is produced by Majestic Filmproduktion.


The Lowdown
Financial incentives
None at present beyond a return on the country's 21% value-added tax. But relatively low costs and beneficial exchange rates mean hiring crews, services and accommodation can make it worth the expense of travelling to South America or lugging local crews anywhere beyond Buenos Aires. Small and mid-sized companies with offices established in the province of Buenos Aires or the city's designated Audiovisual District can access further tax exemptions. Some discounts on production services and accommodations in Buenos Aires are also available through the film commissions. Further information http://internacionales.incaa.gov.ar
Infrastructure
The country is known for fully equipped services and facilities, as well as experienced crews and talent. Film commissions in Buenos Aires offer assistance with permits, locations and local connections, including an online guide to some 4,500 local companies.
Locations
There is plenty of variety, from mountains to jungles to coasts. The architecturally diverse Buenos Aires is a popular low-cost stand-in for European and North American cities, especially when seasons need to be swapped.
Where to stay
Sophisticated Buenos Aires has plenty of upscale and boutique hotels, particularly in the Palermo and Puerto Madero districts. The Philippe Starck-designed Faena Hotel was used as a location in Focus. Visiting international stars have been known to stay at the luxury Sofitel Cardales resort, 60km outside the city.
Tango unchained
Buenos Aires is considered the most European of South America's big cities, renowned for its nightlife, steak and local wines. Visiting A-listers also take in tango shows and polo matches.
Getting around
It is more than 3,300km from the northernmost Jujuy province to the southern tip of Tierra del Fuego, making Buenos Aires' coastal location near the middle an ideal launching point.
Benjamin Herrmann, producer, Colonia
"It was wonderful to work in Buenos Aires, the actors and crew members were very talented and perfectly complemented our European crew. There was the challenge of strict shooting regulations and union rules, however our local service production company, Pensa y Rocca, were amazing."