Jed Mercurio: taking aim at target culture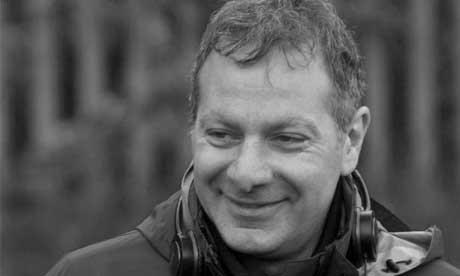 The writer of precinct dramas from Cardiac Arrest to Line of Duty talks to Chris Curtis about bureaucracy and box-ticking in the public sector, and why he's fascinated with work.
Jed Mercurio is obsessed with work. The creator of Line of Duty, Bodies and Cardiac Arrest is among the UK's best exponents of precinct drama, and talks with a down-to-earth enthusiasm about his affinity for the professional world.
"Certain writers create very good pieces in which you really struggle to figure out if any of the characters even have jobs – I'm not one of those writers. When I meet people, I'm fascinated by what they do; by trying to find out what work's like for them. Maybe I'm dull – I talk about work and I talk about sport, and not much else."
Mercurio was a hospital doctor who answered an ad in the British Medical Journal to contribute to a development that would ultimately become Cardiac Arrest in the mid-1990s. This grounding in a career outside of TV means he appears to have no creative airs, and also explains why he puts such a premium on accuracy in his shows.
That latter was one of the factors that helped Mercurio create Line of Duty, the police corruption drama that was BBC2's best-performing drama series in 10 years, with a consolidated audience of 4.1 million (15.7%).
"I'm constantly wrestling with the idea of realism, particularly in the workplace, and it's a bit of a losing battle," he says. "Things happen in real life that would be analysed if you put them on TV, and people would conclude they were unrealistic.
"But we looked at the real world of the police and asked which parts of what they do nowadays weren't represented in cop shows. That was easy: the target culture and the bureaucracy. They've been documented in the press but haven't made it into mainstream drama."
The show shares these themes with the hospital-based Bodies, which, like Line of Duty, explores the notion of a strict hierarchical chain of command and how skewed values can enter our public-sector institutions.
Mercurio says: "That primary experience of working in the NHS informs me. Targets were introduced for laudable reasons, because it was very easy to hide medical failure or misconduct within the police. But these institutions have complicated and evolving cultures, and the imposition of targets and forms of oversight hasn't necessarily had the results their designers expected."
Perhaps his animosity towards box-ticking is why Mercurio refuses to impose targets on himself, despite his determination to work hard. Rather than insist on daily word counts, he prefers to measure his progress in terms of weeks – primarily so that he can take a break at the weekend.
"Writing is my job – I chose this path and I feel a responsibility to keep things moving and keep working. Since Bodies, the most I've had was 10 projects in development at the same time. If I'm not in production, I'm just writing script after script. Line Of Duty is the seventh series I've written since Bodies, and it's the first one to be made. That gives you an idea of the effort that goes into creating series."
His effort extended to many aspects of Line Of Duty, for which Mercurio had a producer credit. He was involved in pre-production, casting and finding locations.
"I'm not sure what a US show-runner does that I don't do," he says. "I'm on set as much as I can be, but I also need to be in the cutting room and looking ahead to future episodes. There comes a point while episodes are being edited, shot and prepped when you need to be involved in every-thing – but there's a limit to how much you can do."
Mercurio likes to be as hands-on as possible when it comes to presenting his shows and receiving feedback from commissioners. He philosophically shrugs off the frustrations of the snail's-pace commissioning process for drama, but admits there is one thing he would change.
"A lot of our industry works on second-hand information and that can be frustrating and, at its worst, misleading. The most frustrating thing for a writer is that the critical meeting, when the commissioner meets with a channel controller to make the case for the show, happens in private. I understand the reasons why, but you can't help wonder about the series that haven't quite made it – what would have happened if I'd been in the room?"
That might make Mercurio sound power-crazed or domineering, but he's anything but. He believes the finished Line Of Duty was "pretty close" to his original vision of the show, but says he got there through a team effort, some trial and error and a collegial atmosphere in which ideas were allowed to evolve.
"If you give a mission statement up front, it's easy to fall into platitudes. I don't know what 'bold' means – everyone says how bold their project is."
Line Of Duty was bold, eschewing the standard crime-of-the-week formula in favour of a complex plot that built up pace through its five parts as its main character Tony Gates spiralled deeper into difficulties.
"If the story is barrelling forward, the audience has to keep up, and can't come out of the moment to start talking to each other on the sofa," Mercurio says. "It's like changing direction sharply in a car – the faster you're going, the more violent that movement is."
The show's own violence was infrequent but shocking: from a murdered drug dealer's body being hung on a lamp-post as a warning to his rivals, to the watch-between-your fingers vice and bolt-cutter scene.
Building momentum
"Building violent sequences into drama is something I learned from Bodies," Mercurio says. "You want a real sense of jeopardy – of violence 
in the broadest sense – and that physical things are really happening to the protagonist. It's important to build up to it, so the stakes and context are plain. In those moments we wanted the show to feel like a runaway train, with a momentum 
of its own."
Mercurio's hope is that Line of Duty's momentum can run and run. Development on the second series has begun, and it will follow returning characters Arnott, Fleming and Hastings as they take on another high-profile target within the police.
Mercurio also hopes he can establish better relationships with technical advisers to put even more emphasis on realism, and reveal deeper character studies of the returning protagonists.
"The second series of Bodies was 10 hours – the longest series I've ever worked on. I enjoy a broader canvas and if Line of Duty continues to be recommissioned, I'd love to keep it going. There was never a point with Cardiac Arrest or Bodies that I wanted to stop – it was always external events that affected us."
The wealth of journalists' stories about public-sector scandals means Mercurio has plenty of content to mine, and the Line Of Duty franchise (if that is what it ultimately becomes) can continue to move even further away from the traditional heroes and villains of many police shows.
"The trajectory for a whistle-blower is complicated and they're not necessarily admired or respected. The idea that if you encounter misconduct in the NHS or the police, all you need to do is announce it to the world and every-thing will be ok, is very naïve."
Jed Mercurio on…
Cop-show influences
"Growing up, Hill Street Blues crossed the rubicon, moving from the Starsky & Hutch style that had gone before into something more complex and multi-layered. But if I was looking for a model for Line of Duty, it was The Shield."
Returning to World Productions
"I just kept in touch after Cardiac Arrest – I kept getting invited to their Christmas parties. I'd go, have a few drinks, talk to the guys, and when I wanted to do a cop show, this was the best place to bring it."
Accuracy and realism
"One of the things that spurred me on to write Cardiac Arrest was dramas being way off the mark in terms of accuracy. I was doing my day job as a doctor and couldn't be the medical adviser on the show, so I asked a friend. Every time there was something wrong, he'd call the hospital switchboard and they'd bleep me, so I could give my opinion."
Successful precinct drama
"We got to a point on Bodies where it felt like all the groundwork had been done with the characters, their professional relationships and the world they inhabited. Writing an episode became like dropping a pebble into a pond. You didn't need a huge pebble to produce really interesting ripple effects. The work was creating the sufficiently complex world in the first place."