Peter White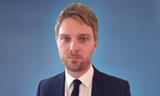 Peter White is international editor and also covers the multichannel sector.
https://twitter.com/peterzwhite
Contact Info
Peter White
International Editor
MONDAY: Stuart Bingham clinched the World Snooker Championship in front of a peak of 4.5m viewers on BBC2.

SAM Productions, the producer set up by The Killing creator Søren Sveistrup and Borgen creator Adam Price, has won its first commission.

Sci-fi comedy Red Dwarf is returning for two series on UKTV's Dave.