Peter White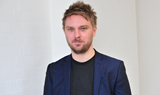 Peter White is international editor and also covers the multichannel sector.
https://twitter.com/peterzwhite
Contact Info
Peter White
News Editor
Studio Lambert is moving into shiny floor entertainment for the first time with the launch of a label run by a former series producer of The X Factor and Celebrity Big Brother.

Culture secretary Karen Bradley has laid out four different options around the privatisation of Channel 4 but declared that a decision is not imminent.

Sky is to debut 1,000 hours of original commissions over the next twelve months across Europe with 80 series in production and another 170 in paid development.