Peter White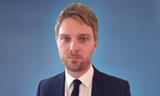 Peter White is international editor and also covers the multichannel sector.
https://twitter.com/peterzwhite
Contact Info
Peter White
International Editor
Don't Tell the Bride is set to leap to BBC1 after BBC3 revealed plans to scrap its factual entertainment formats.

Channel 5 is shining the spotlight on young men who love elderly women again with Barcroft Productions doc Grandmother Lover.

Damian Kavanagh will be responsible for commissioning traditional, short-form and "new-form" content for BBC3 after being named digital controller of the channel.