Peter White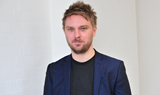 Peter White is international editor and also covers the multichannel sector.
https://twitter.com/peterzwhite
Contact Info
Peter White
International Editor
THURSDAY: The Secret Life of Five Years Olds fell to a series low, while Sky Atlantic's The Last Panthers lost half its audience.

US gameshow 500 Questions is heading to ITV, which has commissioned a series from The Voice producer Wall to Wall.

WEDNESDAY: Channel 5 drama Suspects returned with its lowest ever opening, while The Apprentice and I'm A Celebrity remained steady.