Peter White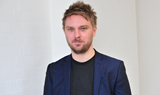 Peter White is international editor and also covers the multichannel sector.
https://twitter.com/peterzwhite
Contact Info
Peter White
News Editor
Vice boss Shane Smith has taken aim at traditional media rivals, warning that there will be an acquisition "bloodbath" as firms such as Time Warner, Disney and 21st Century Fox all desperately chase scale.

Former Kudos chief Jane Featherstone has landed a BBC drama and an E4 comedy – the first commissions for her fledgling indie Sister Pictures.

Taskmaster is being remade internationally for the first time after Avalon struck a deal in Belgium.