Peter White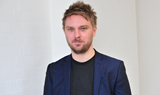 Peter White is international editor and also covers the multichannel sector.
https://twitter.com/peterzwhite
Contact Info
Peter White
News Editor
UK Animation chief Oli Hyatt has made an impassioned plea for the government to step up its support of the sector at 10 Downing Street.

Pay-TV broadcaster Fox plans to order a small slate of "edgy" dramas from the UK and Europe after commissioning its first local scripted series.

Chinese digital platform BesTV has acquired a package of almost 360 hours of Top Gear after striking a deal with BBC Worldwide.