The ability to manipulate the world of Doctor Who and allow fans to create their own adventures in space and time proved a hit with the judges.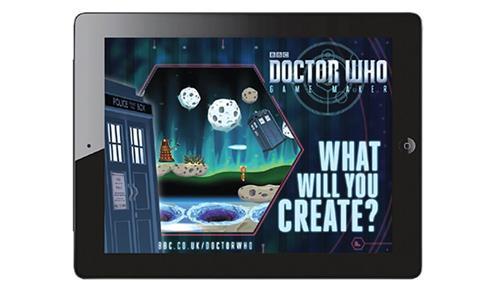 Aardman Animations, BBC Digital Creativity and BBC Cymru Wales for BBC
The 'game-making Lego kit' formed part of the BBC's Make It Digital initiative, designed to inspire a mainstream, diverse audience to get involved with digital creativity.
Accordingly, the tool, which can be accessed via tablet and mobile devices as well as PC, was made fun and easy to pick up and use – giving creators the confidence to share their work with friends.
The Game Maker kit seeks to reduce the complexity of game creation by breaking it down into a series of components that the user can manipulate through selecting one of a series of characteristics. As users progress, the choices become increasingly broad and more sophisticated techniques are introduced.
The judges were impressed by the service, which all agreed was an "innovative way to engage children".
They were particularly impressed by the BBC's decision to open up one of its flagship brands to such experimentation. "Fresh, different and good to see the franchise used in an original and genuinely creative way," said one judge.
Another summed up the reaction: "A clever and educational use of a much-loved brand."
SHORTLISTED
CBEEBIES PLAYTIME APP
BBC Children's for CBeebies
Jam-packed with CBeebies top brands such as Tree Fu Tom, Octonauts and Andy's Dinosaur Adventures, this destination app offers a wide variety of games for ages six and under. The latest addition includes Nina Go Digital, in which Nina And The Neurons help to introduce children to the concept of coding, with rewards earned for repeat visits.
DANGER MOUSE SAVES THE DAY
CBBC In-house productions and Goodboy Digital for CBBC
Together with wisecracking sidekick Penfold, CBBC's reboot of the cartoon classic was supported by this 'action slap-stealth' platformer. The 42-level game was developed with a bespoke control system and with one eye on the retro hits of the past. Combined with a few hidden 'Easter eggs', the spirit of the reboot was captured.
DIXI: 3 GAME OF DIXI
Kindle Entertainment for CBBC
The third iteration of CBBC's debut online drama played out in twice-daily webisode shorts posted on a fictional social networking site. Part-funded by BBC Learning, the whodunnit revolves around unmasking an anonymous troll within an immersive world designed to educate its audience about online safety.
NEWSROUND ANTI-BULLYING CAMPAIGN CBBC
In-House Productions for CBBC
Four short-form videos featured animation to explore the issue of bullying – something that consistently tops children's concerns. The challenging videos, based on real-life experiences, were accompanied by practical advice on the CBBC website to help children deal with the effects of bullying.
SECRET LIFE OF BOYS
Zodiak Kids Studios for ABC3 Australia and CBBC
More than 90% of users chose to interact with this touchscreen comedy drama, each five-minute episode of which included two clickable objects that unlocked secrets to watch later. The browser-based format also encourages youngsters to use their imagination and make up their own games away from the screen.