5 News has become the latest major news provider to unveil a new on-screen look and studio set.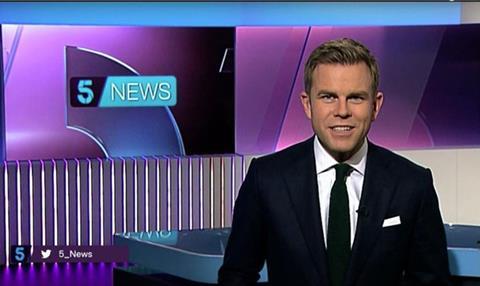 Following hot on the heels of an overhaul at Sky News, the ITN produced output has been given a design and technical facelift that includes new on-screen branding and the replacement of a virtual studio set with a real one.
The new 5 News studio is now housed in the basement of ITN's Gray's Inn Road building in a space that was previously used for external client hire, ITN Productions work and ad-hoc ITV recordings.
The new studio is approximately twice the floorplan of its predecessor, which was based inside Northern and Shell's HQ. It includes presenter desks that can be instantly raised or lowered, depending on the style of the show.
Other new elements include a 98-inch Samsung LCD display panel and a Microsoft Surface tablet that allows the presenter to move about the studio while retaining access to running orders and the internet.
Kemistry designed both the set and the on-screen branding, which draws heavily on the recent Channel 5 rebrand and marks its first manifestation in a physical space. SET2 built and integrated the set, working with Kemistry and ITN's in-house technology team.
5 News studio director Ben Wickham said: "The new look 5 News real studio at Gray's Inn Road replaces the previous virtual space reflects and strengthens our credibility as a strong terrestrial brand that is there for everyone, while drawing on Channel 5's core values of boldness and originality."
5 News weather has also been given a refresh with the addition of animated graphics created using Met Office data and Presentation Cartography's Visual Cortex system.
The new-look 5 News was aired for the first time earlier this week.