In the two years since Broadcast last published data on the available TV and film studio space in London, the overall picture has improved.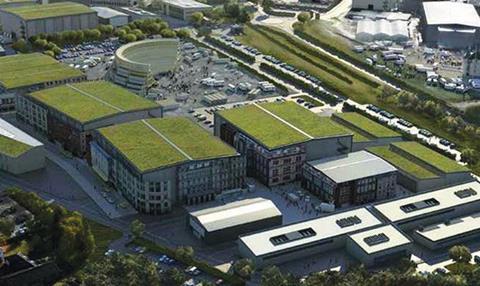 While some studios are under threat, there has been an overall increase of more than 300,000 sq ft.
The bulk of that can be found at Pinewood Studios, where more than 200,000 sq ft has been added, but an additional 80,000 sq ft has been introduced at Warner Bros Studios Leavesden and Wimbledon Studios has reopened.
As such, the total amount of shooting space in our London sample is now almost 1.3 million sq ft.
From next year, the picture will also look rosier for shiny-floor productions, with 21,500 sq ft of studio space at BBC Television Centre (TVC) being made available. This is less space overall than before its redevelopment, but the reintroduction of TVC adds more high-quality studio options to the market.
Riverside Studios, which was demolished in 2014, will reopen in 2018 with three studios of 1,800, 5,000 and 6,500 sq ft respectively.
Little space has been lost since 2014, but 2,250 sq ft of SD studios has been 'decommissioned' at Maidstone Studios. Fountain Studios will close in 2017, and the future of 3 Mills' site is under scrutiny.
Supply vs demand: WHAT THEY SAID
"The reopening of London Wimbledon Studios has been well received but we're aware that with major studio building projects under way and alternative build spaces coming to market, we need to remain agile and committed to high levels of service and support."
ANTONY IREDALE, MANAGING DIRECTOR, THE COLLECTIVE (location agency representing Wimbledon)
"We are excited to be coming back with the original management team and, where sadly some studios are closing, we're working together with a redevelopment project that gives us the opportunity to build a new facility and continue to give London much-needed studio space."
BOBBI BLACKMAN, STUDIO MANAGER, RIVERSIDE STUDIOS
"We're always looking to provide productions with the facilities they require and have a long-term plan for development that includes additional workshops and sound stages."
DAN DARK, MANAGING DIRECTOR, WARNER BROS STUDIOS LEAVESDEN
"Across the year, there is 'mathematically' more than sufficient studio space in the London area. However, due to the bumpy nature of the commissioning cycle, there are certain pinch points when more than one production wants the same studio space at the same time."
DAVID CONWAY, MANAGING DIRECTOR, BBC STUDIOWORKS (formerly BBC Studios and Post Production)
"The London Studios [TLS] sells studio facilities to indies and other broadcasters and is part of ITV Studios, so the more efficient we can be, including fast turnarounds, the better it is for production. Allowing more time on camera for the same overhead, and better volume and revenue for TLS, is a win-win. Or perhaps: Crisis? What crisis?
PAUL BENNETT, MANAGING DIRECTOR OF RESOURCES, ITV STUDIOS
"We have seen a definite increase in enquiries about our studio spaces. Closures may have played a part in this but we have increased our profile awareness in that time and we are not directly in competition with the larger spaces that are planning to close."
CHERRY PORTBURY, HEAD OF STUDIOS, IMG STUDIOS
"To cope with the increased demand, alternative studio spaces have been liberated, some big infrastructure projects are beginning to come online, and we've seen demand soaked up by new developments from around the UK, including Bristol and Belfast. But we have to keep looking for space, investing in skills and the crew base."
ADRIAN WOOTTON, CHIEF EXECUTIVE, FILM LONDON