With Ultra-HD on the horizon, attention is turning to how the audio experience can keep pace with the improved visuals on a growing range of devices.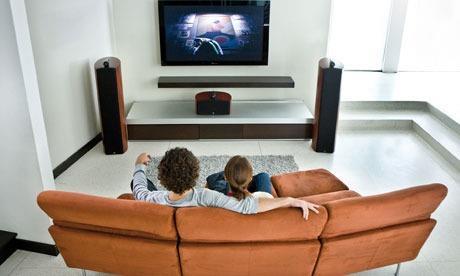 Audio is in danger of lagging behind not only the emerging, immersive visual experience of Ultra-HD and 3D TV, but also the increased consumption of video on non-TV devices.
"There is a big momentum in the industry to come up with something new in terms of the audio experience," says Frank Melchior, BBC R&D head of audio.
With large-scale dramas in particular getting increasingly big - from the upcoming 3D Doctor Who anniversary special to the likes of Game Of Thrones - many argue that with a high-quality visual experience an established selling point to consumers, immersive audio's time has now come.
Alan Delaney, senior director business development at technology company DTS, says: "The shift to 4K video is creating a new competitive landscape for audio innovation. Ultra- HD requires that the whole broadcastchain be refreshed, from cameras to settop- boxes. It's time to rethink how we create and deliver audio to the home."
Meanwhile, Chris Johns, Sky's chief engineer and UK chair of standards body SMPTE, puts it bluntly: "The better the audio experience, the more enjoyable the visual experience, and the more likely viewers are to watch your programme."
While the specifi cations for broadcasting Ultra-HD pictures at 4K and 8K resolutions are in place, there is as yet no agreement on an inter national standard for UHD audio. That may be about to change, as the organisation that drafted the original UHD specs meets this month to discuss whether consensus is possible.
"The principle with very large screens is that visual enjoyment improves if you can tell where an object is located vertically in space," says David Wood, chairman of ITU-R Working Party 6C. "As more consumers buy 80- to 100-inch screens, it becomes valuable to have sound localised vertically as well as horizontally. This combination of lateral and vertical is the focus of discussion in the ITU and other bodies, but there are several different approaches to achieving it."
Consumer needs Candidates include using 22 discrete channels plus subwoofers in the 8K UHD system favoured by Japanese broadcaster NHK.
Another option, developed in South Korea and intended for 4K broadcasts, features a 10.2-channel system. "What's at debate is that very few people set up 5.1 speakers in the home correctly, let alone having to manage 22.2 speakers," says Wood. "So do we in fact need a system that adapts itself automatically to the arrangement of loudspeakers in the lounge?"
The BBC, which tested 22.2 audio with NHK last summer, seems reluctant to endorse the channel system.
"Adding more channels in different speaker layouts isn't what we need for the future," says Melchior. "We need to think about how content is consumed - with headphones, on tablets, over 5.1 or 7.1 systems, with high-quality speakers or with ones in the TV," he says.
"It seems the wrong policy to continue to produce content designed to be listened to on one system, so we're looking at how we can produce content that allows us to distribute to a massive variety of listening environments."
Dolby head of product marketing James Caselton agrees. "In the past, broadcast bodies like the EBU and DVB were core to audio for TV development," he says.
"Now, the industry has to seek consensus and co-operation from a wider sphere of consumer electronics and internet device companies like Microsoft and Apple, research and solutions companies like Dolby, and OTT providers like Google, Lovefilm and Netflix."
What's required, he says, is a solution that feeds high-quality audio to TV sets as well as to tablets, phones and PCs. The two options on the table are both advantageous for the broadcaster, since they would only need to produce and transmit one signal to be reproduced on multiple devices.
Scene-based audio, of which the chief example is Higher Order Ambisonics, attempts to reproduce a sound field at a single point in space and provides for flexibility in speaker confi guration. Researched extensively by the BBC, the main drawback is that the effect works best when the viewer is seated in a sweet spot, something that rarely happens in practice.
Also, the recording of a scene tends to be locked once mixed, with no flexibility to alter any individual element. An alternative is object-based coding, which treats sound sources as independent audio objects along with the metadata (parameters like elevation and distance) needed to reproduce them on playback.
Aside from allowing listening devices to become independent of the mix, a benefit of this approach is that it could be made bespoke for people with specifi c needs. "For example, people with different hearing abilities may want a different balance between foreground and background sounds," says BBC R&D engineer Anthony Churnside. "It also means that when audio scenes are comprised of different objects, each can be fully interacted with to provide computer game-like experiences. This opens up a lot of user-experience research questions."
BBC R&D experimented with object-based recording for Radio 4 drama Pinocchio last December and is now turning its attention to a similar experiment for TV. Customised sound The first commercial approach using object-based audio, Dolby Atmos, was recently introduced into a handful of cinemas.
Cinema tends to lead in terms of audio technology, and although intended in part to draw punters away from their TVs, there's no reason the principal can't be applied to broadcast. "With Atmos, sound engineers can place an audio object anywhere spatially, with a precision impossible in conventional 5.1 mixes," says Caselton. "Atmos is a better surroundsound experience, and you can add it to existing audio mixing and distribution workflows because it will automatically service existing surroundsound systems."
He adds: "While we are not talking today about Atmos for the home, the implication for the future is towards much more placement and customisation of sound for the consumer."
Barco's Auro 3D and the Ionoso system from Germany's Fraunhoferare rival next-generation audio approaches for cinema, while DTS is promoting a new object-based openstandard sound platform that works across all consumer devices. "In the short to mid-term, the goal is to achieve a continuity of audio and visual experience across multiple screens," says Caselton. "Tomorrow, the focus will be on audio customisation in the home and giving the viewer more control."
Some argue that persuading consumers to invest in equipment that takes full advantage of existing sound quality remains a struggle. "The main challenge for audio in the home is the basic lack of appreciation of an audio-equipment investment over video," says Gabriel Dusil, vice-president of corporate strategy at Visual Unity. "The average consumer still favours their eyes over their ears and would rather spend a significant portion of their budget on a large fl atpanel television than a nice 5.1 surround- sound audio system."
Consumer electronics vendors have realised the value of better TV sound and have begun retailing sound bars - separate hardware that complements rear speakers to mimic surround sound. Recreating 3D sound by incorporating speakers within the set itself is another trend. For example, Samsung's latest 85-inch 4K UHD set has a 120- watt speaker array built into its frame.
There is also renewed interest in binaural techniques. Here, the idea is to record from mics placed in the position of a listener's ears for a more realistic sonic reproduction, although this would require the use of headphones on playback.
A hotly anticipated new technology from DTS is said to simulate up to 11 channels of surround-sound over conventional stereo headphones. Headphone:X will debut on mobile devices later this year, with use in smart TVs expected to follow. As 4K content proliferates and UHD services emerge over the next couple of years, the focus on the audio part of an upgraded audio-visual experience will surely grow.
"What does the Ultra-HD experience mean for the average user who has stereo or those who have 7.1?" asks DTS's Delaney. "Can the industry create something more immersive and interactive while still addressing the masses? There are a lot of questions still unanswered about what the 4K experience means."