All 10 of this week's midweek Premier League matches will be streamed live on Amazon Prime Video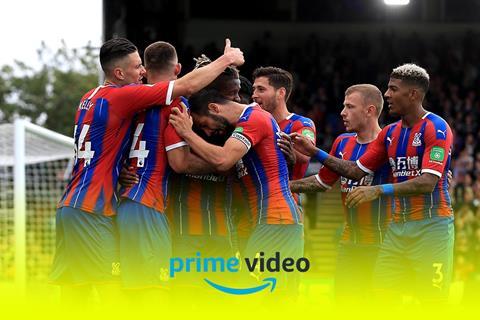 Amazon Prime is streaming all 10 of this week's midweek Premier League fixtures, marking the first time the service has broadcast live matches from the top-flight of British football.
The platform is offering live coverage of each match from Tuesday 3 to Thursday 5 December, and then, later this month, Amazon Prime will also exclusively stream all 10 Premier League matches on boxing day and 27 December.
The OTT service is also broadcasting weekly highlights of all Premier League matches throughout the season.
Every live game will have a set of on-screen pundits and hosts offering pre-match build-up and post-match analysis, live from a studio at the stadium ground. Amazon's pundits include Thierry Henry, Alan Shearer, Peter Crouch, Roberto Martinez, Lee Dixon, Harry Redknapp, Jermain Jenas, Alex Scott, Peter Schmeichel and Michael Owen.
Amazon is also creating a Goals Centre stream, hosted by Steve Bower, where fans can see every goal from every game immediately they happen.
Fans will be able to watch up to three matches on different devices at the same time from the same Amazon Prime account, in addition to the Goal Centre stream.
A highlights package of around 2-3 minutes as well as a 30-minute highlights package from each game, will be available from midnight after it's been played.
Amazon Prime members can watch all matches as part of their subscription, on the Prime Video app on a range of devices and smart TVs. Non-members can sign up for a 30–day free trial to see the coverage. Prime costs £7.99 a month or £79 for an annual subscription.
Pubs will also stream all 20 of the Amazon Premier League matches on the BT Sport channel on Sky set-top boxes.
This week's Amazon Prime Premier League matches
Tuesday 3 December 2019
19:30 Crystal Palace v Bournemouth
20:15 Burnley v Man City
Wednesday 4 December 2019
19:30 Wolves v West Ham
19:30 Southampton v Norwich
19:30 Leicester v Watford
19:30 Chelsea v Aston Villa
19:30 Man Utd v Spurs
20:15 Liverpool v Everton
Thursday 5 December 2019
19:30 Sheffield Utd v Newcastle
20:15 Arsenal v Brighton