NAB 2015: The SkyPanel range of compact LED soft lights are to be available in fully colour tuneable and remote phosphor versions.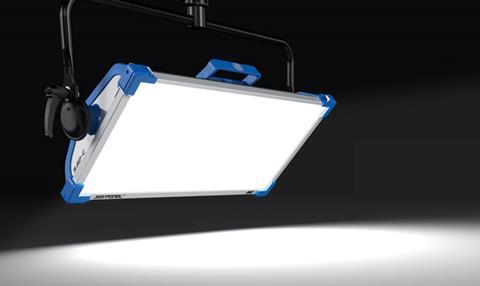 The ultra-bright and high-quality LED unit will initially be available in two sizes: the S60 and S30.
The S60 is a mid-range model, featuring a light aperture of 645 x 300 mm and accommodating the vast majority of applications. The S30 is a smaller, more portable version; half the length of the S60, Arri said it was perfect for on-the-go mobile applications.
Incorporating features of Arri's L-Series LED Fresnels, SkyPanel 'C' (Colour) versions are fully tuneable, with correlated colour temperature is adjustable between 2,800K and 10,000K, with high colour rendition over the entire range.
Full plus and minus green correction can be achieved with the simple turn of a knob, and in addition to CCT control, colour selection and saturation adjustment is also possible.
Arri suggested applications for this flexibility range from quickly adjusting the CCT to set the mood of a scene, to selecting the perfect green colour to wash a greenscreen.
Each LED light engine is computer calibrated in order to ensure unit-to-unit and batch-to-batch consistency, as well as accurate colour temperatures.
The company claimed the SkyPanel S60 was brighter than a 2kW tungsten soft light or a 6kW tungsten space light. At the same time, the lamphead is able to perform well at lower light levels.
The diffuser panels on the front of the lamphead are interchangeable, so going from a heavy diffusion to a light diffusion can be achieved in a matter of seconds. In addition, plans are in place to roll out further diffusion accessories that will accommodate other applications.
Arri said that by providing a large pool of downward soft light, as well as the ability to change CCT and vivid colours, SkyPanel offers a compelling alternative to conventional space lights.
If tuneability is not required, a remote phosphor version of the SkyPanel is also available.
Remote phosphor technology uses powerful blue LEDs to excite a panel coated in phosphors, which is positioned further away from the LEDs.
The remote phosphor versions of SkyPanel are roughly 10 percent brighter than the colour versions and have a lower price point. Different colour temperature panels are available, including 2,700K.3,200K, 4,300 K,5,600K and 6,500K.
Other features include an on-board battery input for mobile applications, LAN port for network connectivity, and a USB-A port for firmware updates via thumb drive.
The SkyPanel S60 will start shipping in September 2015, with the S30 becoming available shortly afterwards.