Recognised after 40-year career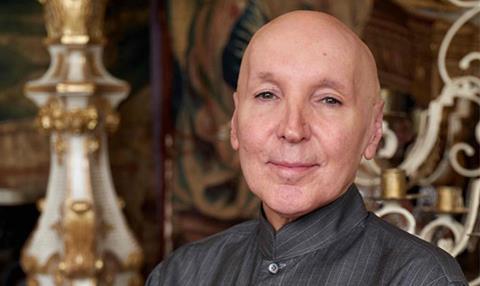 Prop master Bobby Warans will be awarded the Bafta Craft Special Award on Sunday, recognising a production design career spanning almost 40 years.
Warans started out on classic 1970s cop drama Z-Cars at the BBC and went on to major in entertainment, dressing the sets for some the UK's best-loved shows including Morecombe and Wise, Absolutely Fabulous and Strictly Come Dancing.
Warans, who described himself as a "professional IKEA-er" due to his twice weekly trips to the Swedish furniture store, started out studying draftsmanship and technical drawing.
"I quite liked the drawing side of it, but asked my father if I could pursue something else and went to art college and studied interior design at Kingston" he explained.
A firm believer in the "nothing ventured, nothing gained" philosophy, Warans then wrote to the BBC expressing an interest in working there and soon found himself assisting a senior props buyer.
"Once I got my foot in the door at Television Centre, I used to walk around the observation galleries, and look down and see what was in production," he recalled.
"They had a whole building called the scenery block and that's where they used to make the scenery and where the set designers used to work at their drawing boards".
Inflatable pink elephants
After a stint on Z-Cars, Warans was hooked on TV. His next gig was on Are You Being Served? and he discovered entertainment was his genre.
While everyone else was hankering over jobs on drama, Warans carved out a niche for himself on the BBC's entertainment shows. "It was rather nice, working at weekends, pure overtime, perfect!" he joked.
While much of a prop buyer's day is spent dressing sets with furniture and "nik naks", Warans has had a few leftfield requests over the years.
One such request came in the form of a seven-foot inflatable pink elephant for Spike Milligan's surreal comedy sketch show Q in the early 80s.
"We were filming at Harrods and at about half past four that afternoon, I had a call from the shop saying: 'Excuse me, will you come and take your bloody elephant away'. They had filmed the scene, gone around the corner to do more filming and left it in the road!"
Although a lot has changed since Warans started out, he said the "gift of the gab" remains a key part of his toolkit.
"I've got my lovely little black book, which isn't so little these days, but Google has just changed my life," he said. "In the old days, you had to ring round [for props] and one phone call would lead you to another. Now you just Google it and up it pops."
He recommends that aspiring props buyers identify a good set designer on a series or a film, shadow them and be prepared to start at the bottom.
"Get all the tea and biscuits and stuff and work your way up to being a petty cash buyer and then if you're keen and you work hard at it, you'll get there," he said.
The British Academy Television Craft Awards honours behind-the-scenes talent working in television
This year's ceremony will be held at The Brewery, London on Sunday 23 April and will be hosted by Stephen Mangan