Virtual reality and 360-degree video could succeed where 3D failed because it offers a "brand new experience" that provides a sense of presence, according to Sky executive producer Neil Graham.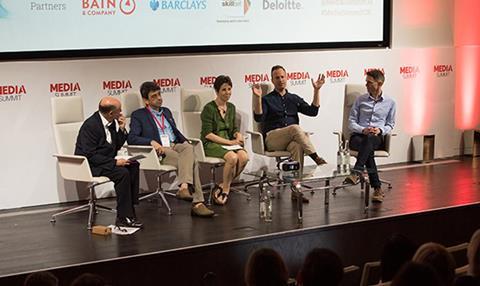 Earlier this year, Sky set up a central production unit to support its sport, news, entertainment and movies divisions which want to shoot 360-degree video, and Graham said "the whole company is now getting behind it."
So far, the pay-TV broadcaster has shot footage of refugees landing in Lesbos, a Formula 1 race, Leicester being crowned Premier League champions, heavyweight boxer Anthony Joshua's world title fight and a behind-the-scenes piece about The Hobbit.
"The reason we believe it has a big future is that it is a brand new experience," Graham told delegates at Broadcast's Media Summit.
"I was working on some of Sky's earliest 3D productions and at that point it seemed like it was a new experience, but it was an extra layer on existing content and was still a traditional way of consuming content," he added.
"With virtual reality it is all about a sense of presence – you are placing viewer in environment, whether that is at the scene of a news event or transporting a viewer to the set of a film."
BBC R&D senior producer Zillah Watson likened today's experiments with VR and 360-degree video to the earliest days of television.
"Recently, technology that used to be incredibly expensive and only available in industrial and university labs is suddenly becoming more affordable and available to the public," she said. "And that is a really exciting moment. For me, it is similar to the 1930s, when BBC engineers worked out what could be done with television."
Tech choices: GoPro to Theta
Watson led the project to shoot the BBC's first 360-degree news item in July last year.
For that package a Freedom 360 rig, which holds six GoPro HD Hero cameras, was used to capture footage of a migrant camp in Calais during a strike by French ferry workers.
The subject matter provided an opportunity to capitalise on 360-degree video's ability to provide "a sense of place", and it was also an experience which helped to inform the broadcaster's choice of technology.
Watson said: "We concluded fairly quickly that trying to switch on six Go Pros and get them all working when people are chasing you with CS gas was not quite production-ready kit."
The BBC has since adopted the Theta S camera which has been distributed to correspondents around the world.
"It's not a broadcast quality camera but is fine for content that might be watched on a phone," said Watson.
The Theta S was first used by the BBC in November to film a news report about the aftermath of the attacks in Paris.
"[The report] was constructed very differently from a regular news report, and [using the Theta S] meant that we were able to get the footage to audiences an hour after it was shot, which really was a first for 360-degree video which usually involved a laborious post production process," she said.
Graham added that in order for VR to succeed it was vital that producers were given full control over the projects they work on.
"A lot of VR content, whether for a broadcaster or brand, involves putting a camera on set and out of the way of existing cameras but that doesn't create a great experience," he said. "For VR, it is all about proximity. Producers need control and for VR not to be a side note of the other things that are being shot."
Meanwhile, Watson cautioned against shooting footage in 360-degrees that would be better captured in regular 16x9 format.
Suitable subjects for 360-degree capture "often need an understanding of the location to make more sense of the story," she said.