Kids Skill offers broadcaster's first interactive voice experiences for children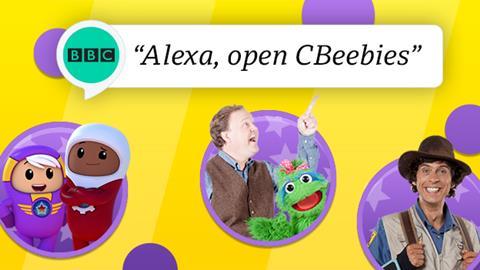 The BBC has launched Kids Skill on Amazon Echo, its debut interactive voice experience for children.
BBC voice and AI executive editor Mukul Devichand said that Kids Skill, which launched today, would be the first of a number of children's releases over the coming months on the platform.
It comprises three games relating to CBeebies' content: Little Monster's Hide and Seek, Andy's Adventure Dance Party and Go Jetters' Glitchy Facts.
Children who ask their Amazon Echo smart speaker to "open CBeebies" will be given access to each individual game.
In Little Monster's Hide and Seek, the aim is to identify different sounds to help find the monster's secret hiding place, while in Andy's Adventure Dance Party children can dance to songs about animals and dinosaurs. Go Jetter's Glitchy Facts features a facts-based quiz.
"The technology is still new and we're experimenting with what works well and what our audiences really want on these new platforms," said Devichand.
His team was behind various 2018 voice sporting experiences for the World Cup, Wimbledon and Tour De France, as well as the Edinburgh Festival.
On a Medium blog today, BBC director of radio and education James Purnell said that it had been a challenge to "re-imagine these very visual properties for voice" but that the experiences lend themselves well to the medium.
Purnell had previously told Broadcast of his desire to capitalise on Amazon Echo's success with a raft of innovations planned for the coming year.
The BBC also provides the primary news briefing on Amazon Echo, Google Home and Apple HomePod devices.