Comedy, music and classic stories on offer on the audio platform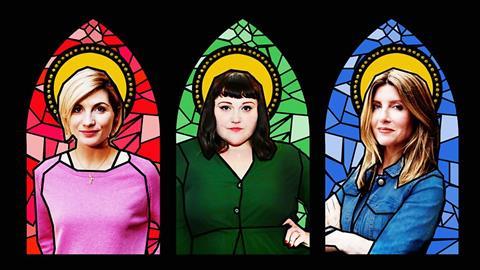 A collection of Christmas tales, a trio of female-fronted music shows and a comedy/drama series are part of the inaugural set of BBC Sounds box-sets.
Becoming available over the next few weeks, the BBC will first make 15 episodes of its Classic Fiction podcast available, comprising a set of Christmas tales from the likes of Elizabeth Gaskell, Hans Christian Andersen and The Brothers Grimm.
Further episodes will then be deposited on the recently launched platform in the new year.
Elsewhere, each episode of BBC Radio 6 Music's annual trio of Wise Women shows from the last four years will be box-setted in early January.
This year's hosts Zawe Ashton, Diane Morgan and Courtney Barnett will also select a range of programmes from the 6 Music archives to be placed on the platform.
The show has previously been fronted by the likes of Jodie Whittaker, Beth Ditto and Sharon Horgan.
There will also be all three seasons of BBC Radio 4's comedy/drama Tinsel Girl and sketch series Small Scenes, ahead of a new series of the latter coming out in February 2019.
Revealing the box-sets tonight (6 December) at a London launch event, BBC director of music and radio Bob Shennan, said the platform had picked up more than 5 million weekly plays since launching last month, amounting to more than two million hours' worth of content.
"BBC Sounds lets us bring seasonal cheer to everyone in a new way through an unparalleled mix of world class on demand audio - from podcasts which tell us something about the world to music that moves us," said Shennan.
BBC director of radio and education James Purnell recently told Broadcast that he wants to use Sounds to usher in a wave of commissions that would not fit into linear radio schedules.
Away from box-sets, the BBC also revealed a range of fresh podcasts and Christmas specials.
Launching tomorrow, Oscar-winning screenwriter Dustin Lance Black investigates UK attitudes towards surrogacy in a Radio 5 Live podcast Surrogacy: A Family Frontier.
Archived footage of interviews with the likes of Bob Marley, Madonna and Adele will be made available on the Raw podcast, launching on Boxing Day, while Glyn Fussell will guide listeners through drag queen culture on BBC Radio 1's Drag Queen's Den.
Radio 1 is also launching Worst Dates, lifting the lid on terrible dating secrets, while there are two BBC World Service podcasts: The Hurricane Tapes and Fall of the Shah.
There are also a range of Christmas Specials including That Peter Crouch Podcast, The Sista Collective and Evil Genius with Russell Kane, along with dedicated radio shows and music mixes.