Our fictionalised take on Nina Stibbe's book tries to shine a light on the every day with wit, heart and visual flourish, says Jamie Laurenson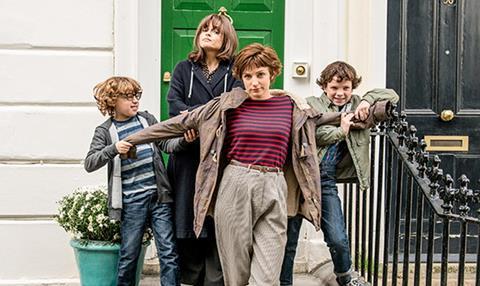 Love, Nina
Production company See-Saw Films
Commissioner Charlotte Moore
Length 5 x 30 minutes
TX 9.30pm, Fridays from 20 May, BBC1
Writer Nick Hornby
Director SJ Clarkson
Executive producers Lucy Richer (BBC); Jamie Laurenson, Emile Sherman, Iain Canning (See-Saw Films); SJ Clarkson; Nina Stibbe; Nick Hornby
Producer Derrin Schlesinger
Post-production Encore (picture) Hackenbacker (audio)
On the face of it, Love, Nina didn't look like a mountain to climb. Yes, there were challenges: two children, a couple of cats, an Oscar-nominated writer who hadn't written for television before and a high proportion of scenes set around a kitchen table. But it was hardly Werner Herzog's Fitzcarraldo.
Nina Stibbe's letters and Nick Hornby's scripts are about shining a light on what we dismiss as the ordinary and every day: embarrassments, misunderstandings, white lies, obsessions and infatuations. The stuff that takes up most of our time but wouldn't make it onto a CV or into a biography. Nick has form in this area and Nina had hit the ground running with her memoir, which won the National Book Award in 2014.
Though Nina's letters are a record of her time working as a nanny for London Review of Books editor Mary-Kay Wilmers and her family in the 1980s, this would be no biopic. From the start, Nick was inspired to write a fictional adaptation of Nina's experiences.
Finding a visual mode to capture the gently heightened naturalism of Nick and Nina's world felt like the key. We wanted someone with a natural ear for the comic rhythms of the writing and an understanding of the conversational tone of the piece, but who could also bring a sense of flow and flair to the screen. That led us to SJ Clarkson.
Mischievous cheek
SJ has a streak of the same mischievous cheek as Nina herself; a rebellious, playful sense of the wicked and absurd. She also has a strong sense of heart. From an early point in the script development, SJ pushed for the gentle seam of emotion in the scripts to rise to the surface across the five episodes. A kind of Pygmalion shape to the story gradually emerged.
Nick was writing with Helena Bonham Carter in mind for the fictional Georgia [the character based on Wilmers] from early on. We'd approached SJ to direct and though she hadn't said yes, she loved the script – but she didn't know if her schedule would work with ours (Mick Jagger and Martin Scorsese wanted her for something else…)
Adopting my philosophy of taking the faintest sign of interest from anyone as a firm commitment to proceed, we approached Helena. She was also interested (anything other than a straight "eff off " from her indicated enormous interest as far as I was concerned) and she loved working with SJ. But Helena had something else she wanted to do and wasn't able to give us a definite yes straight away.
For a month or more, we entered the maze of mutual interest. I did my best to exaggerate Helena and SJ's responses as firm commitment and availability until a wedding of sorts was brokered.
With SJ, we then began the search for our Nina. She had to be witty, mercurial, under-educated but very bright and a Leicester City fan (though no one much cared about that at the time). It was challenging to find the balance between the comedy and the drama – the wit and wisdom, as well as the cheek and irreverence of Nina. We saw many great actresses, but Faye Marsay shone through.
The scripts looked simple enough – no opera house to build in the jungle like Herzog – but SJ wanted the "action" to move with as much fluidity as the dialogue. We needed a set big enough to give the many interior scenes the necessary space and range to feel dynamic.
Then there were the available hours we could shoot with kids. We made contingency plans to work with doubles, as SJ had done previously, but realised this wouldn't work as she was using so many developing single shots to capture the action.
(A note on working with children and animals: do it, but never believe that they are trained, or that they have done the amount of tutoring hours they say they have.)
On a tight budget, these were the biggest challenges. I remember lights that looked like airships being declared a solution at some point and nodding and grimacing at the same time.
We've endeavoured to make something that has heart, wit and a sense of visual flourish. Perhaps the biggest achievement of the show, however, was to have life-long West Ham fan Sam Frears (Ray) declare his on-screen allegiance to the pride of New Cross – Millwall. What can I say? Job done.
SeTTiNG THe SCeNe
SJ Clarkson
Director
With half of the action taking place around a kitchen table, the key was finding a way to bring to the screen what Nick's scripts had captured: the mad and the magic in the ordinary.
Long developing shots seemed the way forward and were a great way to keep every one alert. If you mess up your line or don't hit a mark, the reset is on you. That goes for both sides of the camera. You really have to work as a team to iron out the bumps and tweak the moves to land on certain lines and comedy beats.
Production designer Melanie Allen and art director Maddy Turnball created a set that could accommodate this movement but also had enough interest and quirks to honour the character and the tone.
We chose our exterior and crafted an interior that matched where it needed to (front door/hallway/ stairs/front window and so on) but went boldly everywhere else, creating what can best be described as a bastardised footprint of what would have been there.
We created a cheese-shaped space that fanned out to give us more room in the kitchen, where we needed it most. Then over a series of model boxes (I'm old-fashioned that way), we crafted the detail, opening up the hall/doorways to allow for the Steadicam turns, raising a level to give the playing arena more scope and scale, reducing window sizes to avoid shoot-off. On such a tight budget, literally every square foot counted.
Sight lines
With DoP Balazs Bolygo, we wandered the bones of the set to design sight lines and layered outdoor spaces to make the house feel as real as possible. We helped this by incorporating the real location with the set in some of the developing shots – nothing too out of the ordinary (after all, this show is all about the ordinary).
My hope is that the shooting style has made Love, Nina just that bit more magical.